Music
Circa Waves: Can Indie's Newest Band Bring Back Rock 'n' Roll?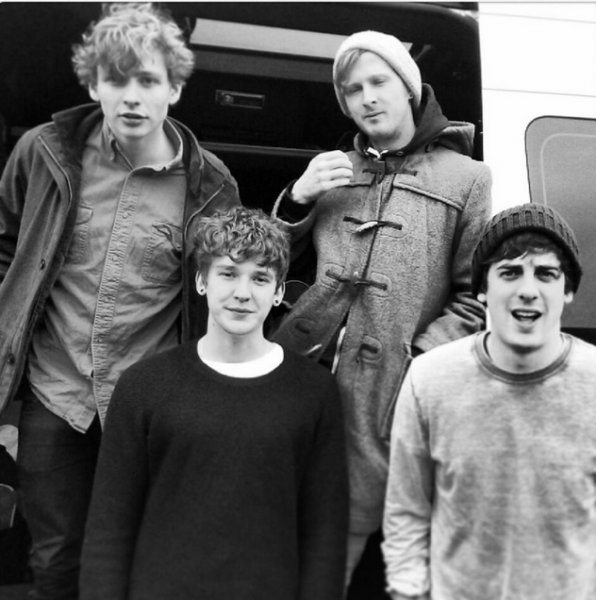 They may be British, but they're not your average boy band.
Circa Waves is a new indie-rock band formed at Liverpool's Sound City Festival just last year. Comprised of vocalist Kieran Shudall, guitarist Joe Falconer, bassist Sam Rourke, and drummer Sian Plummer, the band played several shows before releasing their debut singles, "Get Away" and "Good For Me," on vinyl in December 2013.
Just two months later, BBC Radio's Zane Lowe played their single, "Stuck in My Teeth" as his "Hottest Record in the World." Since then, they have performed at numerous music festivals throughout the world and headlined their own U.K. tour.
Neon Tommy got the chance to speak with guitarist Joe Falconer in the midst of Circa Waves' first United States tour. He surprised me with his fervent love of music and adventure as well as his dislike for American chocolate.
Be sure to check out their most recent singles, "So Long" and "Young Chasers," which are fun, instrument-heavy tracks that are still easy to dance to, a much-needed combination in Circa Wave's goal to bring back rock 'n' roll.
Neon Tommy: Where did the name Circa Waves come from?
Joe Falconer: The name doesn't really mean anything. Kieran was uploading some of our stuff to Sound Cloud and it asked for the name of the band. Those were the first two words that came to his head and we stuck with it.
NT: So, now you're in the middle of a U.S. tour. How do you like the American experience so far?
JF: It's been really fun actually. I've been here a few times, but only when I was a kid. It's been, like, eight or nine years. It's been nice to finally get into America as an adult and do what adults do and get a feel of the cities. When we went to New York, we made the most of it. We rode the subways, went to bars, and met a lot of cool people. And LA is definitely a completely different field. It's really nice. We all love it here.
READ MORE: Metronomy On Band's Evolution: Interview
NT: In terms of your music, who writes the songs? What is the songwriting process like?
JF: It starts off with Kieran, really. He comes up with some ideas and then he brings them into rehearsals and we work through them together. Some of the songs are more poorly formed than others and some of them require a bit more of our input. It's one of those things that the sound of the band comes from the way that we all individually approach the individual instruments and the way we play the songs that Kieran often starts out on his own. I think that's the way the band sounds. It's the four of us interpreting the original ideas.
NT: What's your favorite song that you have so far?
JF: I'm currently enjoying "So Long," which is our current U.K. single. I don't think it's out in the U.S. at the moment, but it's a really fun one to play live. It's really fast-paced and it's epic, gothic sounding.
NT: Describe your music in five words or less.
JF: Proper British rock and roll.
NT: What would be your dream venue to perform at?
JF: A lot of the classic venues, I'd say. Like, the big venues. I'd be tempted to say the Brixton Academy in London. But I really like playing small venues. It feels more authentic and you kind of have an attachment with the way you play with the crowd. I think I'd quite like to go back to New York and do a headline Bowery show. The thing about the Bowery is that I've heard of it. It's one of those names that pops up in the U.K. and that was our first New York show. I'd love to go back there. That'd be a lot of fun.
NT: Did you take the subway a few times in New York?
JF: We had one morning off before our first gig and just sort of went in. We were staying in Brooklyn. I'm not exactly sure whereabouts it was. Not Williamsburg. But it was a long subway ride. It took half an hour or forty minutes to get into the city. It was cool though because you can take the subway at any time. I just like the way it's laid out.
NT: Guilty pleasure?
JF: I like chocolate a lot. I can just buy the biggest bar and eat it in three minutes. But I haven't done that since I've come to the States because, honestly, your chocolate sucks. Honestly, it's the worst thing I've ever eaten!
NT: I cannot believe that. What chocolate have you had here that was terrible?
JF: I've had Hershey's. It's not chocolate. It's too much sugar. I think you're doing it wrong. It's like you have less cocoa and more sugar.
NT: Last question. What is something you want your fans to know?
I want them to know that we're going to try to come back to as many places as possible and entertain them. I want them to feel that this thing that we're doing is not a passive thing. We're in it together. I want them to feel like it's a team effort. They should come to our shows and we should reward them with quality rock 'n' roll.
Reach Staff Reporter Rania Aniftos here.