Theater and Dance
'Broomstick' At The Fountain Theatre Is Spellbindingly Terrific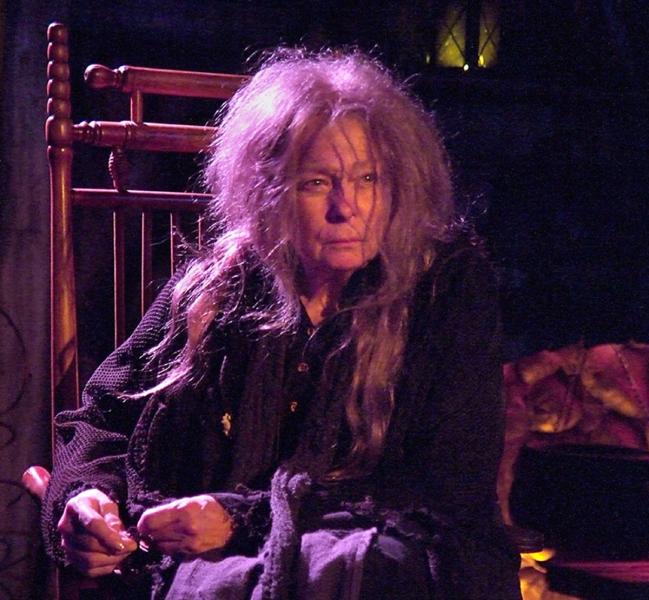 Sometimes listening to a free verse poem can feel monotonous and repetitive. This is not the case in the Fountain Theatre's production of "Broomstick," a solo play written entirely in free verse starring Jenny O'Hara.

Written by John Biguenet, "Broomstick" takes the audience into a cabin deep in the Appalachian woods, where an old witch lives. The audience is invited into the old woman's house one night as she recounts tales from her life. Throughout the 80-minute production, the Witch reflects on predjudice, love, betrayal, jealousy and the strength of the human heart. This play is far more than a costume romp for Halloween, though.

In a lesser actress' hands, the Witch could have deteriorated into a loud, cackling trope à la Bette Midler in "Hocus Pocus." Instead, O'Hara chooses to portray the Witch as a multi-faceted character who has been both a victim and avenger of the human heart. A no-nonsense moralist, the Witch's actions are driven by her belief that nobody should escape punishment. Through her stories, the Witch explains to the audience how she hands out swift justice, eliciting both smiles and shivers.

It's clear that O'Hara has fun playing up the dark side of her character as she climbs ontop of a table to deliver a spine chilling cackle. However, O'Hara really shines in the smaller scenes, like when the Witch laments a love who was lost at sea. Seamlessly shifting between sentimental and sinister, O'Hara imbues her performance with a vulnerable intensity that makes the audience want to both lean in closer and recoil in fear.

SEE ALSO: Something Wicked This Way Comes: 'Macbeth' At The Edgemar Center

O'Hara delivers the lines (written entirely in verse) seamlessly, without being sing-song-y or repetitve. Every technical aspect of this production comes together to set a spooky, festive tone. As O'Hara rocks back and forth in her creaky old rocking chair, dozens of candles and lanterns in elaborate votive holders flicker eerily, keeping the audience members on the edge of their seats. The fact that these elaborate props and sets have such a powerful effect on the production is a testament to Andrew Hammer (set design) and Misty Carlisle's (prop design) work, which transforms the small stage into a witch's cottage straight out of the fairy tales.

One reason this production works so well is because of the venue. Due to the small size of the space, the Fountain Theatre seats every audience member close to the stage, which creates a very intimate environment that allows the audience to see O'Hara's expressions up close.

To put it simply: Every aspect of "Broomstick" is truly magical.

"Broomstick" is playing through November 30 at the Fountain Theatre (5060 Fountain Ave, Los Angeles). Tickets are $20. For more information, call (323) 663-1525 or visit FountainTheatre.com

Reach Web Producer Helen Carefoot here and follow her on Twitter here.

For more Theatre & Dance coverage, click here.