NFL
Breaking Down The Bucs' Defensive Line Play Against Steelers
After watching the Buccaneers get blown out 56-14 against the Falcons on Week 3 Thursday Night Football, I thought I could probably write off the Bucs for the rest of the year. Just as they had under the two previous regimes of Raheem Morris and Greg Schiano, this team looked lifeless, undisciplined and without any actual desire to compete.
Then something very predictable happened during Week 4: the Football Gods came right back around and bit everyone in the butt. The NFL isn't anything anyone can predict accurately with any regularity--22 moving pieces after each snap mean that any wide range of results can occur on any given play, and any given Sunday. The Bucs ended up beating the Steelers 27-24, and in the parts of this game I saw on RedZone Channel, Tampa Bay's defensive line looked awesome. With me being a defensive line enthusiast in partiular, I had to go back and see what the Bucs did.
For the most part, Tampa Bay actually wasn't incredibly dominant from start to finish. They didn't have many pass rushes that got to Big Ben particularly quickly (where the offensive lineman was beaten right away at the snap), save for a couple rushes by Gerald McCoy and Clint McDonald.
That's where the strength of this defensive line is--the interior. McCoy (93) is a stud, and his first step quickness is noticeably faster than everyone else on almost every snap. Watching the Bucs d-line, you can see that McCoy is usually already engaged with the offensive lineman across from him before his fellow defensive linemen are even fully out of their stances yet.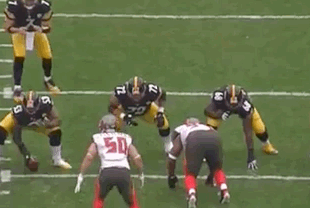 On this play, the Steelers slid their protection to the defensive left side, leaving McCoy one-on-one with the left guard. Check out his quickness. Note to opposing offenses: Don't leave Gerald McCoy single-matched on a guard, please.
Meanwhile, another defensive tackle in the rotation, Clint McDonald, might be the second-best defensive lineman on the roster (behind McCoy). Tampa brought him in during the offseason for $12 million ($4.75 million guaranteed), and he looks like a baragin. He's really good: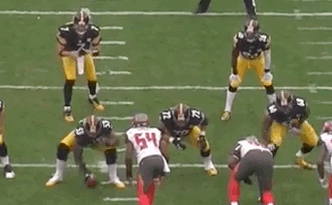 The Steelers this time slide their protection toward Gerald McCoy, leaving McDonald one-on-one with that same left guard. Poor Cody Wallace. McDonald actually beats Wallace with the exact same move McCoy used. McDonald isn't as long of a player as McCoy is, but he might be every bit as athletic. McDonald has excellent quickness and body control, and his shorter stature means that he can play with leverage when he has to hold up against the run.
He's the perfect pass-rushing complement to McCoy, because McDonald can take advantage of these single matchups when McCoy often garners the extra attention of the offensive line. Tampa ran a stunt at one point that had McDonald loop around the 3-technique and the defensive end, both of whom crashed down, to try to get McDonald in space. It didn't work that particular time, but I really liked that call.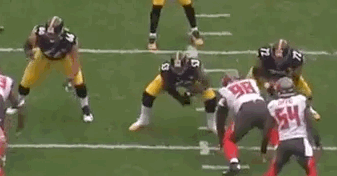 Here McDonald (98) takes on the initial double team, and plants his shoulder into the sternum of the left guard (this time Marcus Gilbert) to hold leverage against the run. He's responsible for the one gap on the left side of the center (53) on this play, and does a textbook job of staying disciplined and holding his gap even though the running play initially looks like it will go to the other side of the field. McDonald then disengages and makes the tackle. That's perfect, right there.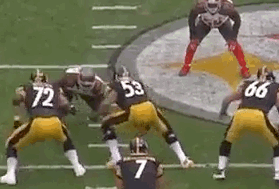 McDonald actually gets knocked to the ground by the center (53) here, but manages to recover extremely quickly and actually makes the tackle. A further example of his athleticism, recovery, and hustle here.
Between McCoy and McDonald, the Bucs should be able to reasonably expect interior disruption for opposing offenses on most plays. This is extremely valuable for defenses to have, because there is nothing more disruptive than interior pressure.
When edge pressure comes, a quarterback can simply step up in the pocket. But interior pressure? There's no escape. This takes away any room for a quarterback to step up, making him uncomfortable and leaving him vulnerable to edge rushers. Interior pressure makes the entire defense better, because it means the edge rushers have an easier job, and it forces the quarterback to throw hurriedly from uncomfortable stances, which helps out the secondary too.
Pittsburgh actually ran a lot of play action, rollouts, and fake end arounds to slow down Tampa's defensive line, showing the impact of consistent pressure. The Bucs' d-line will be ever-important going forward as a key component of Lovie Smith's relatively conservative defense.
There was actually one point late in the second quarter where Pittsburgh called three screen passes in a row, presumably to slow down the Bucs pass rush in this obvious passing situation. A part of this probably had to do with Steelers left tackle Kelvin Beachum, who had a rough day against the Bucs to say the least.
In terms of edge rushers, the Bucs gave defensive end Michael Johnson almost $44 million this offseason ($18 million guaranteed), but in all honestly he doesn't bring a whole lot to the table in terms of a consistent pass rush. He's a very good run defender, but creating his own pressure on a consistent basis is not his game.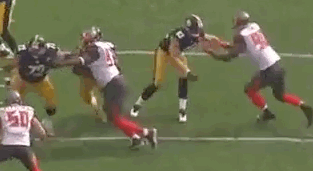 He's going against tight end Heath Miller here, but Miller is one of the league's best blocking tight ends, and Johnson (90) absolutely handles him. You can see the length and leverage Johnson plays with here, along with the discipline to engage and control Miller rather that try to get around him, blowing his gap assignment in the process.
When Johnson does rush the passer, his setup actually looks very similar to his run defense. He had a sack in this game against Steelers left tackle Kelvin Beachum where Johnson used his length to keep Beachum's hands off him, then drove Beachum back, creating a lane to get to Roethlisberger. Johnson can hang with any offensive lineman with his strength and length. Here is Johnson's other sack in this game, but this one relied more on scheme than Johnson's ability:
The Bucs bluff an A-gap blitz pre-snap, forcing Pittsburgh to slide their line protection inwards to account for the blitzing linebackers. Running back Le'Veon Bell therefore was assigned to block the defensive end (Michael Johnson) one-on-one. Bell was late getting over, and Johnson was able to capitalize for the relatively easy sack. Nice defensive call.
In run defense, the Bucs defensive line was pretty impressive. They weren't insanely dominant, but they were extremely disciplined. I don't recall any mental errors in this game where a Bucs defensive lineman simply blew his gap--blown gap assignments were actually mostly committed by the linebackers.
When someone on the d-line was out of place, it was a result of good leverage and usually double-teams by Steelers o-line, not because of poor discipline by the Bucs. A prime example of this came when the Steelers tried a reverse, but defensive end William Gholston stayed backside and made the play to contain the ball carrier.
Gholston is an interesting player--he's tall, long, and athletic for his size, but is still young and inconsistent.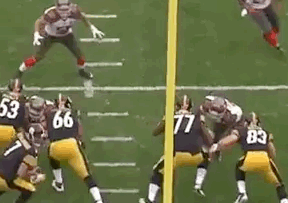 At his worst, Gholston (92) gets blocked essentially one-on-one by tight end Heath Miller (83) here, allowing Steelers right tackle (77) to reach the second level easily and block the linebacker to spring the big run. As a defensive end, Gholston simply can't allow himself to be blocked like that by a tight end. Gholston redeemed himself later on though, when he handled Miller easily and brought down Bell for the short gain. The potential is there, but not the consistency yet.
One of my favorite performances of the day went to fourth-year defensive end Da'Quan Bowers. The Bucs sometimes kick him inside to play defensive tackle instead of end, and he has excelled in this role.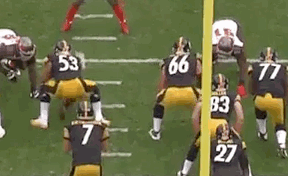 Steelers right guard David DeCastro (66) was assigned to block Bowers one-on-one on this running play, but Bowers utterly dominated him. Bowers threw DeCastro around like a rag doll here, and could have gone around him on either side. Bowers ended up shedding DeCastro and making the tackle on the running back easily.

But probably my favorite play of the day was Bowers' sack, which came on a tackle-end defensive line stunt the Bucs ran a few times. Prior to this play, the Steelers always (seemingly by chance) slid their protection toward the stunt, therefore neutralizing it, but this time the protection slid the other way. The Bucs took advantage of this with probably the best play of Da'Quan Bowers' NFL career so far, as he pulled Roethlisberger down from behind with one hand. Bowers' ability was never in question, and if he can keep playing like this he'll dispell any questions about injury issues or work ethic people may have.

Also, just something I thought was cool: the Bucs came out and lined up on third down once with Gerald McCoy at LDE, Larry English and Clint McDonald at the DT spots, and Micahel Johnson at RDE.
Until next week.
Reach Staff Reporter Andrew McKagan via e-mail here or on Twitter here.