Books
Book Review: 'A Slip Of The Keyboard: Collected Nonfiction'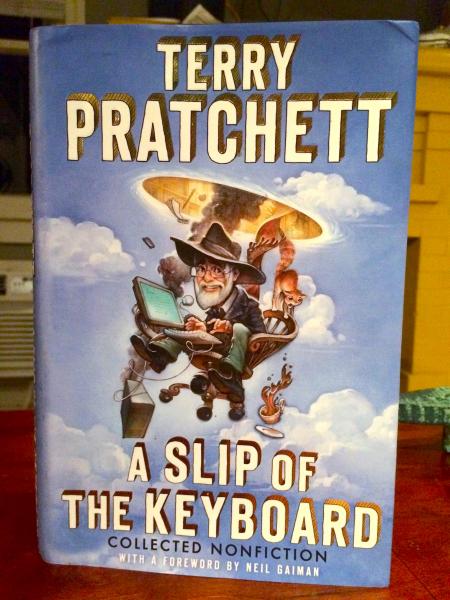 In his introduction to Terry Pratchett's newest book, Neil Gaiman writes that Pratchett "is not one to go gentle into any night, good or otherwise." Pratchett's writing is witty and engaging, but Gaiman makes it clear that Pratchett has a "foundation of fury" in him as well that belies the picture on the cover of the book.
With over 40 titles in his "Discworld" series and other books for readers of all ages Pratchett has quite the extensive publishing history, but this will be his first forray into nonfiction. "A Slip of the Keyboard: Collected Nonfiction" is a collection of essays, speeches and lectures compiled from the duration of Pratchett's career.
The book is broken into three sections: "A Scribbling Intruder," which relates to his career and an author; "A Twit and a Dreamer," which includes his thoughts on "off-duty" subjects and "Days of Rage," which is in regards to his diagnosis with Posterior Cortical Atrophy (PCA) Alzheimer's. No matter the topic, his writings are clever, engaging and poignant.
SEE ALSO: Book Review: 'S'
In "A Scribbling Intruder," Pratchett's essays and speeches discuss the art of writing and the life of the writer. As a fantasy writer, many of Pratchett's writings focus on the genre—both defending it and discussing how to do it well. His essays also include insights into the excitement and exhaustion of signing tours.
While Pratchett does not consider himself to be an author in the true sense, it is clear that writing is Pratchett's passion. Even if he never were to publish a book, Pratchett attests that he would still write every day.
In his discussion of fantasy and science fiction, Pratchett works to deconstruct many of the stigmas surrounding the two genres. In a speech from 1993 called "Let There Be Dragons," Pratchett defends fantasy writing against claims that it is both irrelevant and immoral.
Pratchett explains that the works of Agatha Christie, Tom Clancy and Kurt Vonnegut all fall under the oft-overlooked umbrellas of fantasy and science fiction. "Please call it fantasy, by the way. Don't call it 'magical realism,'" implores Pratchett.
As Pratchett is all too aware, readers of fantasy often try renaming it, but such attempts only do a disservice to the genre. Fantasy and science fiction impart the same kinds of lessons as any other forms of fiction; they just have a little more fun teaching them.
SEE ALSO: Book Review: 'The Ocean At The End Of The Lane
Pratchett notes that almost all readers know the tropes of the genre: dragons, elves, wizards, dwarfs, magic. According to him, the best fantasy writers "change the rules by which the world works and then write very carefully and logically by those rules." Rather than relying on these tropes to keep the story engaging, Pratchett suggests contemplating "how the wizards are dealing with the challenge of genetically modified dragons, and what the dwarfs are doing to stamp out racial harassment of gnomes" — in short, taking social issues and applying them to the writer's carefully structured world.
Pratchett employs this strategy in his Discworld series to great effect: his characters face taxes and racial stereotypes in their society—it just happens to be a society on Discworld, a flat disc balanced on the backs of four elephants who stand on the back of a giant turtle.
In "A Twit and a Dreamer," Pratchett tells some of his funniest tales. He also proves just how much writing and fantasy influence his life—many of his writings in this section continue to invoke his love for reading fantasy and science fiction.
In his "Days of Rage," the reader learns exactly what Gaiman meant by fury. Terry Pratchett has been very outspoken about his diagnosis with Alzheimer's, and he has also been very vocal about the problems with the British National Health Service (NHS) and his advocacy for assisted suicide, though he prefers the term "assisted death." It is fitting that the book ends with these essays. In reading them, there is no doubt that Pratchett is extremely committed to both further Alzheimer's research and advocating for the right for those with terminal illnesses to leave this world on their own terms.
In this final section, Pratchett proves that he can handle serious topics with the same deftness with which he writes comedy and fantasy. His essays and speeches are honest, poignant and sometimes, as suggested by the title and Gaiman's introduction, rageful. He will be sorely missed when he goes not-so-gentle into that good night.
Pratchett's book is the rare and valuable kind that simultaneously inspires, astounds and intimidates readers, especially those that aspire to have a similar career. He inspires because he has true passion for and belief in his work; he plans to continue writing until his dying day. He astounds because at one point, he would write 400 words each day, and if one day, he finished a novel in only 300 words, he would write 100 words of the next one. He intimidates because of the manner in which he inspires and astounds.
Both sharp and funny, pensive and poignant, Pratchett's nonfiction proves why he has become such a well-known and respected author. This collection appeals to more than just fantasy readers—it is an engaging read for any fan of nonfiction, writers of all levels and anyone interested in picking a highly fascinating brain.
Contact Contributor Jennifer Kuan here and follow her on Twitter here.