USC Sports
Behind Enemy Lines: Can Arizona Continue Surprise Start Against USC?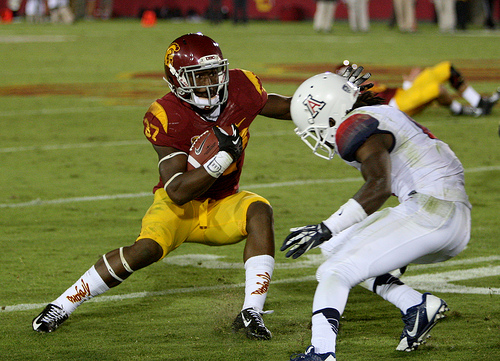 There aren't many teams that play USC better than Arizona. In fact, the last seven games between these teams have been decided by a touchdown or less. That includes last year's contest in which
USC pulled off a 38-31 win
in Ed Orgeron's coaching debut.
Arizona has been a Cinderella story this season. After upsetting Oregon in Autzen Stadium, the Wildcats are the only undefeated team left in the Pac-12. Daniel Berk is one of the top follows for Arizona football, and the Arizona Daily Star reporter joins Neon Tommy today to help preview what should be a fantastic game.
1. Anu Solomon has been a revelation as redshirt quarterback for Arizona. What have opponents done to defend Solomon and the read-option so far, and why hasn't it been working? How has Solomon handled blitzing defensive schemes this season?
Early in the year, teams were mostly challenging Arizona to pass the ball. Opponents didn't know what Arizona had in Solomon and wanted to make him sling it, figuring the experienced offensive line would be able to open plenty of holes in the running game. So in the beginning, Solomon had one-on-one coverage a lot, while teams came in to stop the run. For the most part, he's made good reads and gotten the ball where it needs to go. As teams have adjusted to Solomon, you've seen him labor a bit in the first half the past two weeks. Once he gets comfortable with the looks, he's able to make some plays. Other than one bad decision to try to force a ball, Solomon has been pretty poised when facing blitzes this season.
2. Arizona seems to also have quite a potent running back duo in Nick Wilson and Terris Jones-Grigsby. How would you describe each of their running styles? Which running back is the better fit in the passing game, in terms of receiving ability and protecting the quarterback?
Both are pretty similar backs. Coach Rich Rodriguez has said several times they're far more similar than different. They both like to do their work between the tackles and aren't afraid of contact. Neither guy has eye-popping breakaway speed, but both have enough to do the job. Last week, they both got involved in the passing game and showed they have some hands. Jones-Grigsby, probably because of his experience, may be the better blocker at the moment, but Wilson has a big body and hasn't been afraid to throw it around.
3. Cayleb Jones has been Arizona's best wideout statistically this season, but the entire receiving corps could be the deepest in the Pac-12. With USC struggling to defend taller receivers such as Jaelen Strong last week against Arizona State, do you think this is the Wildcats' biggest advantage? What are some of the other strengths among this group besides size?
Jones has thrived when teams have tried to defend him with one-on-one coverage on the outside. The only time he wasn't able to really take advantage of it was last week against Ifo Ekpre-Olomu and Oregon. He certainly has an advantage not just as a bigger guy, but because he's so effective going up for balls and getting them at their high point against smaller DBs. Arizona's biggest strength with its receivers is versatility. You'll see Austin Hill play outside, in the slot and even in a tight end role. Cayleb Jones will play inside and out. As will Samajie Grant and Nate Phillips. Grant, Phillips and DaVonte' Neal are smaller, quicker guys that complement UA's bigger receivers such as Jones, Hill, David Richards and Trey Griffey.
4. Linebacker Scooby Wright made the big play against Oregon last Thursday with his sack and strip of quarterback Marcus Mariota. Not only does he have five sacks, he also seems to be strong at defending the run. What makes the sophomore so difficult to block? Is Wright the biggest X-factor on Arizona's defense?
I think Tra'Mayne Bondurant is the biggest X-factor on the defense, but Wright is certainly the most consistent. He's a three-down player, who lines up at middle linebacker the first two downs and then will move down to a defensive end spot on passing downs. He's done a nice job this year not getting stuck to blocks and has increased his speed. The coaches wish they had a little more help for him down near the line of scrimmage, but he's made plenty of plays.
5. Arizona runs a 3-3-5 base defense under Rodriguez. Yet despite having more defensive backs on the field, the unit has had a lot of trouble defending USC's top wide receivers the past three years (Robert Woods had 255 receiving yards in 2011, Marqise Lee had 345 in 2012 and Nelson Agholor had 161 last year). What adjustments will Arizona make in their coverage schemes to make sure Agholor doesn't go off again? Is the secondary the weak link of the defense?
Arizona does play five defensive backs, but a couple of those guys play in a hybrid linebacker spot at times, and that definitely changes things. UA corners have struggled against USC's top talent at receiver the past three years. Shaq Richardson was given the assignment of Agholor last year and had his worst game of the year. Jonathan McKnight, who is a senior this year, also struggled that game. The UA's corners have to be better Saturday and get some help from free safety Jourdon Grandon. Arizona has several soft spots on defense, so I don't think you can characterize the secondary as the weak link.
6. The Wildcats, like the Trojans, are a rather young team. Yet, Arizona's talent seems to have gelled more quickly than USC's. How responsible is the coaching staff for getting the Wildcats to play well beyond their experience would indicate? Do you think a young team like Arizona is more prone for a letdown game after an enormous win the week before?
The coaching staff deserves credit, no doubt. But on offense, Arizona's offensive line also deserves a ton of credit. It's one of the better units in the Pac-12, and has three seniors and a junior on it. Tackles Mickey Baucus and Fabbians Ebbele are four-year starters and have done a really nice job keeping Solomon clean and giving him time to throw. Inside, they've done a nice job opening up the run game. The letdown question is a good one. It's tough to know, but it seems like this team isn't due for a letdown.
7. What is your prediction for the game?
I'm not sure on the winner, but I think we'll see a good, close game. I think USC plays strong after a disappointing finish and I think Arizona hangs in, trying to prove it's for real. I think we're in for a game in the high-20s to mid-30s for each team.
Reach Senior Sports Editor Max Meyer by email.