Food
Eat At Ayara Thai Cuisine, Eat With Family
For husband and wife Andy and Anna Asapahu, the owners of Ayara Thai Cuisine in Westchester, Khao Soi Noodle is a family tradition, but at the Center for the Pacific Asian Family's 36th Anniversary Gala, it was the Best Dish.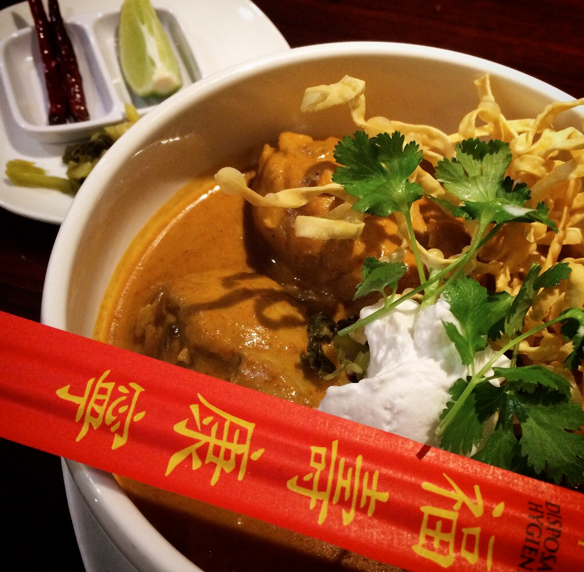 Ayara took home the award despite competing against big name restaurants such as Faith & Flower, Chaya and Phorage.
Ayara's Khao Soi Noodle is a unique spin on a traditional family recipe.
The couple's daughter Vanda helped develop the coconut foam which tops the chicken curry noodle dish.
"You wouldn't usually find that coconut foam, that's just me and my siblings playing around in the kitchen," Vanda said.
The aromatic and light coconut foam pairs perfectly with the spicy kick from the curry, which is made fresh every day in-house. The chicken drumsticks are soaked in the curry sauce, causing the meat to slip off the bone with the light push of a fork.
Under the spicy sea of curry lies a patch of thin egg noodles. Crunchy fried noodles rest atop the dish, adding a pleasant contrast in texture. Additional garnishes include shallots, pickled mustard, roasted chili peppers and lime.
The sweetness of the coconut balances the spices of the curry and the softness of the egg noodles. The dish embodies the essence of Thai cuisine, which often blends different tastes and textures to appease a spectrum of senses.
Vanda selected this dish for the gala because it was the simplest to make within the event's restrictions.
"They didn't allow for a fryer, they didn't allow for much of anything, and this was easy to boil noodles and combine with our curry," Vanda said. "We thought it would be fitting for that event given that it was something that we enjoy as a family as well."
Vanda said that she did not know they would be entering a contest. After the competition was announced, she and her sister scrambled to assemble the dish. When second and third place went to well known competitors, Vanda assumed first place would be the same.
"In my mind it was probably going to go to another big name place," Vanda said. "We didn't even know we were called [as the winners] when it happened. It was our first culinary win, we didn't even know it was a contest going in."
Vanda said their local mom and pop shop is still under the radar, and that is something she is ok with.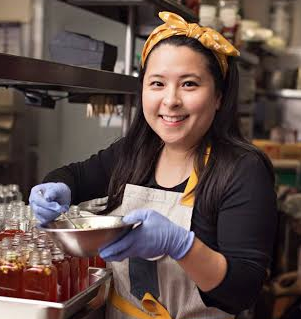 "We feel like sometimes we're like the step-kids of the L.A. food scene," Vanda said. "I feel like I'd rather it be an organic road to whatever that is (notoriety) rather than us pumping this artificial attention to what it is not."
Walking in to Ayara Thai Cuisine feels like walking in to a friend's house. The employees are eager to serve you and make you feel welcome.
Family is everything at Ayara. The entire staff is either related, or close enough to be considered family.
On any given night, Vanda can be found migrating from the kitchen to the dining room to check on customers, casually hugging and waving to familiar faces.
"We wanted to create a place where our friends could hang out, the food was simple, easy and healthy," Vanda said. "And we've kind of grown from there."
Khao Soi Noodle will be featured as a special until Sunday, Oct. 12 for $12.
The Asapahu's plan to expand the restaurant to incorporate a noodle bar, which will offer Khao Soi Noodle as a permanent menu item.
Until then, Thai food enthusiasts have just a few more days to devour this signature family recipe.
Contact Staff Reporter Margaux Farrell here or follow her on Twitter here.