Entertainment News
AMAs 2014: 9 Celebs Who Would Be Better Hosts Than Pitbull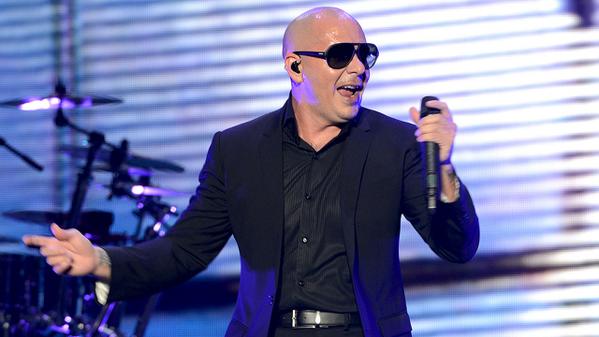 For the second year in a row, Pitbull will be hosting the American Music Awards, which airs live on ABC on November 23.
The rapper will also be performing a brand new track from his upcoming album "Globalization," which comes out November 24 (the day after the 2014 AMAs).
Dick Clark Productions and ABC apparently thought Mr. Worldwide did such a great job last year that he deserved another go at being host.
However, reaction to the news on social media has been mixed, so here are some celebrities who could probably do a better job of hosting the AMAs than Pitbull.
Tina Fey and Amy Poehler
While Tina Fey and Amy Poehler might not want the pressure that comes along with hosting an awards show as prestigious as the Oscars, it's clear that they're fine with hosting other awards shows. The comedic duo have hosted the Golden Globes for the past two years, bringing the awards show its highest ratings ever in the past decade, and are gearing up for Round 3 with next year's Golden Globes on January 11.
With these two funny ladies at the AMAs, everyone is sure to have a good time - whether they're there in person at the Nokia Theatre in L.A. or watching the show at home.
Drake
Drake got rave reviews after his hosting gig at the ESPYs earlier this year, so why not invite him to emcee the AMAs too?
As the 2014 ESPYs proved, the Toronto rapper's got a great knack for comedic timing and acting. With Drizzy Drake as your AMAs host, you can expect a lot of funny moments throughout the night, like this 2014 ESPYs skit below, which makes fun of Filipino boxer Manny Pacquiao's love for singing.
Fergie
Having hosted "Dick Clark's New Year's Rockin' Eve" since 2006, it's safe to say that Fergie is more than qualified to emcee the AMAs.
The Black Eyed Peas singer also hosted "Great Pretenders," a game show that ran from 1999 to 2001 in which contestants lip synced and danced to songs in order to win prizes.
Demi Lovato
Demi Lovato doesn't have the hosting experience that the other names on this list do, but we could see her doing a great job emceeing the AMAs.
Besides the fact that she's a just an overall inspiring individual, the "Neon Lights" singer has great stage presence and a hilarious, no filter sense of humor that many audience members would enjoy. If nothing else, we'd love to see her bring back this amazing impression of Cher below.
Anna Kendrick and Rebel Wilson
Rebel Wilson hosted the MTV Movie Awards last year and Anna Kendrick got her first bit of hosting experience on "Saturday Night Live" earlier this year.
Put these two "Pitch Perfect" co-stars together and the funny moments are sure to be endless.
Ellen DeGeneres
Ellen's already got a slew of awards show experience under her belt, so having her as an AMAs host would be an absolute no-brainer! The comedian hosted the Grammys in 1996 and 1997, the Emmys in 2001 and 2005, and the Oscars in 2007 and 2014.
Ryan Seacrest
What hasn't Ryan Seacrest done? He's hosted everything, including "American Idol," his own radio show on KIIS-FM ("On Air With Ryan Seacrest) to "Dick Clark's New Year's Rockin' Eve," and more reality TV and game shows than you can imagine.
If anything, Seacrest is way overqualified for this gig and should've hosted the AMAs sooner.
Jimmy Fallon
Besides hosting "The Tonight Show," Jimmy Fallon's hosted the MTV Movie Awards and MTV Video Music Awards, as well as the Emmys in 2010, which got over 200,000 more viewers in comparison to the year before.
He's funny, he's charming, he's humble... What more could you want in an awards show host?
Reach Entertainment Producer Michelle Tiu here and follow her on Twitter.