Books
An All Access Pass To 'Wolf In White Van' By John Darnielle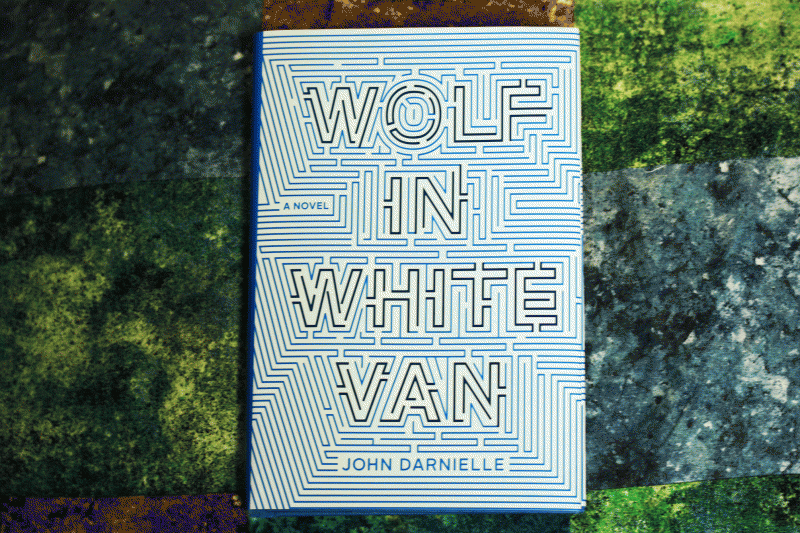 A dizzying and beautiful tale of the fragility of life, "Wolf in White Van" by John Darnielle (Singer/songwriter of
The Mountain Goats
) illustrates the dark recesses of the human mind and the light that can arise from it. "Wolf in White Van" tells the story of Sean Phillips, who after an incident that has left his body disfigured, creates the world of the Trace Italian
—
a text-based role-playing game sent through the mail.
Darnielle abandons traditional chronological sequencing in favor of a structure all his own. Switching between Sean's consciousness at three specific stages in his life, the book works like a clock set in reverse. As the circumstances that drive the narrative are illuminated, the action delves deeper into the past.
Bold and exciting, "Wolf in White Van" flourishes with descriptions both of reality and the world of Sean's imagination.
SEE ALSO: The Mountain Goats' 'Transcendental Youth' Is Another Solid Release
By carrying readers through Sean Phillips' inner dialogue and flashback, Darnielle transitions between the past and present to reveal the consequences of a tragic incident. While somewhat difficult to comprehend at times, the novel moves so elegantly from moment to moment that it nevertheless enraptures the reader.
A masterpiece of intense and creative storytelling, the book's quick rhythm and constant flux make it difficult to put down. Each moment swiftly gives way to another, as readers try to piece together the clouded puzzle of Sean Phillips's life. As readers travel through Sean's inner consciousness, misapprehensions are born and then shattered, as readers become closer and closer to the truth that gives the book its haunting finality.
The story fully and honestly creates a world that is both directly connected with modern culture and also strangely distant—fitting, as Sean successfully distances himself from the world, limiting all interaction with others to an almost grotesquely limited degree. This isolation, combined with a surprisingly effective mix of pessimism and optimism sets up a strong emotional connection for readers that makes Sean read as a fully-fleshed out, living, breathing character. This realism is consistent with Darnielle's earlier work as well.
SEE ALSO: The Mountain Goats' 'All Eternals Deck' Promises To Shine
The Trace Italian is a world created by Sean directly after his injury. A role-playing game in which customers pay a fee and then are sent turns through the mail for their character. The Trace Italian is described with such care and wonder throughout the novel, a segment that absolutely shows the thought as well as skill that went into making the book. In each stage of Sean's life he is working on the Trace Italian, creating a web of interaction between the narratives. The massive world of the game gives consistent insight into the emotional storm that is and was Sean Phillips.
A great book is one that can be read over and over again, and "Wolf in White Van" is exactly this, a novel that to truly be understood requires more than one reading. The elegant, near poetry, of the words makes it a joy to read, and the major thematic elements are drenched in so much context—both specific to the book and historically—that the story earns thorough investigation.
A must read for any fan of The Mountain Goats or John Darnielle, "Wolf in White Van" is an intriguing and wonderful novel that everyone should consider picking up.
SEE ALSO: The Best Bookstores In Los Angeles
In a unique and wonderful twist of fate, John Darnielle held a reading at Skylight Books this past week where he read from "Wolf in White Van" and answered questions from the audience. Below is a transcript of some major (and minor) questions that were asked throughout the night. The actual questions have been dwindled down to their bare minimum while John's answers are primarily in their original state. Warning, there may be some small spoilers.
Question: Was there a point when you knew you were finished with the book?
Darnielle: I always forget which person it was who my theory teacher was quoting when he said that 'nothing is ever finished only abandoned.' It's a great line, totally not true of songs at all…With this one, I wrote through the ending and I thought, 'this looks like an ending,' and then I started messing with it because it runs backwards. And I had print it up and cut it out and I started arranging stuff on the floor in the hall, with a two-year-old crawling over it, um, to see what fit where and how it flowed best…I already had the ending from page 203 to 207, the very end, written in a somewhat shorter form. And I cut it all at one point, I cut the actual climactic moment. Since you already know what's going to happen, I cut all of that out and just made the last thing the conversation with himself and his mother. His last words were ''I guess.' I said.' And I really liked it for like two days, I was like oh that's hard core… No, people who trusted you for two hundred pages, they deserve to see the lead character do the terrible thing that they've been promised.
Question: The ambiguity of the story? What's up?
Darnielle: It's a pretty big story with a lot of ambiguities. I try and leave space for ambiguities in my songs. I don't think they have more than a lot of other songs but a song generally speaking… you don't stand up there and say, 'well maybe it's the one thing or maybe it's the other…' You're usually coming down on somebody's side, I'm defending somebody… but the other thing is, when I started writing I didn't have an idea. I always start like that. I start typing something up, if I had thought that there was a song in it at any point than it probably would have gone that way.
Question: Originally the novel was read through several different perspectives, did you write from Judas Priest's perspective?
Darnielle: No, I did not write about it from Priest's perspective.
"Wolf in White Van" written by John Darnielle. Published by Farrar, Straus and Giroux. For more information visit
Mountain-Goats.com
.
Contact Contributor Casey James Dunn here.