Sports
Adoree' Jackson: Playing Every Snap Like A Championship Game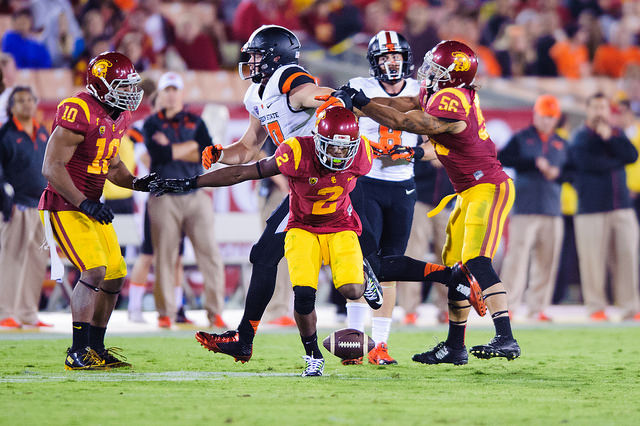 After all the excitement freshman cornerback Adoree' Jackson brought on Saturday, we grabbed him after Wednesday practice for a few questions.
Neon Tommy: You've been playing great on both sides of the ball… now that you've played a few games, which do you prefer – offense or defense?
Adoree' Jackson: God willing if I could go to the NFL, I always wanted to be a corner. I know that it's the best position for me. Coming in out of high school…. I just need to think about defense for the next few games.
Q: Do you feel comfortable as corner?
A: I feel comfortable in the cornerback position. I'm getting a lot more reps in, on the defensive end, at practice. I want to improve on my technique, how I'm playing the game, my focus, my mentality.
Q: Since your focus is defense, who's been your biggest role model on defense?
A: On the team, it's everybody. Starting from the D-Line, Leonard [Williams] and Antwaun [Woods] and the linebackers, Hayes [Pullard]. Everybody in the DB room, they're all there for support, regardless what happens or not.
Q: What are you looking to improve going in to practices and games?
A: Working on my hands, keeping them clean. Working more with the receivers. Just because I'm starting to do something out of my row, I'm just gonna do what I've been doing.
Q: Was there anything you learned from Boston College that you've been taking with you?
A: It was a humbling thing, knowing that nobody's gonna let you down. We had a target on our chest, so now we come into games like that.
Q: You weren't here last year so you've got no game to compare this upcoming one to, but what is your challenge going into the ASU game?
A: [The coaches] said "what are you doing today to get better?" And that's what the challenge is and what we focus on, trying to get better from our last game and improve on that. I'm excited about their offense and it shows [where we're] worst in our defense.
Q: Arizona's a pretty big game, are you anxious at all?
A: All [the last] games were big. This is the biggest one because it's our next game, and then it's Arizona. Every week is our biggest game and we just have to go out like that. We just try to take the Pac-12 South one game at a time.
Q: How would you describe your game?
A: Smooth, relaxed. I'm not one of those chatters…I'm just smiling out there, having fun. I'm more relaxed and having fun and everything; but I'm concentrating, it let's me have fun. Most receivers probably think nobody can stick them, and I just know I can do a lot of things a lot of great DB's have done and building your self-confidence makes a lot of things go easy.
Q: Has your game slowed down any, now that you're getting a better feel for things?
A: For me, when you watch film, it's not as fast-paced. Once you watch film it slows down, and it's slowed down for me.
Q: What was going through your mind during that tip last game?
A: I couldn't get my feet set to jump up properly like I wanted to. So when I jumped in he was just on top of me, and luckily Leon [McQuay III] was there. I saw him, but I didn't know where he was…so I was confused, that's why I was turning around in circles, trying to see where Leon went… Everybody was mentioning the [Richard] Sherman play – it was just exciting to do something like that. At the same time, Leon got the interception, so that was his.
Q: And you did that in practice the other day?
A: That was intended, now I know how to do it.
Q: What do you think of all the hype surrounding you, and all the attention you've been getting?
A: I don't pay any attention to it, I just keep playing my game. I try to stay focused becau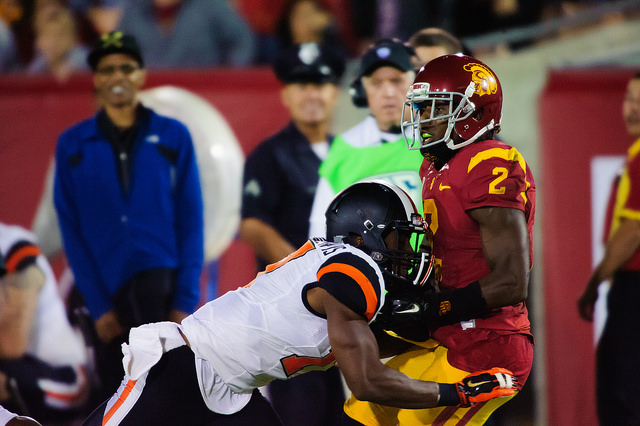 se when you get caught up on that, you get complacent.
Q: Did you expect to have such an impact on the team so early?
A: I expected to do the things that I could, but I never thought about coming in and making an impact like trying to be that superstar or be the leader of the team. I just wanted to come in and earn their respect, play the way I play.
Q: What's been the best part about playing for USC?
A: The excitement, having fun, the energy we have, everyone gets hyped for practice. [We're] ready to play at any time [and have] a championship practice. Every practice, we treat it as a championship game.
Coach Sarkisian also weighed in on Adoree' Jackson's play.
Question: What do you have to say about the impact Adoree' has been having on the team so far?
Answer: Adoree', as I said every day probably for the last two months, is a unique guy. He's got a very high football IQ, is he's a really good athlete, and he's extremely competitive, when you put all those things together you have a guy that prepares himself mentally physically emotionally. He works his tail off in practice every day and he makes plays. All of those things add up to, we're a better football team in some aspects because of Adoree'.
Look for No. 2 on the field this Saturday as the Trojans attempt to conquer Arizona State at 4:30 in the coliseum.
Reach staff writer Durga Ghosh here.