Entertainment News
The 7th Annual Bel Air Film Festival: A Red Carpet Affair
The following conversation took place between editor Dale Chong and reporter Danny Galvin via text message after the 7th Annual Bel Air Film Festival Presented by the A2E Family. All information contained is truthful, and no names were changed to protect the innocent.
April 7, 2014 11:51
Dale Chong:
Hey! Such a pleasure meeting you & I hope your evening went well! If you can, please get your story to me tonight!! I need it published as soon as possible. Thanks!
[Spend the intervening time attempting how many degrees of seperation between myself and ebola to postpone actual writing.]
April 8, 2014 12:20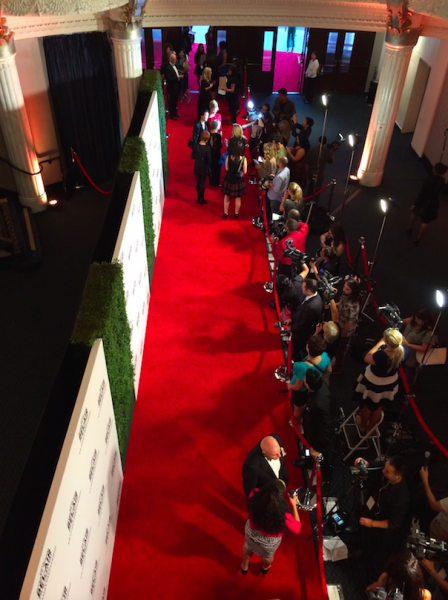 Danny Galvin:
Is this or is this not the dopest piece of news you've read in a cool minute?
"Our Australian hostess Christina Collard introduced the honored women as the XX Club of an XY industry and gave awards out to such luminaries as Tippi Hedren, who won a Lifetime Achievement Award from the festival in parts for her involvement in starting the American-Vietnamese nail salon industry and her efforts to rescue big cats born Stateside."
That's facts only.
For someone who hasn't ever covered an awards show before, let me just say that was of the highest forms of entertaintment. Odd yet entertaining.
Dale Chong:
Haha wait that's what the event ended up being about...? That's so strange!
As long as you enjoyed yourself though. What exactly happened?
Galvin:
Yea I was expecting maybe just a few films and an award or two at the end, but "Bel Air Film Festival Presented by the A2E Family Foundation" was really specifically highlighting the accomplishments of women who were able to break through Hollywood's glass sealing. I was by no means expecting this curve ball, but I definitely wasn't unhappy with it and stretched it into two. Tippi Hedren is a gosh darn American hero, fighting against communist regimes and rescuing lions
Ms. Tippi became an accomplished actress and then literally navigated the oceans of post-war Vietnam, bringing humanitarian relief to victims ignored by the new communist regime, helped immigrate many to the States, invested her time and money into providing an outlet for these specific women's interest in nail work, and all in all was a perhaps the first person I've ever been in a room with who's started an entirely new industry. Which is impressive, obviously. And on top of that she rescued big cats like lions and tigers and jaguars born Stateside in her spare time. What have I done? Not rescued big cats born in the USA.
Her wikipedia page is v nuts.
SO then, standard Red Carpet affairs with photos and interviews with the talent on deck. Lmao I sounded jaded af already.
After loitering for a while, the patrons shuffled into the theatre for an awards ceremony hosted by an Aussie lass who made a her obligatory Iggy reference early and progressed gracefully in her speech. She handed out an award to an older woman named Emily Ferry, the first female property master. Next, Melanie Griffifth strolled in casually late to honor her mother, as previously mentioned above.
Moving on, we began a dramatic short film "I'll Be Home Soon" about a dude "whose family thinks he's a terrorist and holds him hostage." <--Direct quote from James Everrett, but tbh I had such a confusing interaction with this British director.
So I obviously uncouthly laughed out loud when he said that, to which he poshly replied, "Well, I do suppose it might sound like a comedy when I say it like that," or something equally British and well-rehearsed. Personally, Pixar shorts like the man playing chess against himself are the only shorts that come to mind. In fact, I copped that one on iTunes bItd™ (that's 'back in the day,' and now i think I own that specific capitilization). This man's film was pulling plays out of Liam Neesom's playbook tho, not Pixar's, and it had some v neat editing tricks that threw the whole audience off. Which was nice so he had that going for him.
Last but certaintly not least, we witnessed Courteney Cox's new dramady Just Before I Go, starring Sean William Scott and featuring strong performances from Rob Riggle and Garret Dillahunt. Also, shouts to Evan Ross and Cleo King for shining too. I'm not saying "JBIG" was directed by Monica Geller… but I'm not saying it wasn't. Look, I will not bad mouth a legend, so that's all I gotta say there.
[She vaguely agreed to publishing this conversation, I think]
Reach Staff Reporter Danny Galvin here. Follow him on Twitter