Music
'24 Karat Gold' By Stevie Nicks: Album Review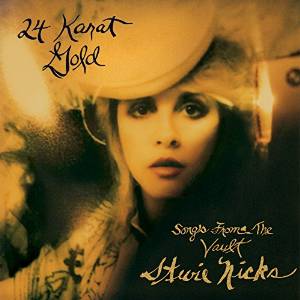 Bust out your fringe kimonos and dust off your crystal balls—the original musical sorceress is back.
Since we don't have Ryan Murphy to give us our daily dose of Stevie Nicks this year, we had to rely on the goddess herself to assist in our longings.
Just in time for Halloween, Nicks' album "24 Karat Gold – Songs From the Vault" is composed of 14 previously unreleased tracks for fans, new and old, to enjoy. Recorded between 1969 and 1995, these songs are still timely, even in today's musical world. If you don't have time to see Fleetwood Mac on tour, this album will come in handy.
READ MORE: 7 New Albums To Listen To This October
"24 Karat Gold" is filled with songs that are essentially Nicks. They are raw, featuring the singer's irreplaceable voice. The beats are addictive, very similar to what she did on "The Other Side of the Mirror" and "Wild Heart." Though the quality is not the best (hey, it was the 70s), the essence of the songs is still captured.
"The Dealer" is by far the most "Nicks" of the album. Even if you replaced the singer, the truthful lyrics and the 80s rock beat are essentially Nicks. The track apologizes for her wild heart saying, "If I'd really known you then/You'd've had to watch out." Ah, the struggles of love that Nicks knows all too well.
Perhaps her most sincere song is "Mabel Normand" because it parallels her own cocaine addiction. Her music has always been autobiographical and transparent. Perhaps that is one of the reasons why the world has such great respect for Nicks.
"She Loves Him Still" is the highlight of the album. It's as poignant as "Leather and Lace" and as truthful as "Stand Back." To add an almost Irish-like flute to the song midway is daring, but it works. The added instrument tugs at the heartstrings while Nicks sings, "No one understands this man/No one ever will/Till his dying day not even he himself can change this/She loves him still."
The album paints a picture of the icon Nicks is. You can see her now—standing tall, bearing a copious amount of jewelry, blonde hair flowing in the breeze, dark materials draped over her shoulders. A woman, though never settled down, ended up marrying herself to her music. "24 Karat Gold" simply adds to her collection, her "children" if you will.
Don't get us wrong, this ain't no "Edge of Seventeen." Though certainly not Nicks' best work, "24 Karat Gold" is still magical. It's definitely rougher cuts. It will certainly appeal to the die hard fans, but "24 Karat Gold" may be a bit too "deep" for fans who only know Nicks as that girl that first sang that one Dixie Chicks song (these are probably the people that prefer Five Guys to In-N-Out).
It's not as tender as "Bella Donna," not as sassy as "Wild Heart" and not as worldly as "Trouble in Shangri-La." However, because it is a compilation CD, "24 Karat Gold" has elements from all of these albums, as well as Fleetwood Mac records, which is why it's a must listen.
The album's title track, "24 Karat Gold" speaks of "Golden wings in the sunset/Take me back." Indeed, Nicks is reflecting on moments that shaped her—loss of love, struggles of everyday life and the journey to make oneself.
It's not just Stevie trying making her life one day worth "24 Karat Gold," it's all of us as well.
Reach Music Editor Jillian Morabito here.