Music
Within Temptation At Club Nokia: Review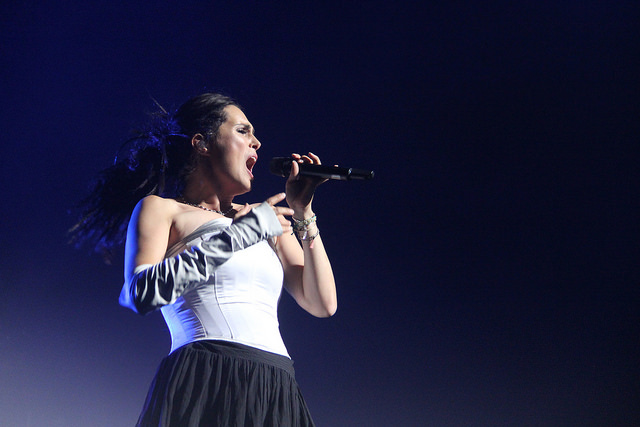 Looking over the crowd at Club Nokia last night (September 26), which included everyone from pre-teens to senior citizens and every age group in between, you'd have never guessed that two metal bands from Europe were performing.
Supported by Amaranthe, Dutch symphonic metal band Within Temptation brought their all to the second show on the North American leg of their Hydra World Tour.
A melodic metal band from Sweden, Amaranthe quickly got the crowd moving with their fast-paced, head-banging hits. Elize Ryd and Jake E's clean vocals were on point and complemented Henrik Englund's harsh screams and growls.
Known for their unique incorporation of pop and dance elements into metal music, Amaranthe's set was a pretty even mix of songs from their previous two albums, as well as new tunes from their upcoming third album "Massive Addictive" (out October 21).
The pop and dance influence was especially notable on "Drop Dead Cynical," the band's first single off their upcoming record.
After a very quick set change, the lights dimmed and Within Temptation's portion of the night began with a short video segment called "Dragon."
The band members then got onstage and opened with "Paradise (What About Us?)," the first single off their sixth studio release "Hydra" (2014) and if you'd just looked at the setlist, you probably would've thought that Within Temptation was doing a greatest hits tour rather than a promotional one for "Hydra," which dropped earlier this year in January.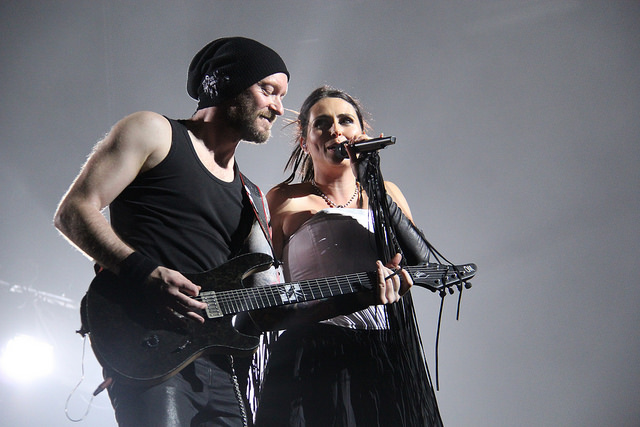 With the exception of the band's debut record "Enter" (1997), Within Temptation hit pretty much all of the biggest songs of their 18-year career, including "Faster," "Stand My Ground," and "What Have You Done."
Lead singer Sharon Den Adel also led the Dutch band into an amazing cover of Lana Del Rey's "Summertime Sadness," which they'd previously recorded on a 2013 covers album for Belgian radio station Q-Music's fifteenth anniversary.
Supposedly closing the show with a performance of "Mother Earth," the band was only offstage for a few minutes before returning for an epic four song encore, which included their only two acoustic songs of the night - "Never Ending Story" and "Sinéad."
Up until that moment, the members of Within Temptation hadn't slowed down for a second - and neither had the crowd, for that matter.
One of the best parts of the show was (naturally) Sharon Den Adel's flawless vocals, which are made even more impressive when you find out that she was never formally trained as a singer and is instead mostly self-taught!
The lead singer's talent was especially evident during "And We Run," when her operatic vocals soared over a playback of Xzibit's parts in the studio version of the song.
Overall, the show was one amazing moment after another and, with the sheer amount of stage presence and energy the band had, you'd have never guessed that they were just in San Francisco playing another show the night before.
Within Temptation ended the concert (for real) with a performance of "Ice Queen," the first single off their second studio album "Mother Earth" (2000), as well as the song that got them out of the Dutch underground scene and into the mainstream.
Of course, they didn't leave the stage quite yet... The band thanked the audience and then took a picture in front of the crowd to commemorate yet another successful night on their Hydra World Tour.
Amaranthe Setlist
Digital World
Hunger
Invincible
1.000.000 Lightyears
Massive Addictive
Afterlife
Amaranthine
Call Out My Name
Drop Dead Cynical
The Nexus
Within Temptation Setlist
Paradise (What About Us?)
Faster
Let Us Burn
In the Middle of the Night
Fire and Ice
Our Solemn Hour
Stand My Ground
Summertime Sadness (Lana Del Rey Cover)
The Cross
And We Run
See Who I Am
Dangerous
Edge of the World
What Have You Done
Mother Earth
Covered By Roses (Encore)
Never Ending Story (Encore)
Sinéad (Acoustic) [Encore]
Ice Queen (Encore)
Reach Staff Reporter Michelle Tiu here and follow her on Twitter.