Theater and Dance
What Are 'Bronies' And Why Is There A Musical About Them?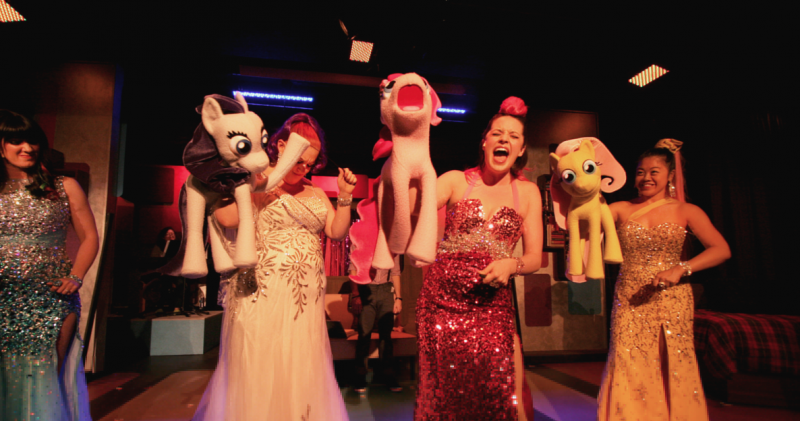 You may be asking yourself, "What is a brony, and why should I go see a musical about multiple bronies?" Let me tell you, I asked myself that same question. The answer?
Google it
. That's what I did. To my surprise I found a world full of rainbows and smiles
—
just like the one that-crying-girl in Mean Girls was talking about
—
and ponies! "Bronies: The Musical" is even more colorful and eccentric than its website; there is no wonder why it won the
2014 Best Musical Award at the Hollywood Fringe Festival
. The production's world premiere was September 27 at Third Street Theatre, which opened to an eager, sold out audience. Under the direction of Richard Israel, Joe Greene's hoof-tapping music, and Heidi Powers and Tom Moore's colorfully, quirky libretto, the world of "Bronies" comes alive.
"Bronies: The Musical" is more than just an ode to lovable and doe-eyed ponies, but it is an anthem for anyone who dares to be different. The story is about how common, or rather, uncommon, interests can be, and how they can bring even the most unlikely of people together. Austin Miller (Taylor Jack Helmboldt) is the star of the High School basketball team who seems to have the perfect life but is mildly unhappy. Tyler Mason (Richy Storms) is an outsider whose life is consumed by video games and comic books whose human interaction is limited to being picked on at school and harassed by his hilariously intrusive mother, Mrs. Mason (Gabby Sanalitro). Finally, Jacob Davis (Josey Montana McCoy) is a 22-year-old college graduate and a struggling artist currently working for his father as the janitor of the high school. Bewitched by the undeniable charm of four colorful ponies— Pink, Blue, Yellow, and White— these three men are converted into Bronies (Bro-pony fanatics). Austin, Tyler, and Jacob's lives change forever; they form a tight friendship that is based on mutual pony-fandom but is constantly challenged by the harsh reality outside of their perfect pony-loving communityc—their peers and parents who don't understand. Austin struggles with being a brony amongst his close-minded jock friends who are bullying Tyler at school while Jacob watches idly by. It seems that the only thing that can get them through it all is the guidance from the ponies and support from each other.
SEE ALSO: An Ambitious, Exciting, Mess Of A Play, 'Lost The Musical: We Have To Go Back'
"Bronies: The Musical" is a fun show that is not to be taken seriously —it is about ponies, afterall. From beginning to end, the show is full of energy, laughter, and color. Each song is more catchy and cheesier than the next, but it works. Although the story of a band of unlikely friends coming together is not unheard of, what makes this show so special is its humor and undeniable spunk... courtesy of the ponies, of course. The show blatantly tackles the issue of bullying and constantly reminds the audience to "love what or who you love," without making it annoying or less enjoyable. These elementary ideas of being nice to others and shamelessness about who you are, are expressed through witty humor, a fair share of profanity, and sexual innuendos. Not elementary at all. The ponies bring the magic; their wonderfully glittered costumes, comedic timing, and amazing voices steal the show. The best scene by far is when the ponies introduced themselves to Austin, Tyler and Jacob —there is puppetry and pony-ography (pony choreography) involved.
"Bronies: The Musical" is definitely a must-see; you may even walk away a brony yourself. During and after the show, it is impossible to stop smiling. This show is about ponies but it is not just for children, it is for everyone (everyone over 13, that is). Yes, it features sparkly, mythical creatures, but they are hilarious and extremely talented mythical creatures. Yes, it reminds the audience to be nice and love who they are, but everyone needs to be reminded of that once in a while. "Bronies: The Musical" is a special quirky treasure that you do not want to miss out on.
"Bronies: The Musical" is playing at Third Street Theatre (8115 W Third Street) through November 2. Tickets are $25-30. For tickets click here or call 1.888.71.TICKETS (84253). For more information visit www.BroniesTheMusical.com
Reach Contributor Sydney Louise Weinberger here.
For more Theater & Dance coverage click here.