USC Sports
USC Upsets Stanford, Completes One-Year Transformation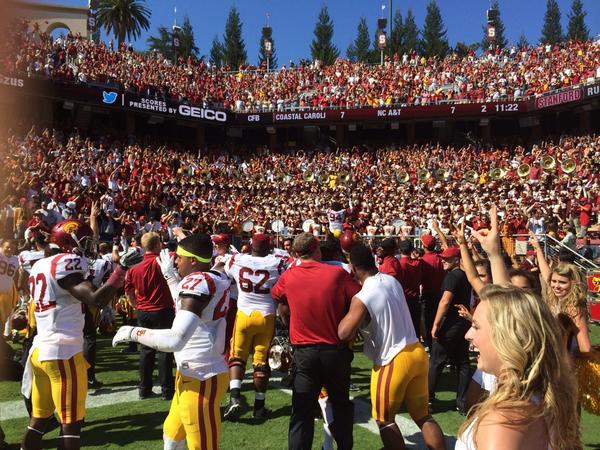 Just one year ago, Washington State traveled down to Los Angeles and delivered an embarrassing blow to USC, beating them 10-7 in Week 2. Lane Kiffin was on the sideline, there was still a quarterback controversy and the crowd was disgusted with the team's performance in their home opener. Attending football games had become a solemn experience.
What transpired on this Saturday afternoon in Palo Alto showed how far USC football has come after they hit rock bottom.
"This team has gone through so much, dating back to last year. You always hear me talk about it, but I'm so proud of these guys because of everything they've gone through," said starting quarterback Cody Kessler. "Every team could have buckled down. These guys kept fighting."
Kicker Andre Heidari was all too familiar with this role. He's had two of the biggest moments in USC's climb back up to the top. With the game tied at 10 with 2:30 left, USC was five yards away from a first down and a major fourth-down decision loomed.
The Trojans originally had their offense on the field to try and draw Stanford offside, but then USC coach Steve Sarkisian decided to go with his kicker on a 53-yard field goal. With Stanford in prime position to make a counterattack if he missed the kick, Heidari was thrilled that Sarkisian called on him.
"It speaks volumes to me, I'm glad Sark has that trust in me," said Heidari. "As a kicker, you always have to be ready every time you step on the field. I'm just glad I got the opportunity."
After Heidari hit his career-long field goal to put USC up 13-10, the Trojan sideline was filled with jubilation. There was a realization that they were in a great position to outlast Stanford in a dauntingly physical contest.
Despite Hayes Pullard's ejection in the third quarter after a targeting penalty and an injured and much less effective Leonard Williams, Sarkisian put his trust in that unit as well by opting with Heidari. To think just two years ago, this unit couldn't tackle or really defend at all under coordinator Monte Kiffin. Oh, have the tides turned.
It was the defense's time to make a season-altering stop. That's exactly what happened when linebacker J.R. Tavai sacked and stripped Stanford quarterback Kevin Hogan in USC territory.
"It felt great. Making a big play like that comes once in a while," said Tavai. "When your opportunity comes, you got to take it. I'm just still happy, so happy right now."
"Even before Andre kicked the field goal, I brought the defense together and was telling everybody that Coach Sark trusts this defense or else he wouldn't be trying to go for it right now," said Williams. "That made us hungry and when we took the field, we wanted that stop. After he kicked the field goal, we had so much adrenaline and we just went out there and got the second turnover of the day."
USC needed many players to step up on defense in this game. Michael Hutchings replaced Pullard at middle linebacker and stepped up as a leader. Freshman Adoree' Jackson was very good in coverage, despite going up against bigger Stanford wide receivers. Safety Gerald Bowman had 10 tackles. This was a far cry from a defense that used only 12 players in last year's game against Stanford.
"This is a brother-oriented team. When I got off the field, I told Mike [Hutchings] that he's the leader of the defense," said Pullard. "He then went out there and led the defense, as he should as the next in line. The defense went out there, they didn't need me. It shows how promising the future is."
Like last year's battle between these two teams, Stanford squandered so many opportunities which ended up costing them the game. In USC's 20-17 win over the Cardinal in 2013, Stanford ended up with only 10 points in four red zone trips. This time around, they doubled-down on their ineffectiveness on the USC side of the field.
Stanford made it to at least the USC 32-yard line on all nine of their drives. Five times they were in the red zone. And somehow, the Cardinal only came up with 10 points despite a plethora of chances.
"So, bottom line, you don't take advantage of opportunities, you lose games to good football teams. We had so many opportunities to win this football game," said Stanford coach David Shaw. "When you're not good enough in the red zone, you lose games. You got to make field goals, you got to take advantage of field position. We just did not."
Stanford could have capitalized many times after it looked like USC's sloppy offense would not get any momentum against their defense. The fun and excitement of the Trojans' offense against Fresno State was simply not there for most of this game. Yet, Buck Allen had a career-high 154 rushing yards against a vaunted Stanford defensive front. In 2012 and 2013, USC combined to rush for 49 yards on 55 carries in their two games against Stanford. They had 45 rushing yards alone on Saturday after their first drive.
"We just said we were going to run the football," said Sarkisian. "It wasn't always going to be pretty, but we had to dedicate ourselves to running the ball, which the teams, in my opinion, that struggle the most against this defense are the ones that give up on the running game and allow them to tee off on your quarterback. Probably stubbornly at times we ran the ball more than people anticipated. We just had to hang with it."
Allen had 69 rushing yards on the two most important USC drives in the second half, both ending up with Heidari field goals. After the last field goal, something was planted inside the Trojan fan base's mind that hadn't been thought of in a while. This is a team that can accomplish something special this season, including playing in college football's inaugural four-team playoff.
Could anyone possibly have thought that the Trojans would be in a position like where they are now at this time last year? In a season in which they've already been on quite a drama-filled ride, you could feel the ecstasy from the players when they were celebrating with the crowd after the game.
Even though they only scored six more points in this game than against Washington State just one year ago, the sentiment among the team has completely transformed.
"What Coach Sark has done for this team, got these guys believing not only in him, but each other, everybody involved in the Trojan family is unbelievable," said Kessler. "I'm so happy to be a part of it."
Reach Senior Sports Editor Max Meyer by email.