Opinion
Untested Rape Kits A National Disgrace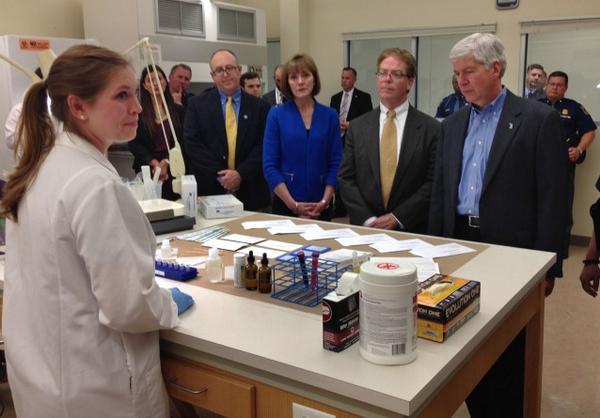 From
Slut Walks
and protests of the high-profile Steubenville rape case, to students across the country
filing Title IX complaints
against their universities' mishandling of sexual assault cases, to the FBI finally
updating its outdated definition of rape
and even the White House taking a progressive (if sometimes oversimplified)
stance on sexual assault
, it's undeniable that recent years have seen a resurgence in the anti-rape movement in the United States.
But when it's all said and done, some crucial aspects of the anti-rape movement don't get as much attention as they should. For example, there are alarming amounts of untested rape kits (estimated to be in the hundreds of thousands) gathering dust in police departments and evidence warehouses across the nation. And "gathering dust" is not an exaggeration as some recently discovered untested rape kits date back to the 1970s. Because of this, countless victims of rape have gone and are going without justice while countless rapists, particularly serial rapists, walk free.
READ MORE: Accountability The Only Solution For Global Rape Culture
A rape kit consists of evidence collected by a doctor or nurse from the victim's entire body for the purpose of finding DNA left behind by the attacker(s). Rape kits go untested when members of law enforcement don't believe a crime occurred, when they simply decide not to investigate further, when they believe testing the kits isn't necessary because the victim knew the perpetrator and when crime labs lack proper resources and personnel to test the kits efficiently.
Even though rape kits have never been the biggest priority for law enforcement, some people are working to fight this on the legislative level. On Sept. 19, Congress sent The Debbie Smith Reauthorization Act 2014, which would reauthorize funding for the Debbie Smith DNA Backlog Grant Program through the Fiscal Year 2019, to President Obama for his signature. The original Debbie Smith Act of 2004 was created with the purpose of giving federal grants to state and local law enforcement agencies so they could have the resources to speed up their analyses of untested rape kits. It was named after a woman from Virginia who was abducted from her home by a man and raped repeatedly in 1989. It was years before the evidence from her case was examined and her rapist caught, so Smith spent time living in fear that she might be attacked by the same man again.
While the federal government has taken a stance with this bill (although has so far failed to support President Obama's idea for a new Justice Department program), I believe the real change will happen when each state implements laws mandating statewide testing of all untested rape kits. While some cities have made it a priority to clear their backlogs (typically after outrage and criticism), currently, only three states have mandated that all of their rape kits be accounted for (that doesn't include testing): Colorado, Illinois and Texas. However, Texas alone is still estimated to have 20,000 untested rape kits statewide.
READ MORE: LAPD Officially Clears Rape Kit Backlog
Even with the 10-year-long existence of the Debbie Smith Act and numerous advocacy groups dedicated to ending the backlog of rape kits, the nationwide backlog is currently estimated at around 400,000. While this number is staggering, in reality, the amount is probably higher, as next to no state governments and agencies track this data and police departments continue to discover batches of untested rape kits that have been misplaced for years. The amount of untested rape kits in this country coupled with a Department of Justice survey which found that only around 4 percent of all rapes result in felony convictions, is beyond unacceptable and must be changed.
The 2002 study by psychologists David Lisak and Paul Miller has shown that six out of 10 rapists rape again with serial rapists committing an average of 5.8 rapes each. And remember, that is just an average. Seeing as how serial rapists commit the majority of rapes, the funding for The Debbie Smith Reauthorization Act 2014, which is expected to be almost a billion dollars from 2015-2019, but will be funded separately, could make an unprecedented impact in taking thousands of serial rapists off the street and promoting national safety.
By the time Detroit had tested the first 1,600 of its 11,000 untested rape kits back in March, 2014, approximately 100 serial rapists were identified—"identified" meaning the same DNA showed up in more than one rape kit or DNA from one rape kit matched a currently open case. If similar results were found for the estimated 400,000 untested rape kits, that would be approximately 3,636 serial rapists identified.
While some may say the backlog is a lost cause and that activists and law enforcement should focus their energy on making sure all new cases are processed in a timely fashion, testing old rape kits can expose rapists who have been free for decades and is thus invaluable. In a recent case, a rape kit was tested after sitting for 14 years, incriminating Bridges Randall, an ex-cop from Memphis who until Sept. 2014, worked with children as an administrator at the Boys and Girls Club in Atlanta.
As police departments continue to find more misplaced kits and the problem looms larger and larger, it becomes clear that while yes, lack of monetary resources has been the reason many police departments have not processed all of their rape kits, the truth is that rape prevention and catching rapists has sadly and simply never been a top priority in the United States. If it were, we would have found the money by now.
Not everyone who advocates for sexual assault survivors or policy changes on consent and assault at universities, workplaces or in the government knows about the rape kit backlog. Not everyone who is familiar with the statistics of just how few rapists actually see any jail time knows all the reasons why so few are pinpointed in the eyes of the law in the first place. The backlog of rape kits in the United States has been quietly yet hazardously persisting under the radar for decades and the time has never been better to call widespread attention to it. While in some cases, volunteer teams have been assembled to tackle backlogs and have made significant progress, such as in the case of Wayne Country Prosecutor Kym Worthy's efforts, more people and advocacy groups need to push states to pass laws that will mandate testing of all rape kits statewide and provide funding to expedite the process. If states are each held individually responsible, I believe the testing of all rape kits will start to be treated less like a mountain not worth climbing and more like what simply needs to be done for the good of rape survivors and society. It's time to bring the issue out into the light.
The "War at Home" is a project of co-columnists Corinne Gaston and Maya Richard-Craven to examine and discuss contemporary issues of discrimination, violence and social injustice within American borders.
Read more here. Contact Deputy Opinion Editor Corinne Gaston here; or follow her on Twitter.