Theater and Dance
An Unconventional Concert: 'Roar' At The Rockwell Table & Stage
Perhaps it should be a red flag to spectators if a professional production company has its crew begin a show with a defense of the integrity of the performace... as in, discuss the storyline and its importance beforehand as well as praise the Los Angeles actors for their "New York caliber" performance.
"Roar," a theatrical concert now playing at the Rockwell Table and Stage, unfortunately does exactly this. Director VP Boyle, and choreographer Ambrose Respicio III make a tenacious effort to stage a unique theatrical performance. However, while the energy and passion of the cast is evident and noteworthy —they sing their hearts out to catchy pop songs while roaming in and out of the audience— this particular style of creativity is sadly not enough to truly captivate an audience.
Although it is true that "Roar" becomes increasingly more entertaining as the show progresses into the second act, the often and obvious flat notes, the nervous looks from one cast member to another to ensure that certain dance steps and (or) lyrics are in sync, and the lack of a clear, understandable storyline as well as developed characterization (there are in fact no named characters at all) make the "Roar" experience considerably less enjoyable than it has the potential to be.
Despite these less tasteful performance aspects, "Roar" is indeed what it advertises itself to be: an "Immersive Theatrical Concert." If anyone is particularly interested in an innovative and non-conventional form of theatrical art, then "Roar" is the show to see. To avoid future disappointment for those who are eager to see this production, it is best for viewers to attend the Rockwell Table and Stage with an open mind, and without the expectation that they are going to see a play or a musical, for "Roar" is neither of these.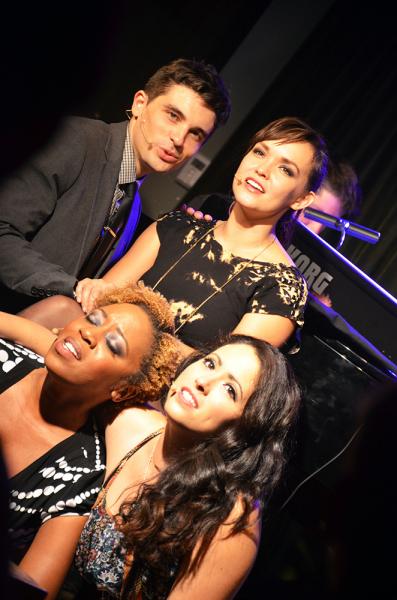 Rather, it is a collection of female-empowering songs coupled with a few fun dance moves,and a pinch of spoken text here and there that make it the original performance that it is. It is best to simply consider "Roar" to be a fun concert that features covers of many of America's favorite contemporary pop songs from artists such as Katy Perry, Adele, Taylor Swift, Lorde, Beyonce, Shakira and more.
It is also important to note that the lax and commonplace costume design in "Roar" truly makes the audience feel that the performers are actually still normal people, people that are trying to tell a story, rather than performers only focused on listening to the sound of their own voices. And indeed this "real person" theme is incorporated into the show from its start, when the opening song "Timber" by Ke$ha begins to play and two presumed audience members suddenly break out into song to reveal that they too are part of the show. This visual component of the show, coupled with the vibrant, multicolored shades of light that accent the climax of each song, truly make the performance come to life.
If bored with the productions of the current film industry or aggravated by the mundane and traditional structure of American theater, "Roar" could certainly be a show worth seeing.
"Roar" is playing through September 27 at the Rockwell Table and Stage (1714 N. Vermont Blvd in Los Feliz). Tickets are $15-$50. For more information visit www.rockwell-la.com
Reach Contributor Kim Morris here.
For more Theater & Dance coverage click here.