Arts+Culture
Too Classically Ignorant: Response To NY Times Slip-Up
It seems the New York Times could benefit from a thesaurus.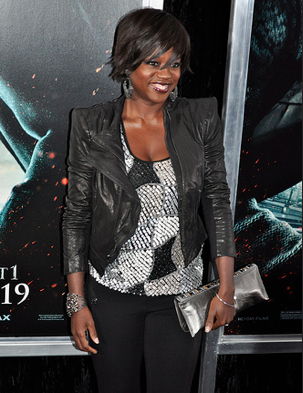 In a surprisingly tactless comment, NY Times television writer Alessandra Stanley referred to Academy Award nominee, Viola Davis, as "darker skinned and less classically beautiful" than fellow black actresses Kerry Washington and Halle Berry. The article was intended as a sort of homage piece to production powerhouse Shonda Rhimes, whose creative mind is responsible for acclaimed television series like "Grey's Anatomy" and "Scandal." Stanley's piece began with a fairly apt analysis of Rhimes' work thus far, touching upon the writer/director/producer's progressive representation of successful, black female leading characters. 

However, as Stanley began to narrow her focus on Rhimes' latest cinematic endeavor, "How to Get Away With Murder" starring Viola Davis, the writer's tone adopted an unwarranted critical edge. Perhaps Stanley felt that she was offering an expository perspective by contrasting Davis' work with that of Washington's ("Scandal"'s compelling, spirited female protagonist), but in reality, produced a comparison that was not only racially offensive, but also largely irrelevant to the talents of the actresses and of the creator. Social media instantaneously erupted in support of Rhimes and Davis, pairing appropriately enraged remarks against the NY Times alongside the trending Twitter hashtag #LessClassicallyBeautiful.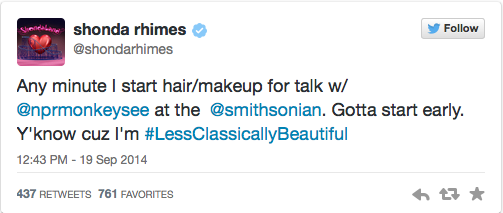 In light of the widespread public backlash, NY Times editors published a response to what they referred to as an "astonishingly tone-deaf" article. Times Public Editor Margaret Sullivan conceded "commentators are correct to protest this story," and admitted that the slip-up arouses questions regarding the Times' editing process and its handling of topics like women and race. In conjunction, Alessandra Stanley released a statement claiming that her comment had been "misinterpreted" by readers. Despite their backtracking, neither have been able to truly explain how the publication permitted Stanley to apathetically perpetuate outdated and misogynistic beauty standards that reduce women's worth to their aesthetic appeal. 

The foundation of Stanley's comment operates on the foolishly ignorant standard that to be dark-skinned is to be less than classically beautiful. If Stanley was attempting to laud Rhimes' decision to create a new protagonist with an older, more menacing persona than Washington's spitfire Olivia Pope, why use the description "darker skinned" to convey those attributes? Does the fact that Viola Davis has a completely different onscreen presence from Kerry Washington's make her less classically beautiful? Does the fact that she is ten years older and more mature make her less attractive? Does the fact that her skin is a few shades darker make her uglier? Undoubtedly, Rhimes selected actresses with different qualities to embody different characters. Why choose women with identical physical attributes to achieve completely different purposes on separate television shows? 

Perhaps the issue lies in the media's definition of what constitutes "classic beauty." The term "classic" seems misused in this phrase. The word implies something ordinary, typical, standard. It is not clear exactly what standard off which Stanley is basing her commentary. 

In the current age of complete media takeover, the public is exposed to a variety of prominent female characters, each exhibiting a unique range of physical characteristics and personalities. Because of these variations, it is difficult to pinpoint the exact meaning of "classic" as it refers to beauty. By overtly mainstream standards, iconic supermodels like Naomi Campbell, Twiggy, Tyra Banks, and Cindy Crawford have strutted down runways and paraded across billboards as prime examples of what it means to be a beautiful woman. But can each of them fit neatly into the mold labeled "classically beautiful"? They are all in fact extraordinarily tall and sport trim waistlines, but these foundational attributes are only made desirable by their individual qualities: bone structures, curves, skin tones, etc. that differentiate them from the millions of tall, thin women. By Stanley's standards, is Naomi Campbell less beautiful than Twiggy simply because she is "darker skinned?"
Aside from the alarming fact that Stanley, as a white woman, felt comfortable placing a negative connotation on another woman's dark skin color, it is valuable to question why the NY Times permitted an analysis of two women's work to shift into a commentary on their physical attractiveness. Her comment completely snubs all of the women who have redefined what it means to be classically beautiful - women like Shonda Rhimes who are at the forefront of their industries, women who are fearless and intelligent. It's true that Kerry Washington is lovely in all physical aspects, but what seems to set her apart is her talent for acting. Similarly, Viola Davis' work in screen and stage endeavors earned her a spot on Time Magazine's 2012 "Most Influential People In the World." Shouldn't these facets in themselves allot both Washington and Davis the title of "beautiful"? The term "classic" has the potential to hold so many ambiguous meanings that its use only clouds the impact of the adjectives that succeed it. 

Whatever Stanley meant to convey with the term "classically beautiful" is unclear. It seems that the phrase functions as a sort of cop-out; rather than continuing to analyze both women professionally, she tossed in an ill-developed thought that supports female objectification and obsolete beauty standards. Perhaps if she had taken time to develop and articulate her points, Stanley would not have nonchalantly employed an overused umbrella term with dismissive, racist undertones. Next time, the NY Times should pay closer consideration to word choice - beautiful women are intelligent, innovative, savvy, personable, thoughtful, candid, creative, and independent. They are anything but "classic." 


Reach Senior Culture Editor Emily Mae Czachor here.