Arts+Culture
That's A Wrap: 'Friday Night Flicks' End Along With Summer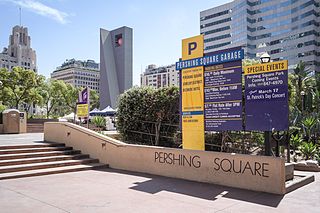 Friday night was the last of the summer's "Friday Night Flicks," a series of outdoor movie screenings in Pershing Square. A crowd of about 100 people sprawled out on picnic blankets in the grass to watch John Hughes' "Sixteen Candles." The last film of the summer drew a younger crowd to this quiet enclave in downtown L.A. With the city lit up behind the projector screen, Pershing Square looked almost romantic. Several couples were bundled up against the cool breeze, while others came with a friend - or a small posse - and lawn chairs.
Sarah Castro was there with her sister. She found out about the event through a quick Internet search. "I just Googled 'events to do in LA,'" she said.
Byron Avendano was also there with a buddy. He, however, is no stranger to the Pershing Square entertainment scene. He came last year for the Friday Night Flicks, having found out about the series through the Pershing Square website. "Sometimes I come on Saturdays for the concert series," he said. He would love to see more drama films next year. "Some Daniel Day Louis," he suggested with a smile.
Gus Sedano, the Pershing Square Recreation Coordinator, is in charge of picking the flicks. He throws in some personal favorites but generally thinks in terms of crowd-pleasers. And the crowd tends to be young. "The older a movie is, the less of a turnout we get," Sedano explained. He consults with his juniors on the board to get their perspective.
SEE ALSO: Outdoor Movies With A Delicious Twist
Every month had a theme. May was "Action Films," including "The Wolverine" and "Thor." June was dubbed "Need for speed," screening movies such as "Fast and Furious 6" and "Christine," one of Sedano's personal favorites. These first two months drew the biggest audience, according to Sedano. July was "Wise Guy Month" with comedies like "My Cousin Vinny," and August was the month of musicals, which was hit or miss, said Sedano. September, the series' last month, appropriately inaugurated the back-to-school grind with "Teen Trauma Time." Sedano said "The Breakfast Club" was a popular screening this month.
Most of Sedano's picks were a hit this summer, but not all of them were approved by the senior recreation director. Sedano had wanted to show some Quentin Tarantino films, but the director thought they would be too graphic. "We have a veteran population around here, and she thought it might be insulting to them," said Sedano.
While most of the attendees came in pairs to say goodbye to the summer screenings, some people enjoyed a solo experience. Ed Eadon sat by himself on the stone steps against a handrail. "I looked at the downtown news to see what was going on at two minutes till eight," he said, "and then walked over here." He had never seen "Sixteen Candles" before but, as a high school physics teacher, he felt it would be an "interesting insight into that age."
Friday Night Flicks was another programming success for Pershing Square this year. But because of budgeting concerns, the series might be shortened to run fewer months next year. "Somebody opened their mouth in the department questioning the rights to movies," said Sedano.
Up until then, "the city paid a ridiculously low fee for recreational centers to show movies for free," said Sedano. "Now we have to go through the licensing company." Sedano said they are now paying $250 to $300 per movie screening, while still keeping the event free to attendees.
(WATCH: Pershing Square design case study)
When the movie credits rolled, the street light in the square turned back on. The movie-goers gathered their blankets and headed out. A bittersweet end to summer.
Contact Staff Reporter Hailey Sayegh here.