Politics
MIDTERM WATCH: Scandal in the Race for Florida's 26th District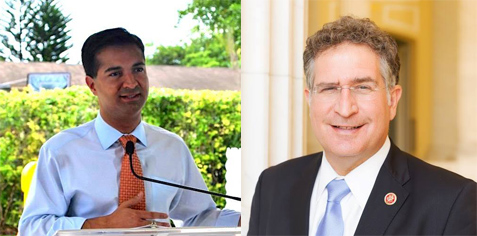 One of the main issues in midterm congressional election in Florida's 26th district is one that doesn't show up on either of the candidates' official platforms: corruption. Voters don't know who to believe anymore when both incumbent Joe Garcia and Republican challenger Carlos Curbelo are attacking each other for funding straw candidates and granting contracts to favored clients.
"I hear commercials, but I don't listen to them," South Florida small business owner Abraham Abramovich said. "You have to dig into them and see what they are really saying, and I don't really have time for that."
Abramovich believes the government would benefit from some new blood, free from corruption. That notion is reminiscent of the 2012 election when Florida's 26th district voters gave the congressional seat to the Democratic party for the first time because their former Congressman, David Rivera, was embroiled in a campaign-finance scandal to prop up another illegitimate candidate.
Now, Rivera's successor is tangled in a similar situation. Joe Garcia's campaign manager, Jeffrey Garcia, is under federal investigation for funding a phony tea-party candidate to take away votes from a Republican rival in the 2010 election. The campaign manager, who is of no relation to Congressman Garcia, already served 65 days in jail for requesting absentee ballots without voters' permission.
In a McLaughlin & Associates poll released Sept. 15, among voters who had heard about the investigation of Garcia's former campaign manager, 51 percent of respondents said they support Republican candidate Carlos Curbelo while only 38 percent expressed support for Garcia.
The lead was much narrower when all respondents were taken into account. The poll, which was commissioned by Curbelo, showed the Republican challenger ahead of the current Congressman, 44 to 40 percent.
"It is clear that voters have had enough of Joe Garcia's scandals and fraud. From recruiting straw candidate Roly Arrojo in 2010 to his campaign committing absentee fraud, residents of South Florida can't trust Garcia – who originally said he was running on ethics," Curbelo's Communications Director Wadi Gaitan said in an email.
The Garcia campaign could not be reached for comment, but it did release this statement about the poll.
"South Floridians know that Rep. Garcia always puts them first – and the support we receive from the tens of thousands of conversations we've had over the past months is a much more accurate barometer of what South Floridians want from their representative in Washington."
Curbelo is also under attack for his lobbying role in his Capitol Gains communications firm. Some rumors have even suggested that Curbelo may be using his position as a Miami-Dade County School Board member to award valuable contracts to some of his firm's clients.
"I think they are partly fishing for a scandal, but there are questions about why he moved his company into his wife's name so that he doesn't have to disclose his clients. He can say he's following the law, but is that ethical?" said Sean Foreman, a political science professor at Barry University.
Ethical questions and the overall negative tone of both campaigns has disillusioned voters, and that could hurt the voter turnout in this contested district.
"Garcia and Curbelo are putting out these negative ads and they have the potential to drive down voter turnout in their race and Garcia needs high voter turnout to win because the district leans Republican in terms of registered voters," Foreman said.
Foreman believes that older, Hispanic voters will be the ones who come out to the polls this November, and they will ultimately decide this race and therefore, the imbalance of power in Congress.
Abramovich is one of those Hispanics planning to vote. As an immigrant and the owner of car washes and gas stations, Abramovich is concerned about immigration and healthcare, but also the overall direction that politics is going. He believes all public offices should be limited to one-term to avoid the controversies like the ones in the Florida's 26th district congressional election.
"There should be new blood," Abramovich said.
Contact Staff Reporter Meghan Coyle here.