Art and Design
Review: Los Angeles Metro Art Tour
At 5 p.m. on a workday in downtown Los Angeles, Union Station is bursting with hurried people, clutching their bags as they dart through the terminals. They weave in and out of crowds, elbowing and shoving until they are safely aboard their designated forms of transportation. These frantic commuters are so intent on hopping aboard their one-way rides home that they lose touch with their surroundings.
Metro Art Moves, Metro's free after-work art tours, showcases the unexpected beauty that people often miss when they fixate their eyes straight ahead during mad dashes to the train. Tours kick off in the historic Union Station.
Metro has hired local artists to function as tour guides, such as Alex Amerri, who added a unique flavor to his explanations of the artifacts. "We are going to explore the space and how people move around in it," he said smiling, as he directed the group in an exercise in transit intimacy. Amerri told seven strangers to stand in a tight circle; as their shoulders brushed against one another, they took turns saying their names to the people beside them.
The tour officially began with a grand opening in the station's original entryway, complete with 1920's architecture and an ambience reminiscent of LA-based noire films. Bold typed signs reading "Information" and "Tickets" displayed vintage, old Hollywood print. Authentic, dark leather chairs were lined in neat rows around the spanish-style entryway, like a photograph that had been doctored using a sepia filter. Much of its beauty lied in its seclusion; the general population was too preoccupied purchasing last minute tickets or waiting in line for a late afternoon snack to venture into it.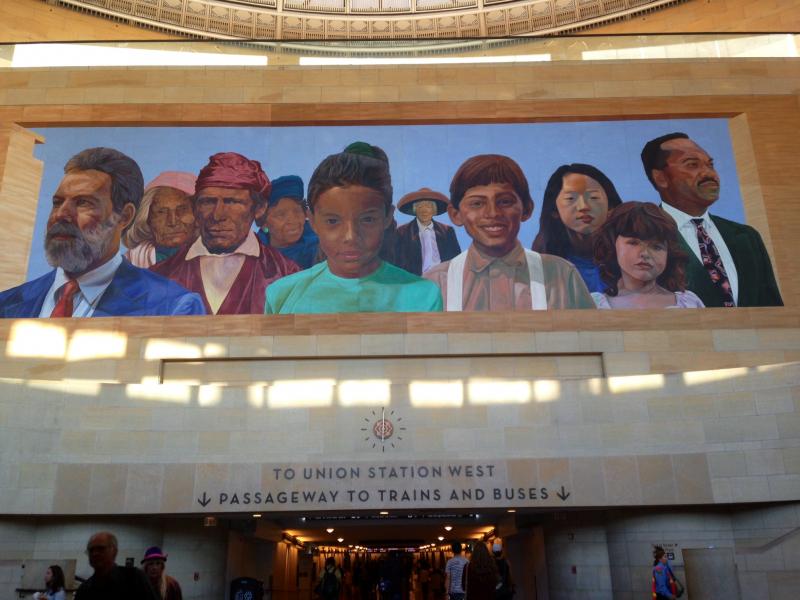 At an initial walkthrough, the new section of the station appeared admittedly less impressive than the grandiose original. However, as Amerri skillfully pointed out the multitude of art embedded in every surface (even the floor!), it became impossible to believe that so many people race by every day and fail to take notice. It seemed so simple to just look around and see these majestic pieces, particulary the "City of Dreams, River of History" collaboration between Richard Wyatt and May Sun, prominently displayed at the station's new entrance.
Surrounded by art, the tour group played a game of follow-the-leader with a theatrical twist. "When you see something you like - anything, it doesn't have to be art, point and shout, ta da!" Amerri said, waving his hands enthusiastically. He and his co-leader, performance artist Sara Wookey, promptly demonstrated.
The engaging activities continued as Wookey and Amerri highlighted Metro's overlooked treasures (there is an interactive light show with hidden 1940's pop culture references by artist Bill Bell above the escalators) with endearing, personalized tips thrown in, such as a comical interpretation of Metro's TAP card etiquette.
The tours are informative and fun. They inspire the public to look left, right, and up- there is a sprawling mural of 90's Los Angeles above the entrance to the 7th Street station, and life-size figures hanging from the ceiling in the Civic Center.
Next time you find yourself in one of Los Angeles' metro stations, arrive with time to spare, and fight the urge to participate in the rush hour speed walk. Take a stroll. Allow your eyes to wander. The art - the history - is all around. Enjoy it. Let it move you.
Metro Art Moves gives tours on Thursdays, Sept. 4, Oct. 2, Nov. 6, and Dec 4, 2014, from 5:30 to 7:30 p.m. For more information about art tours and the L.A. Metro, click here.
Reach Senior Culture Editor Emily Mae Czachor here.