NFL
Ray Rice: Video Killed The Football Star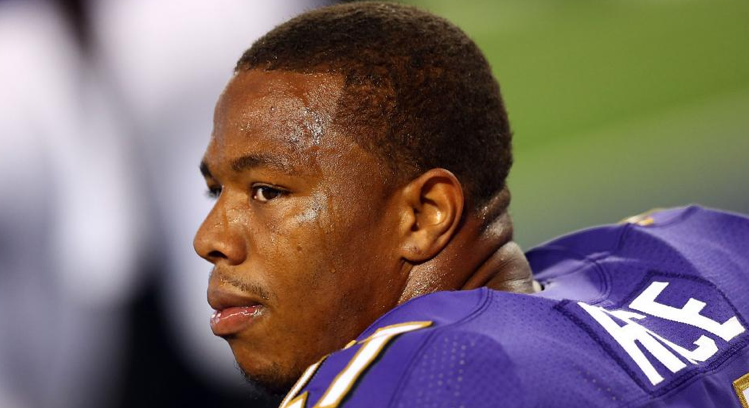 Is it fair to say that there were multiple victims in this domestic abuse incident? The easy answer is no; Janay Rice should be considered the only victim since she was the person knocked unconscious in the Atlantic City elevator.
The man who punched her, Ray Rice, could also be considered a victim too–a victim of a visually driven society.
Rice is a victim of consequence, and now he bears the burden of other athletes that have also committed domestic violence, but were not caught on tape doing so.
Were it not for TMZ releasing the Ray Rice video on Monday, Rice would have been reinstated from a two-game suspension tomorrow and be playing for the Ravens next week. In fact, if there was not a video, I don't think Rice would have been suspended in the first place.
Since Roger Goodell became commissioner of the NFL, 56 players have been arrested for domestic violence. In those 56 cases, players have been suspended a combined 13 games. Only 10 of the players were released by their team. Rice's indefinite suspension cannot be quantified yet, but I would bet that he misses more games than the 55 other players combined. In fact, there's a good possibility Rice will not play another down again.
Why is Rice's punishment more severe than any other player who committed domestic violence? For one reason, and one reason only–the sap was caught on video.
The Baltimore Ravens announced on Tuesday that any fan who turned in their Rice jersey would be able to exchange it for another player's. EA Sports followed that by removing Rice from Madden 15. This sounds eerily familiar to the similar treatment former NFL player Aaron Hernandez was given last offseason. Hernandez, however, was accused of murdering multiple people.
As horrifying as domestic violence is, it's tricky to argue that it is as serious a crime as taking someone's life.
Ravens owner Steve Bisciotti tweeted earlier this week that "seeing the video changed everything."
"We should have seen it earlier. We should have pursued our own investigation more vigorously."
Why was the video that important for Bisciotti? When the initial police report of the Rice domestic abuse was released, there were far less people outraged compared to this week. The police report said that Rice knocked out his then-fiancée with his hands. Whether the NFL saw the video or not, in my mind, is not the problem. The real issue is that both the NFL and the Ravens still knew what happened that night and did not act appropriately immediately.
As a society, we are visual creatures. We are more drawn to pictures than words. Once there is video or audio of a crime or scandal, it's over. Images are the easiest thing for the public to rally around, just because they are so much easier to comprehend than words.
Don't believe me, what about Donald Sterling? Here was a guy who had been committing despicable racist acts for years. Sterling, among other things, was sued for housing discrimination after he was accused of lying to African Americans and Latinos about the availability of his apartment units. Yet, what finally did him in was when his racist comments were captured on audio.
The saying "actions speak louder than words" is not applicable here. It seems that in today's society, video and audio trumps actions.
49ers DL Ray McDonald was charged with a felony after beating up his pregnant fiancee. Panthers DL Greg Hardy was found guilty by a North Carolina judge after assaulting his former girlfriend. Both of those guys played this past Sunday, and are likely to play this weekend as well. The NFL's indifference in these two cases– since there isn't any public hand-wringing caused by a video–is simply appalling.
In what may be the most disturbing irony of all, the 49ers suspended their play-by-play announcer Ted Robinson for two games for his comments on KNBR about Ray and Janay Rice. As of now, Robinson was suspended two more games than the aforementioned McDonald. The 49ers had the gall to suspend someone discussing domestic violence and calling Janay Rice "pathetic", rather than suspending a player on their own team who is actually being charged for domestic violence. At least Robinson is lucky there isn't video of his radio appearance, or the public would have been calling for his job.
The NFL often gives players second opportunities. Players that have domestically abused women, killed dogs or even killed other humans have gone on to play in the league again. This won't be the case for Rice. With his video only a few clicks away, that violent night in Atlantic City, N.J. will stick around in the public's mind a lot longer than the others.
Rice will need to do a lot of work to rehabilitate his image. Rice can do hours of community service and speak at multiple domestic violence victim support groups. He can donate most of his salary to charities helping other victims. But will it really do him, or his NFL future, any good?
After all, in today's society, video and images trump actions.
Reach Senior Sports Editor Max Meyer by email.