NFL
NFL Quick Hits, Week 4: Vikings Shine, Pats D Isn't Fine
Giants 45, Washington 14
-Eli Manning finally seems to be grasping Ben McAdoo's quick-hitting offense. He looks decisive and accurate, as his numbers show. Also, Robert Ayers is a super underrated free-agent signing, he might be playing the best (or second-best behind JPP) out of the Giants entire defensive line this year. They ask him to line up at defensive tackle on passing downs, and he has excelled rushing the passer in that role.
-One of the major advantages I saw for Washington going into this game was their pass rush, with Ryan Kerrigan and Bryan Orakpo coming off the edges and Jason Hatcher up the middle. Unfortunately for Washington, New York's offensive line kept the defense off of Eli Manning all night. Washington's secondary doesn't have the talent to hold coverage for long, so when their pass rush doesn't get pressure, their entire defense deteriorates.
Ravens 38, Panthers 10
-Last year it seemed like Steve Smith lost some of his athleticism, and didn't always look like he had the burst we were used to seeing from him. This year he looks totally different and back to his old self, seemingly through his sheer will. I just wonder how long his 35-year-old body can hold up.
-Well, the Panthers are back to who we thought they'd be before the season. Cam Newton doesn't look 100%, they're having some difficulty protecting him, and their defense hasn't held up to last year's form. They miss Greg Hardy's pass rush. But on the plus side, Kawann Short is one of this year's best defensive tackles.
Packers 38, Bears 17
-Jordy Nelson is so good at finding open space and making himself available when plays break down. The chemistry between him and Rodgers is so smooth, and their fade/back shoulder game is unmatched. On defense, the Packers safeties were helpless trying to cover Martellus Bennett. What the hell happened to Casey Hayward?
-Single-high safety with man coverage across the board against the Packers (with the lack of secondary talent the
Bears have) just isn't going to work. Green Bay torched Chicago easily with simple routes (i.e. a seam route and a corner route by Randall Cobb that both resulted in touchdowns) and a few great throws from Aaron Rodgers that we've all come to expect.
Texans 23, Bills 17
-"Best defensive player isn't enough to describe him anymore," said fellow NT writer Paolo Uggetti to me yesterday of JJ Watt, and he's right. Watt had FIFTEEN quarterback hurries and NINE quarterback hits on Sunday, which is just insane. Watt had an incredible impact on this game without registering any sacks, but that just goes to show how useless the box score is sometimes. But that hidden side to football is what makes the game so awesome.
-Kyle Williams was a big loss for the Bills on Sunday, and hopefully he isn't out for an extended period of time. After JJ Watt, Williams is a good as it gets on the defensive line.
Colts 41, Titans 17
-Andrew Luck is super talented, but now he's starting to use the full extent of that talent consistently. He's posted back-to-back four touchdown games, and this one was against a defense much more formidable than Jacksonville's.
-Not many defensive tackles can chase down Andrew Luck, and that's exactly what Mike Martin did. Overall, the Titans are talented and deep, especially around the line of scrimmage on both sides, but bad quarterbacking has doomed this team for far too long in recent memory.
Lions 24, Jets 17
-Geno Smith made some terrible decisions in this game when pressure got in his face. But on the plus side for the Jets, Muhammad Wilkerson was a total beast.
-Darius Slay had an interception on the day, which would cause many people into thinking he had a nice game. But stats lie all the time, especially for defensive players. In reality, Geno Smith had a QB rating of 118.8 when targeting Slay, per Pro Football Focus. The Lions cornerback depth needs some help.
Dolphins 38, Raiders 14
-Tannehill was insanely accurate when I watched him in this game, especially during the first half. That's the kind of accuracy we're used to seeing from guys like Aaron Rodgers and Philip Rivers, and has been an issue for Tannehill thus far in his career. Maybe Joe Philbin should indirectly criticize him more often.
-I don't really even know what to say about the Raiders. It seemed like every time I saw a piece of this game, Chimdi Chekwa was getting beat by someone. At least they have Khalil Mack I guess, and he's pretty damn good.
Bucs 27, Steelers 24
-I'm really excited about how the Bucs defensive line played in this game, and that's what I'll probably write about later this week. Gerald McCoy still looks dominant in spite of his hand cast, and Da'Quan Bowers made quite possibly the most impressive NFL play of his career when he pulled Big Ben down with one hand. Nice win for the Bucs, who looked like the worst team in the NFL last week. Ain't the NFL funny?
-Antonio Brown is probably the best receiver in the league right now. He's got great body control, but his hands (even though he did have a drop) are some of the most reliable in the league. Also, this game saw an unfortunate regression from the Steelers' offensive line after putting on a show versus the Panthers last week. On the defensive side, the man coverage left a lot to be desired, but also give credit to Mike Evans and Vincent Jackson for winning their one-on-ones like they were brought in to do.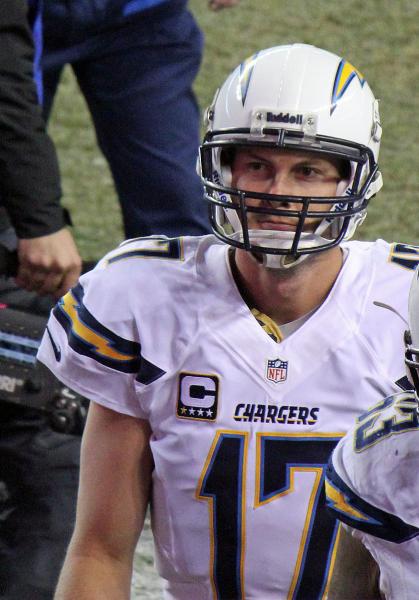 Chargers 33, Jaguars 14
-Philip Rivers is simply the best quarterback in the game right now. And Corey Liuget is a totally different player than he was last year. He looks in-shape, and is getting a really nice jump at the snap. He'll be a key player for the Chargers down the stretch.
-There was definitely some buzz before this season about Toby Gerhart finally getting an opportunity to produce in Jacksonville, but he just doesn't look like a very good player. He doesn't have a special burst, and is therefore bad at getting through the hole to open space. Blake Bortles looked decent though, so there's that for Jags fans!
Vikings 41, Falcons 28
-Teddy! He certainly seems to be adjusting well, because he's a good player and also because of some good help from around him. He checked to a screen when he saw a Falcons blitz coming on a play that ended in a 52 yard gain to Jarius Wright. Later in the game, there was a play where center John Sullivan helped Teddy out by audibly telling Teddy to "kill" the play due to a certain look he was seeing from the defense. Additionally, even though Cordarrelle Patterson controversially didn't get many touches in this game, there was a really cool play design from Norv Turner that had a fake screen called to Patterson on one side of the fielf, only for Teddy to throw a real screen to the running back on the other side. Great use of Patterson as a decoy. And finally on the Vikings, second year cornerback Xavier Rhodes had a great game, including a play where he stuck with Julio Jones downfield, then out-positioned Jones to tip away the deep pass. Excellent work.
-The Falcons made a commitment in free agency to get tougher up front in the offseason. While their personnel looks good on paper, they have yet to shut down the run, and they still can't rush the passer, which I think is the much bigger issue, especially when they have a team that can put up points. But at least rookie running back Antoine Smith is really, really fast.
49ers 26, Eagles 21
-Gutty effort by the 49er defense, who shut down Philly's run game (even if it was against the Eagles' backup offensive line). San Francisco should also learn from this game that they should keep Frank Gore involved no matter what. He's so awesome.
-Malcolm Jenkins may be the best free agency addition so far. I'll probably end up writing more in-depth about him soon, too. From what I've seen, the Eagles are using him closer to the ball as more of a playmaker rather than having him be a safety valve against big plays like he played a lot in New Orleans. He's been great in his new role, to say the least.
Cowboys 38, Saints 17
-I love the Cowboys offensive line. Their running attack made the Saints look silly—but we aren't just talking about an average Saints defense here. Jairus Byrd and Cam Jordan (the latter of which I have been a huge fan of throughout his career so far) were completely neutralized by Dallas and Demarco Murray (fantastic game from rookie guard Zack Martin as well). Dallas is loaded on offense and, best of all, Tony Romo is looking like his old self again.
-The Saints' best players simply aren't playing well. The aforementioned Byrd and Jordan need to step up on defense, and would someone please get Pierre Thomas more touches? New Orleans also doesn't seem to be taking as many deep shots as they normally do, which might be because of shaky pass protection. They could use a bye week.
Chiefs 41, Patriots 14
-I loved when KC brought in Dee Ford and kicked Justin Houston inside to play tackle—Houston is just such a complete player. Really excellent game called by defensive coordinator Bob Sutton, who managed to thoroughly confuse Tom Brady.
-I am so disappointed by the Patriots defense it isn't even funny. Revis was beaten by Dwayne Bowe multiple times, and why didn't we see more Jamie Collins on Travis Kelce? KC simply won the one-on-one matchups with New England, and Andy Reid made some of this happen (getting Jamal Charles in a single matchup with a linebacker for a TD) on his way to outcoaching Bill Belichick.
Reach Staff Reporter Andrew McKagan via e-mail here or on Twitter here.