Entertainment News
The Point Foundation And Celebrities Team Up For LGBTQ Youth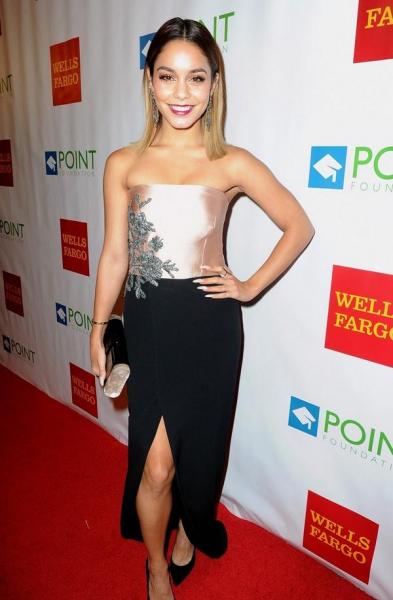 The Point Foundation held its annual Voices On Point concert on Saturday and celebrities and scholars alike showed up to support the organization.
Point is dedicated to giving academically-promising lesbian, gay, bisexual, transgender and queer (LGBTQ) students funding and mentorship to attend prestigious universities across the country.
Although the foundation is less than 10 years old, the program has already garnered a celebrity following who happily endorse its mission.
"It's an organization that does a lot of great things by providing people a chance to further their education," openly gay NBA player Jason Collins said. "Education is very important and I am very proud to be affiliated with the Point Foundation."
The emphasis on education resonated strongly with actor George Takei and his partner, Brad Altman, as well.
"We believe in education and the foundation's scholarship grants make it a [possibility] for many people who probably wouldn't be furthering their education without that support," Takei said.
READ MORE: 'Gay Rights' Are Human Rights
"Scandal" star Dan Bucantinsky couldn't agree more. The actor pointed out that Point's combination of mentorship and education is the key to success.
"People are coming out of the closet younger and younger but they don't always have the support that we take for granted," Bucantinsky said. "A third of all LGBTQ youth drop out of high school, which is three times the national average. So an organization that is going to focus on mentorship and scholarship money, is all right by me."
"Chelsea Lately" comedian Heather McDonald was also eager to express her support for the young LGBTQ community.
"I've always been a supporter of the gay community but especially when it's about young people and making sure that their dreams are fulfilled," McDonald said. "I love that it's a scholarship and that it gets kids into the best schools that they can go to."
This year's recipients are going to some of the most coveted schools in the nation. The colleges include Harvard University, Yale University, Vanderbilt University, the University of Miami and more.
However, the night wasn't just about scholarships. With songwriter Diane Warren and singers Joey McIntyre and Sam Harris in attendance, the entertainment segment of the night was not to be missed.
Warren, who was being honored, is a Grammy award-winning songwriter who has worked with everyone from Cher to Barbara Streisand. Even so, the writer was a bit nervous about receiving another award.
"Well I have stage fright, so I'd rather not be on a stage," Warren joked. "But it's a cool event. A cool organization."
"Spring Breakers star Vanessa Hudgens agreed, giving us her opinion while she stopped to chat quickly before her performance.
"I'm really happy to be here!" Hudgens said. "It's a beautiful organization and it's honoring a really wonderful woman."
Still, no one was as happy as the recipients themselves.
"I feel great, I feel like this is a large representation of what Point is in general," scholar Brittney Balkcom said. "It's a huge support system. Great energy and lots of great people."
Balkcom is a Doctorial Candidate studying music at the University of Southern California and a 2014 Point Scholar.
"It's a big adjustment, academically, musically and just personally navigating all of the changes that come with that," Balkcom revealed. "But it's really great. I know that I am going in the right direction."
Congratulations to the scholars and the celebrities who came out to support the foundation's cause. They definitely made it a night to remember.
Reach Staff Reporter Christianna Wiggins here and follow her on Twitter here.