International
Plane Flying Over Atlantic May Have Lost Pilot
Update 12 p.m. The plane has now crashed off the coast of Jamaica.
Update 2 p.m. Plane's pilot and passenger have been identified as Larry Glazer and wife Jane Glazer. Both died in the crash.
A small private plane flying from Rochester, Ny. to Naples, Fla. is currently in Cuban airspace and has been unresponsive for the past four hours. Two U.S. Air Force F-15 fighter jets were following the aircraft, but fell back after the aircraft entered Cuban airspace, CNN reports. A Cuban fighter jet is now tailing the American plane, North American Aerospace Defense Command (NORAD) said.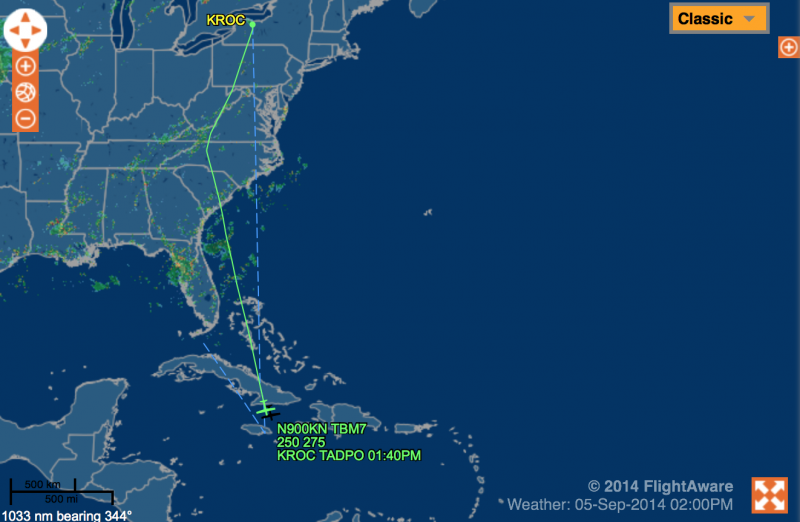 After taking off at 8 a.m. EST in Rochester, the prop plane was en route to Naples when the pilot or pilots stopped responding at 10 a.m.
NORAD reports that the windows of the plane are frosted over, but no information on the status of the pilots is known. According to the Federal Aviation Administration (FAA), under normal circumstances any foreign aircraft entering Cuban airspace without authorization may be intercepted and forced to land.
In this case, with the pilot possibly suffering from hypoxia and with fuel believed to be running out, Cuban officials may have difficult decisions to make to prevent the plane from crashing into a populated Cuban area.
At this time, the plane is maintaing altitude, according to the director of Naples, Fla. airport. It is believed that the plane belongs to a real estate company in Rochester, Ny., CNN reports.
It is currently unknown how many passengers the seven-seat plane is carrying.
You can see the live path of the plane here.
Read more on the flight's progress on The Washington Post.
Reach Web Producer Arielle Samuelson here.