National
In Photos: USC Unveils New 9/11 Memorial
After a decade-long effort, the University of Southern California successfully obtained a part of an I-beam from the World Trade Center as a memorial to the lives lost in the deadliest terrorist attack in United States history.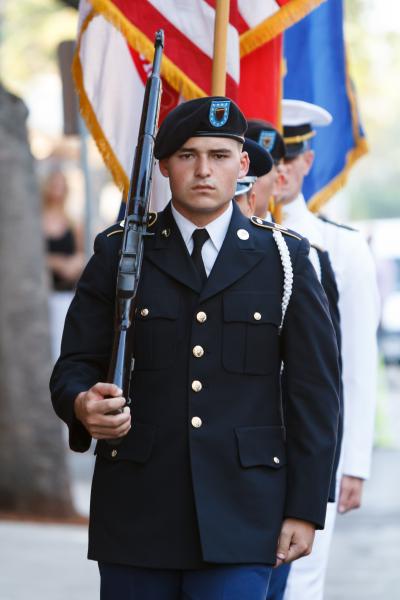 The beam was donated by the September 11th Families' Association and the Fire Department of New York. Here is the commemoration ceremony in photos.
The USC ROTC opened the ceremony with a short presentation of the colors.
Jennifer Ann Massey, a senior majoring in history, was just preparing to head out of her apartment in New York City when she decided to turn on the TV and saw the attacks unfold just down the street. As she went outside onto the street, dozens of dust-covered and dazed people trundled past, away from the Towers. Varun Soni, dean of Religious Life at USC, opened with remarks about how the United States has changed since that day.
John Thomas, Chief of the Department of Public Safety at USC speaks during a 9/11 memorial installation ceremony.
Chief John Thomas of the USC Department of Public Safety then discussed the risks that first responders take on the job and lauded the firefighters, police, medical personnel and others who rushed into the Twin Towers with the sole goal of saving those who were trapped inside.
Kevin James, President of the Los Angeles Board of Public Works, discussed stories he had heard from other 9/11 memorials he attended earlier in the day. One of them involved two brothers who were firefighters at different FDNY departments just a few blocks away from one another. The two never saw each other normally, but on that fateful day they met in the North Tower lobby. One of them never made it out.
Check out more photos of the ceremony here:
Reach Staff Reporter Benjamin Dunn here.