California
Only A Third Of Minorities In California Say Police Treat All Races The Same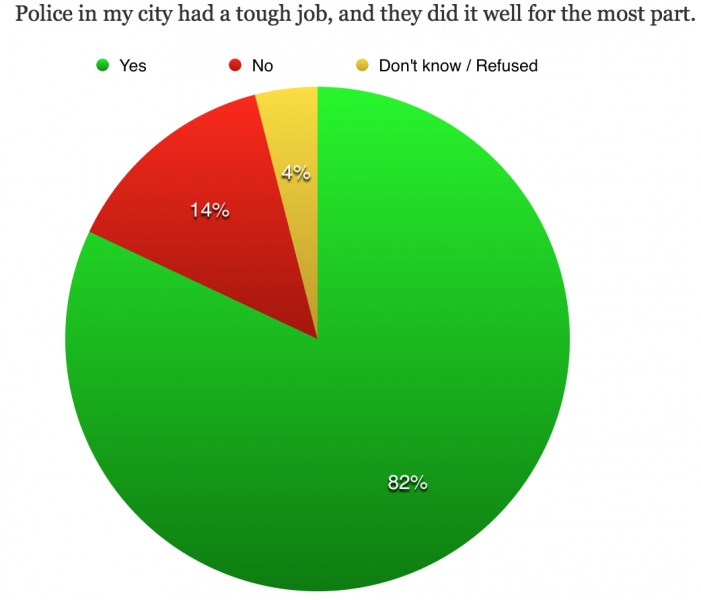 Most Californians say the police in their cities are competent, but minority groups, including blacks, Latinos and Asians, view their treatment by authorities differently than whites, according to a recent USC Dornsife / Los Angeles Times poll.
Among minority groups, 72 percent agreed that police do their jobs well, slightly less than the 82 percent of all voters who said the same.
The disparity is larger when it comes to police treatment. Only 33 percent of minorities said that police treat all groups the same, with 36 percent of respondents believing that police are tougher on blacks and 18 percent who said they were tougher on Latinos.
Among whites, nearly half - 44 percent - said police treat all groups the same, with 33 percent who said that police were tougher on blacks and 5 percent who said they were tougher on Latinos.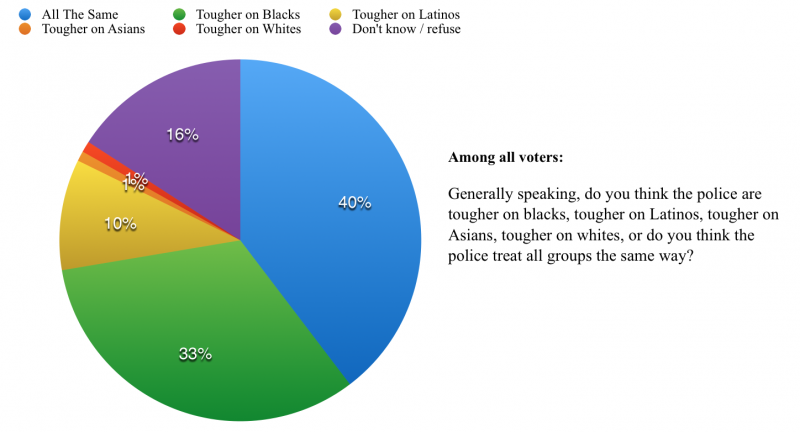 "The white [respondants] consistently had a more favorable view of the police," L.A. Times' political correspondent Michael Finnegan said in an interview explaining the findings.
Dan Schnur, director of the poll and executive director of USC's Unruh Institute of Politics, called the results "an interesting dichotomy."
"On one hand, Californians give their police law enforcement pretty high marks, but they also recognize there are still a lot of work [that] needs to be done to continue to improve relationships between law enforcement and minority communities," he said.
READ MORE: Ezell Ford Family Files $75 Million Federal Lawsuit
The poll was conducted from Sep. 2 through Sep. 8, weeks after unrest began in Ferguson, Missouri, triggered by the deadly police shooting of African-American teenager Michael Brown. Schnur said he and the polling team had not planned on doing the survey at that period of time on purpose, but performed it in the aftermath after finding that it would be the most relevant time to ask Californian voters about their opinion of the police, because the voters would be thinking about the issue more than they would under other circumstances.
The poll also asked whether respondents could recall any occasion when they were treated unfairly by the police. Only 14 percent said they had ever been mistreated. 10 percent of voters said their family members have been treated unfairly by the police. But 85 percent of voters overall said they knew of occasions when people were treated unfairly by the police.
More than five in six voters believe that there are others who have been treated unfairly, a much higher proportion than Schnur's projection. He attributed this to the amount of attention on Ferguson and the slew of news coverage on police use of excessive force.
"On most issues, voters have strong reactions when the issue has impacted them directly," Schnur said. "It is relatively rare to see them respond like this to something they experienced second-handedly. For instance, very few voters say my taxes are just fine because I read about [what] other people are paying. But it demonstrated the strong emotions that the controversy [in Ferguson] has caused."
In L.A., local tensions have also run high as the family of Ezell Ford, a mentally ill man who was fatally shot by police officers last month, filed a lawsuit against the City on Wednesday.
Reach Staff Reporter Yingzhi Yang here. Follow her on Twitter here.