Health
Master Your Yoga With A Master's Degree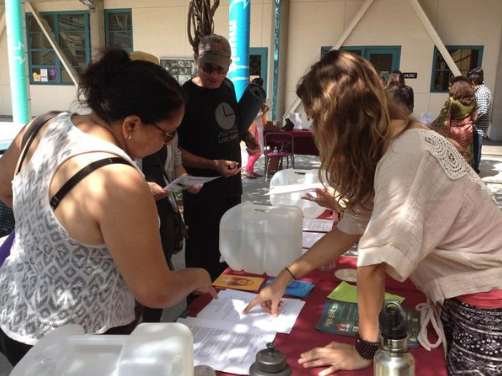 Last year,
Loyola Marymount University
(LMU) became the first university in North America to offer a
master's program in Yoga Studies
. To celebrate this, they hosted their third annual, all-day Yoga event, this past Saturday, Sept. 20.
Yoga Day featured free lectures, practices, live music and information sessions about their Master of Arts in Yoga Studies.
LMU will graduate their first ever class from the M.A. Yoga Studies program next year.
The program is a 21 month long intensive study of the different aspects of yoga. The curriculum has students study theory, history, and practice of yoga.
Like any traditional masters program, a bachelor's degree is required for admittance. Additionally, students have to complete the 200-hour yoga-teaching certificate.
LMU also offers undergraduate classes in yoga and certificate programs. Some of these programs include: Prime of Life Yoga, Yoga Philosophy, Yoga Mindfulness and Social Change, Yoga Therapy RX, Vinyasa Krama Yoga, Yoga and the Healing Sciences, and teacher training.
Founding program director at LMU, Christopher Chapple, originally started by creating various yoga certificates in 2002. The certificate programs were so successful over the years that the university suggested he look into starting a master's program.
"People were slightly skeptical, and the various academic committees kept asking for more information," said Chapple. "But, we are a place of good will and good spirit, so with the number of students that have enrolled, I think all of those doubts or questions have been dispelled."
19 students were admitted in to the program in the first year, and that number grew to 25 this year. Chapple says they received upwards of 50 applications for the masters program.
For now, LMU wants to keep their class sizes under 30, but depending on popularity, they would be willing to hire more faculty in the future if the demand increases.
"Our intent is to provide our students with the linguistic, anatomical, philosophical, and the spiritual tools that are all part of the yoga experience, as with any discipline in the liberal arts there is not guarantee about what will happen," said Chapple. "When our first cohort graduates it will be exciting to see where we take yoga from here."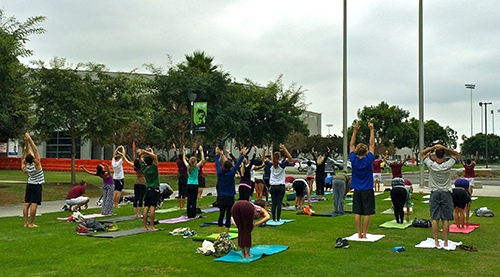 Current M.A. yoga students are already active in the yoga community. Some own their own yoga studios, while others are providing yoga to help athletes, elderly communities, and correctional facilities, to name a few.
Outside of practicing yoga, Chapple says some students may choose to take their masters to pursue higher education in Sanskrit language, religious studies or comparative philosophies.
"Many people have the notion that yoga is nothing more than a form of exercise," said Chapple. "As a scholar of the religions of India, as a trained Sanskrit translator, as a theologian, part of my job is to fill in the blanks."
In recent years, yoga has become increasingly more popular in America.
A 2012 Yoga Journal Study found that over 20 million Americans practice yoga. That number increased from almost 16 million in 2008. Additionally, the yoga industry accounted for roughly $10.3 billion in 2012, which is double what it was in 2008.
"Despite the fact that is has been around for many, many years, yoga is still very much fresh and new," said Chapple.
Second year student, Bonnie Knight, said it was a crazy notion and a desire to deepen her understanding of yoga that brought her to LMU.
"On the level of really bringing it back to the richness of its origins of what yoga is about in its full contexture, and its full body of knowledge, having an academic standing alongside with the understanding of the physical process is, I think, important," said Knight. "It's a level of professional. It's a level of validity that this is a worthwhile study."
Tuition for the program is roughly $18,000 per year, and LMU does award some scholarships, assistantships, and fellowships for the program.
The M.A. program will allow for a more comprehensive approach to the ancient practice and understanding of yoga. Chapple says it is still too early to tell what the future of the program holds, but the opportunities are endless.
Reach Staff Reporter Margaux Farrell here or follow her on Twitter here.