Music
Made In America: 7 Tips For The Future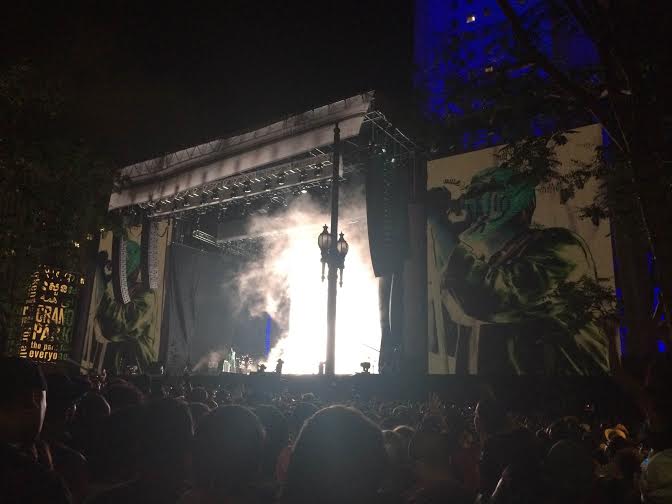 This Sunday, I graced Jay Hova's Made in America Festival to test some theories and hypotheses that played out well in our advanced statistical models. Here is a guide to your music festival lifestyle.
1. Buy the One Day Pass
Tell everyone this decision was made solely because you needed to see Kanye live again. If the people asking you why you didn't splurge on two-day tickets are really cool, throw in something about how your good friend from back home is a local Memphis blues singer who had nothing but praise for John Mayer's sultry fingers wetting down a guitar live on stage, so you figured you might check that out too, you guess. Obviously, this was a purely financial decision.
2. The Outfit
Since Johnny Mayer and Mr. West don't get on stage until late, your immediate concern day of the festival is your outfit. Shirt is an easy choice. Go for all the Functional Pockets and throw on that technical Columbia PFG. Orthapedic New Balance 993's with the extra Arch Support are gonna come in clutch, plus you got the limited edition Made in America color way. Easy money. For the shorts try to cross off as many items on this checklist when picking them out: drawstring, athletic looking, back pocket, fly, and unique texture. Stow the Urban Outfitters American flag socks for a more subtle grey sock with navy and red stripes. Wow, you look fly.
3. EDM Sets
For the most part, ignore these grimy DJ's. EDM sucks, generally speaking. However, a DJ set is actually the perfect way to start your day by stroking your already fully-torqued ego. All you have to do is scan the horizon for bricked looks and bros dressed like barbarians in tank tops and cargo shorts. Decide that they probably have a lot of neanderthal DNA, and chuckle silently at their stupid Budweiser-promotional-bandana wrapped heads.
3. Raise Brand Awareness
Strike your signature pose anytime you are positioned in front of a camera. Also, always be positioning yourself in front of a camera and/or striking your signature pose. Always. I personally go for the Praying Hands Emoji, but you can enjoy anything from the the OVO/Johnny Football Get Your Money or the Sorority Girl Squat. Make it your own, strike variations, move around, get your good side. You have to be willing to grind out there in those streets. No one said living the life you always dreamed of would be easy.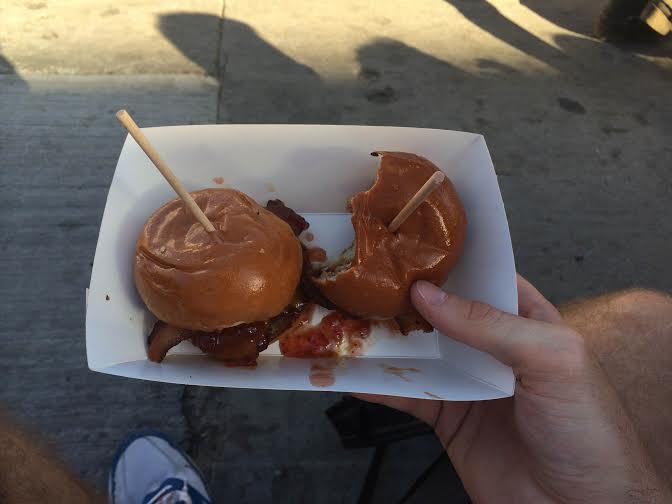 4.
Buy Tight S**t
Literally and figuratively. I went for very tight and well-fitting Stance socks. Peep the pictures. I also saw those Praying Hands/Virgin Mary socks, walked directly up to them using zero peripheral vision, and was going to purchase them without another word until the bucket-hatted homie with the regiPad told me all socks were ten bucks. Without hesitation, I lapped the booth and copped the tie-dye pair. Easy money.
5. Buy Dank Food
This is going to be some free promotion for Me So Hungry Food truck, and I DGAF bro. I would say "You're welcome, Me So Hungry food truck," you guys have earned that despite making your "Scarface" cold sandwich an Italian and not a Cuban (I'm just saying). They graced my palette with a serving of two PB&J sliders. That's a beef patty, crunchy peanut butter, strawberry jelly, and SRIRACHA FYA on a bun. I've always said, "A man should never turn down a PB&J when presented to him," and I lived up to that. That's how you live aspirationally.
6. Wander
Music is tight, and you should definitely watch John Mayer shred the guitar while literal women actually cry real tears on their boyfriends' heads because of his manically good performance, but you should also wander aimlessly, "accidentally" separating yourself from your crew. This allows you to checkout the low key wonders of a music festival. Like a skateboard ramp where a scruffy toe-head that looks a tad like you in flannel sings along to "Thugger" while grinding on railing. And like meeting some homies who stay balling out at local community colleges in hopes of getting D1 looks and scooping up their IG info so you can invite them to hoop at your college local rec center. That's networking, my g. Damn, I hope you people are taking good notes.
7. Gorge
When the concert is over, it's time to do the geriatric shuffle that comes after a long day walking around Downtown LA. But first, grind those feet to the nearest pizza place and attempt to order cold sausage pizza because slices are taking 30 minutes and you're a hungry, savage dude. But then accept that they refuse to sell you cold sausage pizza and let them heat it up (because you're not an animal). And now you're Aspirational Living model has been completed to a T and you should feel like the chillest homie around. Peace.
Reach Staff Reporter Danny Galvin here.