Theater and Dance
Love, Death, And Technology: The World Premier of 'Marjorie Prime'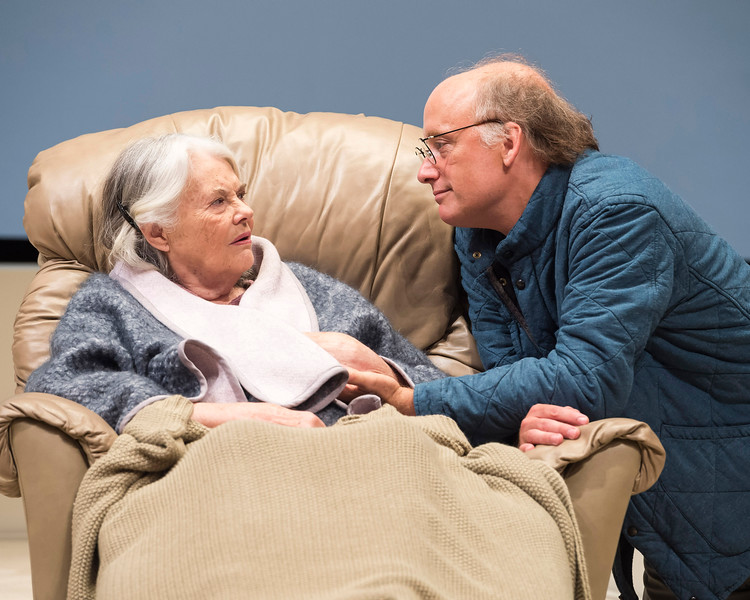 The fear of forgetting is almost as powerful as the fear of death, and these issues stand at the center of "Marjorie Prime," which had its world premier this past Sunday at the Mark Taper Forum. Technology and the virtual world have become increasingly more domineering in the digital age, and "Marjorie Prime" offers us the impossible: the ability to live forever through our technology. As family members deal with the tragedies of their past and the reality that their beloved grandmother is losing her ability to remember who she is, they turn to technology to avoid the inevitable.
The lights come up on a minimalistic set (beautifully designed by Mimi Lien) that seems to simultaneously convey frigidity and warmth for the charming and elderly Marjorie (Lois Smith) and her young husband Walter (Jeff Ward) as they reminisce about their past. It is immediately clear that Marjorie, though still possessing an adorable sense of humor, is very ill and has extreme difficulty recalling very important memories. It is soon revealed that the very young Walter Marjorie has been conversing with is actually not Walter at all, but rather a digitalized avatar, or "prime," of her now deceased husband, when he was still young and handsome.
Marjorie's daughter Tess (Lisa Emery) and her husband John (Frank Wood) must instruct Walter's "prime" on who is he, what he is like, and what memories he has with Marjorie. Initially, Walter-prime is used to help Marjorie battle her memory loss, but as the show progresses, it becomes apparent that the primes serve a much deeper purpose of emotional comfort.
SEE ALSO: Theater Review: 'The Nether' At The Kirk Douglas
While "Marjorie Prime" does not offer any clear new insight to the fear of losing loved ones, it is a very humble and honest piece of theater that does not need a fantastical "twist" to hold the attention of its audience. Running a very short 75 minutes, "Marjorie Prime" focuses in on the complexities of coping with death that everyone has experienced at some point in their lives. Like its set, the dialogue and plot are minimalistic, but convey the emotions of the characters in a very natural way.
When watching "Marjorie Prime," it is almost impossible not to compare it to "The Nether," which had its world premier at the Kirk Douglas Theatre in March 2013. Both shows deal in the virtual world, with avatars acting as distractions from real world hardships, but "The Nether" asked much more difficult questions about the significance and consequences of the virtual world than "Marjorie Prime" does. While "Marjorie Prime" is a simple show in nature, it does seem to carry a bit of disconnect with its audience due to its repititious techinque of exploring the "primes" through the death of each character.
Despite its less-than-fantastical plot, "Marjorie Prime" is genuine, and a breath of fresh air to anyone who is tired of high-concept, microwave theater. It may not become the next American classic, but "Marjorie Prime" is a sweet and humble story of love lost and the possibilities of our technology that reminds us, "What a gift it is to have loved."
"Marjorie Prime" is playing through October 19 at the Mark Taper Forum (135 North Grand Ave., Los Angeles). Tickets are $25-$70. For more information visit CenterTheatreGroup.org
Reach Theater Editor Savannah L. Barker here.
For more Theater & Dance coverage click here.