Opinion
L.A. Needs Public Transit, Now More Than Ever
It's Monday morning and I wake up at about 7:00 a.m. like I do every week, spending the next 30 minutes trying to get my personal things in order and my body out the door.
By 8:00 a.m. I'm riding the Metro Gold Line out of East L.A., trying to prevent myself from nodding off before I arrive at Union Station to take a USC shuttle to campus. Despite the relatively early hour, I'm in a car brimming with people: culinary students in white frocks on their way toward Le Cordon Bleu in Pasadena; nine-to-five working-class mothers dropping off their toddlers at daycare in Boyle Heights; kids slightly younger than my little brother headed off to school at Utah Street or Puente near Downtown, a good fifteen minutes late for the first class of the day; and other familiar faces whom I greet occasionally on my morning commute.
When I get off at Union, I hear a recording play on the platform intercom, announcing that, as of today, Sept. 15, the regular fare price for buses and rail lines has been raised from $1.50 to $1.75, and for all riders to be aware of the changes (this decision was reached by the Metro Board earlier this May). I catch a few grumbles here and there from those who pay attention to the voice.
To the average USC student, this probably doesn't seem like much; I'll admit that even I benefit from a reduced collegiate rate and that my overall cost for riding is still generously blunted in spite of the fare hike. However, as a previously published Neon Tommy article discusses, these increases disproportionately affect low-income riders, who make up the bulk of Metro's passengers and often possess no other form of alternative transit. The fares will increase incrementally over the next several years, making this insignificant 25 cent blip a harbinger of grimmer things to come. Soon, I might very well be riding with a different crowd than I do now, with less children and elderly, and more upwardly mobile yuppies looking to find the latest Downtown attractions.
READ MORE: Exceptional Transit: How L.A. Metro Failed Low-Income Riders
There's a certain irony in realizing that the whole point of L.A.'s rail system expansion was to help subsidize a vital aspect of urban living—transportation—in order to combat the city's growing poverty problem. Now, because of rising operational costs, shortsighted planning and a thick intra-organizational bureaucracy, public transit is becoming more and more hostile to those at or below the poverty line, cutting over a million hours of bus service in areas with minimal access to rails, spending money on profiling people of color via contracting L.A.'s historically racist and violent sheriff's department for security, and of course, discouraging usage by frequent riders in hopes of engaging a younger, hipper audience with more disposable income through selective price scaling. If you recall, the small 25 cent bump is for basic fare, but manifests as a $2 increase for those who purchase day passes and a $25 increase for those who purchase monthly passes, for a total of $7 and $100 respectively. As of last year, however, only 16 percent of riders purchased basic fare while a staggering 58 percent purchased a regular daily, weekly or monthly pass (not including passes for students and seniors), which means this leaves more than half of Metro's most frequent riders and a significant percentage of L.A.'s low-income population without recourse because, ultimately, they still need public transit.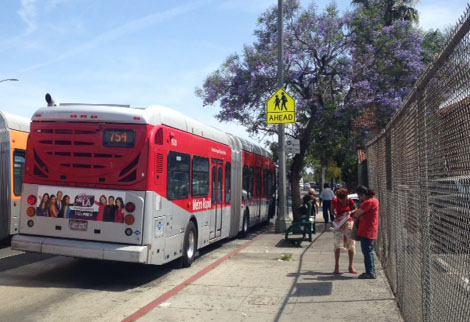 "We're living in a 4000-square-mile county," said Sunyoung Yang, a spokesperson for the Bus Rider's Union, back in 2011. "And our job systems are not concentrated. Because of the costs and the years that it take to construct [new rail lines], what happens in the meantime? People can't physically get where they need to go."
Bus and rail services are inextricably tied to one another's workings and have a significant amount of overlap in ridership. While my primary means of getting where I need to go on an average day are the rail lines, I'm also a frequent bus rider, as are many of the other passengers I ride with on most mornings. L.A. has the second most crowded bus system after New York, and this is only compounded by the fact that bus lines become more and more narrowly consolidated with every year, growing drastically more unreliable with every cut. Yang notes that rail expansions are concentrated in areas of high population density to help boost raw ridership, but this is the wrong metric to use in measuring the system's ultimate success. Even with all the deficit and subsidization, Metro does not actually succeed when it makes more money off of fares, but rather when it stimulates access to various high-density areas from ones with more scattered populations, thereby bringing public transit to all people everywhere; this is how we maximize efficacy, utility and long-term sustainability. To put it more clearly, the number of riders matters less than when you analyze where they're headed and how they get there.
"Unlike an airline flight from LAX to JFK, Metro… makes many stops along their routes to pick up and drop off passengers," says Tom Rubin, a former transit official in multiple government agencies. "Bus scheduling is developed around the maximum carrying capacity of a bus at the peak load point of the route during the peak ridership period. This means that, for much of the day… there are a lot of empty seats. That's the nature of the transit business."
"If you don't have the [population] density, [public transit] isn't nearly as efficient because it seems like there's less of a need," says Michael Kodama, a professor of Urban Planning at USC's Sol Price School of Public Policy. "The fact of the matter is that you lose money when you run these lines regardless."
READ MORE: Beverly Hills Battles Metro Over Purple Line Extension
This is what Metro has consistently been getting wrong and what accounts for the distinct lack of justice in its proceedings. For Metro to truly thrive in the long run in Los Angeles, public transportation has to defeat its biggest opponent: car culture. With over seven million registered drivers and a geographic sprawl unparalleled by any other modern American city, many L.A. residents are stuck in the belief that, as expensive as driving has become, owning a car is a practical necessity to live here prosperously and that there's no other option for having your needs met. This seems especially true if—what a surprise—you live far away from the urban core or other high-traffic areas, where public transit access is at its weakest. Car culture is not only an oppressive fiscal factor in the realities of the working poor, but also an unsustainable environmental hazard, which constitutes a crisis of infrastructure unto itself. There is a pressing need for greenhouse gas emissions to lower drastically in the next decade before irreparable environmental damage occurs on a global scale; if Metro can position itself as a green, clean and efficient service, there will be long-term benefits that go beyond creating a more stable economic landscape for the underprivileged here in the city.
"Old public transit used to go everywhere, from the Valley to the Westside to just about everywhere else," says Kodama. "If anything, now we're striving to go back to this model, but are stumbling as we go."
Plain and simple, Los Angeles has the capacity to be a region where people of all backgrounds can lead healthy lives with access to safe, clean and open environments. It can be a place where distance doesn't preclude you from working one or multiple jobs to support a family, and won't segregate your community away on the basis of race or income. It can be a place where you won't be prevented from shopping at markets with nutritious food options, or where your children won't have to choose between eating lunch and getting to school. It can be a place of healing if we support the stakeholders who need services like public transportation desperately to survive, and that class disparities don't put stratified populations in a vacuum. Regardless of whether or not you use or support public transportation, by living in Los Angeles, it affects you. For me personally, riding Metro is a political decision; as much as I may disapprove of their recent transit developments, I have faith that a collective vision exists for a more equitable, more sustainable city, and that those who fight for it will receive justice in the end.
Contact Contributor Alex Kanegawa here; and follow them on Twitter here.