Health
Hybrid Yoga: True To Form Or Undermining The Practice?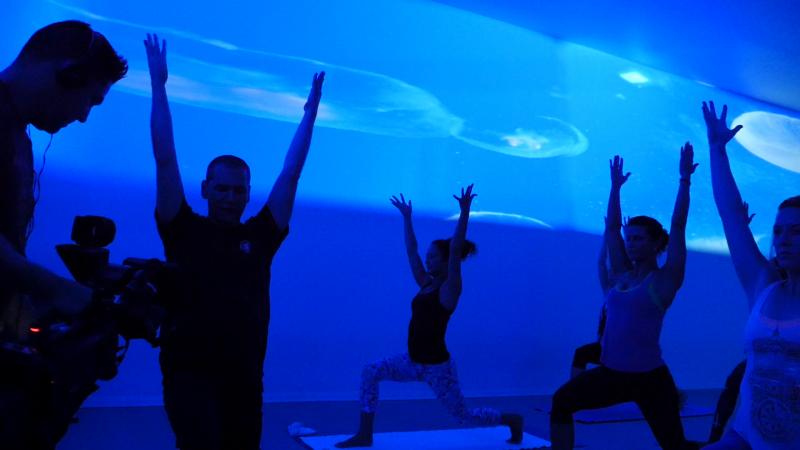 The physical and mental benefits of yoga have propelled the current yoga craze that sweeps the nation. Everyone, it seems these days, is a self-proclaimed yogi.
Most gyms now offer yoga classes; most yoga studios boast hybrid classes involving weight-training, pilates, or abdominal exercises that stray from the traditional style. These classes often blast pop tunes and skip core elements such as breathing exercises and shavasana, the meditative posture signifying the end of a practice.
With the popularization of yoga, however, some have begun to wonder if this commercialization of yoga - and its reinvention- has downgraded the effectiveness of the practice on a mental level.
The person who leaves a yoga fitness style class will likely leave sweat-slicken and energized, with their endorphins in a frenzy. But the person who leaves a more traditional style yoga class will experience an intensified kind of high that is best characterized as serenity. This is because yoga, by definition, means union and is intended to include and challenge the body and mind equally. Throughout the course of a practice, the mind shifts to be in tune with the body. The meditative aspects of yoga teach a person to let go of their daily concerns for the duration of their practice, giving it an almost addictive quality.
So we are left with the question: can a hybird-style yoga class be as effective in both mental and physical wellness as classic yoga practice?
According to Steven Earth Metz, owner of 16-year establishment Earth's Power Yoga, it can. Steven defines yoga as "the feeling of the interconnectedness of all things;" a feeling which does not have to be evoked in a classic studio setting. Steven believes that yoga can be anything: driving through the hills, dancing, or maintaining calm in LA traffic. Yoga is about experiencing inner peace and incorporating it into one's daily life, which can be "like heaven or hell depending on how you frame it in your mind." A reformist teacher, Steven supports the diversification of styles because he believes "yoga shouldn't be stagnant"; integration of new elements into the practice is beneficial. Steven, however, contends that some people will get more from the spiritual aspect than others.
Steven has designed a unique style of class for Earth's Power Yoga, located on the corner of Fairfax and Melrose in West Hollywood. These "Yogascape" classes feature animations and Steven's own video photography which are projected onto all four walls of the small, dimly lit studio. Each animation has a theme, ranging from fairytales to avatars to images influenced by Claude Monet's impressionist style.
In the most recent class I attended, an image of a lotus flower slowly unfolded during the opening meditation. The images gradually became more complex; a field of dandelions flowing into green pastures and rolling waves. Adding the environment to the practice of yoga, for Steven, is an obvious thing: "we are products of environment and environment shapes how we feel; as practitioners of yoga we shape feelings, insights, and mindsets and therefore the environment has a powerful effect on how we feel." The animations also serve a practical purpose, testing the yogi to practice balance and concentration in midst of distraction. The body may be confined to the four corners of a mat, but the mind flows freely throughout the hour-long class.

The bottom line: hybrid yoga can hold its own. It can enhance an already beneficial practice without damaging the integrity of the practice of yoga. The effectiveness of this kind of yoga, however, is largely conditional as it depends heavily on the ability of the teacher to create an experience, rather than merely provide a good workout. In order to be sure you get all of the benefits, both pysical and mental, that yoga can provide, consider incorporating both kinds of yoga into your weekly workout rotation.
To learn more about Earth's Power Yoga, visit their website here and enjoy the introductory special of $45 for unlimited classes in your first month.
Reach Staff Reporter Corinne Osnos here.