Nation and World
Holder To Resign, Speculation Over Replacement Is Already Rampant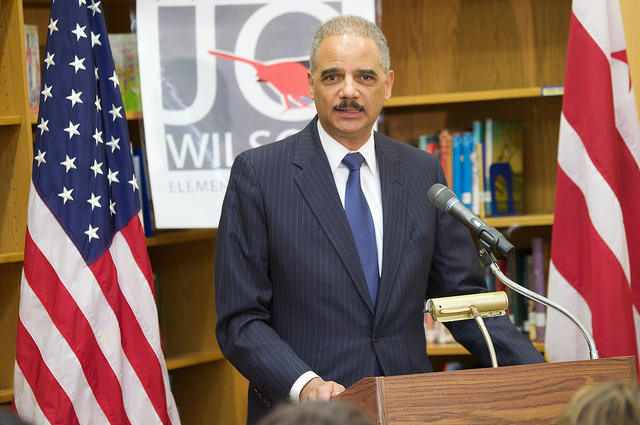 Eric H. Holder, Jr., the 82nd U.S. Attorney General, will announce his resignation at a White House press conference Thursday after more than five years as the Obama administration's head of law enforcement,
NPR
first reported.
Holder, the country's first black attorney general, will stay in the position until a successor is nominated and confirmed by Senate, a process that could potentially keep him in office until next year, according to The New York Times and KNX 1070.
The announcement has been long expected after Holder indicated in a February interview with The New Yorker that he planned to resign by the end of 2014.
The resignation was met with mixed reactions. While some supporters lauded his civil rights accomplishments on Twitter, U.S. Representative Darrell Issa (R-Calif.), chairman of the House Committee on Oversight and Government Reform, released a statement slamming Holder. It says in part:
Time and again, Eric Holder administered justice as the political activist he describes himself as instead of an unbiased law enforcement official. By needlessly injecting politics into law enforcement, Attorney General Holder's legacy has eroded more confidence in our legal system than any Attorney General before him. While President Obama and the Senate should work expeditiously to find a replacement, time and care must be taken to ensure that our next Attorney General recognizes and does not repeat Mr. Holder's mistake.
President Obama is not expected to announce Holder's replacement at Thursday's press conference, but there is already lot of speculation of who some potential replacements may be. Whoever President Obama selects will likely face a long and tough confirmation battle through the Senate.
California Atty. Gen. Kamala Harris is one of several possible candidates to replace Holder. In a comment to Buzzfeed, Harris said, "I am honored to even be mentioned, but intend to continue my work for the people of California as Attorney General. I am focused on key public safety issues including transitional gangs, truancy and recidivism."
Nick Pacillo in the California Atty. Gen.'s press office declined to comment when asked if Harris would push for the nomination. If she were to be appointed and confirmed, California's top prosecutor would be only the second woman to hold the federal post.
ABC News published an article about four possible replacements for Holder. One of the four the organization mentioned is president of the University of California and former secretary of Homeland Security Janet Napolitano. Her press office declined to comment on speculation, but she released a statement on Thursday in which she praised Holder.
Solicitor General Donald Verrilli was also brought up in the ABC article. When Neon Tommy called his press office before publishing this article, the office did not have a comment.
The news organization also wrote about Kathryn Ruemmler. She was the president's counsel, but is now practicing in the private sector. She was not available to comment when Neon Tommy called her office.
Massachusetts Gov. Deval Patrick was also discussed and he put down some of the speculation, at least for now. According to his press office, he said, in part, "That's [Attorney General] an enormously important job but it's not one for me right now," at an event in Hudson, Mass. on Thursday.
The press office of U.S. Attorney Preet Bhara of the Southern District of New York declined to comment on whether Bhara would make a statement regarding the nomination. The Los Angeles City Attorney's press office also declined to comment on who Mike Feuer would like to see nominated to the position. There was no answer when Neon Tommy called the office of U.S. Attorney Ronald C. Machen, Jr. of the District of Columbia.
Also on Thursday, Sen. Patrick Leahy (D-Vt.), Chairman of the Senate Judiciary Committee and President Pro Tempore of the Senate, issued a statement. It said, in part:
Attorney General Holder has been an extraordinary leader of the Department of Justice, and is to be congratulated for his service. Under his leadership, the Department has had remarkable success in convicting terrorists and disrupting threats to national security, while upholding the Department's mission of keeping our communities safe from crime and fighting fraud. I particular appreciate how Attorney General Holder has restored the Civil Rights Division to its historical mission.
Arielle Samuelson contributed reporting to this article.
Reach Staff Reporter Sara Tiano here; follow her on Twitter here.
Reach Staff Reporter Max Schwartz here; follow him on Twitter here.