Film and TV
'Gotham' Premiere Review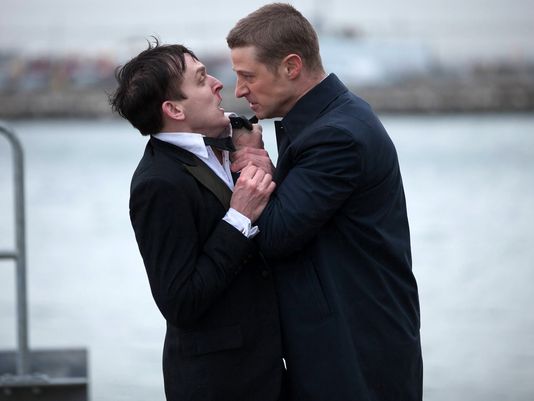 "Gotham" premiered Monday, Sept. 22 on Fox. The show follows detective James Gordon (
Ben McKenzie
) cleaning up the corrupt streets of Gotham.
In episode 1, we see that Gordon is a good cop. He respects his partner, detective Harvey Bullock (Donal Logue), though he may not necessarily like him right off the bat; he has a close and honest relationship with his fiancée, Barbara (Erin Richards), and he doesn't give in to threats that make the city so corrupt.
Gordon inevitably becomes entangled with all that Gotham has going on. He learns that the press and police department are run by mobster, Carmine Falcone (John Doman). Along with Falcone are other interesting characters/villains, like Fish Mooney (Jada Pinkett Smith) and Oswald Cobblpot (Robin Lord Taylor), also known as the Penguin in the show and Batman films/comics.
Episode 1 moved with fast pace and has action—everything to get an entire season on TV without getting canceled. Though the second episode was slower, it might have been necessary to introduce the plot for episode 3.
Read More: Leading Women Of Fall TV
And of course, let's not forget the future Batman himself, Bruce Wayne (David Mazouz). Bruce is a young boy in the show. We know from the movies that James Gordon helped Bruce Wayne overcome the sadness and fear from witnessing his parents' murder, and the first episode of "Gotham" shows that.
There have been no mentions of other villains, like the Joker. Perhaps his character will be saved for another season if this season is a success. For now, the Penguin is making his way back to Gotham after Gordon told him to flee instead of killing him—killing the Penguin to show his partner and the rest of the police department that he is officially part of the team—in other words, in on the corruption and ready to roll with it.
For certain, the rest of this season will show the Penguin causing more drama and distress in Gotham, with James Gordon trying to prevent and solve crime, along with keeping an eye on Bruce, and ultimately, trying to find the Waynes' murderer. The season's pace should pick up. And as it is a superhero spinoff, "Gotham" is highly likely to stick around as a successful show.
Reach Staff Member Tanya Mardirossian here. Follow her on Twitter.