Arts+Culture
L.A.'s Healthiest Festival Goes The Extra (Green) Mile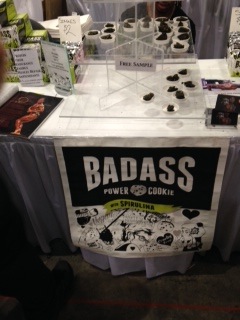 This past weekend, the LA Convention Center held America's largest and longest running sustainability and green living event: The Green Festival. You know that an event is targeted towards tree huggers and granola lovers when there is a complimentary bike vallet (sponsored by Mojo Trail Mix bars) from Clif Bar and Company. Needless to say, I used it. As a vegetarian and an active advocate on recycling and "going green," I was immediately drawn to the event to learn more about new products in the organic and earth-conscious market. However, this convention was not just for gluten-free vegans and hemp wearing prius drivers - it was for anyone willing to learn more about living a healthier lifestyle.
Upon entering the convention I was greeted by a Clif Bar stand where I had the chance to sample the new Mojo trail mix and Kit Organic bars - my first free samples of many. The Clif Bar stand was just the tip of the iceberg when it came to food stands and demonstrations. I navigated through rows and rows of different specialty food and drink exhibitors with one thing in common: health. Yes, many of the delicious artisan foods followed specific dietary preferences such as gluten and dairy-free by default. They do so not to conform to popular dietary trends, but for nutritional and health benefits. From sprouted corn tortilla chips, to dehydrated kale chips, and organic, non-GMO granola bars, these products represented a widespread community of people whose goal is to provide nutrient dense, sustainable food to the public - canines included (there were a handful of organic dog and cat food vendors in attendance).
After meandering through the food aisles (I had to pass up the delicious, but not free, vegan/vegetarian food court), stocking up on copious amounts of free samples, and drinking various raw, juiced, and blended beverages, I finally made my way to the green lifestyle stands. This area included products for natural body care, sustainable home and garden, and green transportation and energy. There were sustainable products from hemp clothing and bamboo pillows, to healing essential oils and even eco-friendly caskets for the die-hard hippies. Everything was either fair-trade or locally produced and definitely sustainable. My favorite products were "Simply Straws," glass straws to reduce plastic straw waste, and the "Bed of Nails," a mat with plastic spikes to imitate the healing effects of acupuncture.
Besides being a material marketplace, the green festival was an informational marketplace as well. There were multiple speakers on global climate change, eating well, and being healthy from the inside out. I was approached and participated in various environmental efforts; I signed a petition to stop fracking in California (sign the petition at MoveOn.org) , I watched a 4 minute video about Compassion Over Killing, and joined the website againstclimatechange.org.
Yes, the festival was full of products and ideas that a "typical" yogi-hippie-vegan-tree-hugger would endorse, but you do not have to be any one of those types of people to live a green and healthy lifestyle. Going to the festival opened my eyes to an abundance of ways that I can live a more sustainable and healthy lifestyle. Although the festival has moved on to Chicago, you do not need to wait until next year to start living a "greener" life. Eat more vegetables, support local, and recycle! It's that easy.
Reach Staff Reporter Sydney Weinberger here.