Music
'Goddess' By Banks: Album Review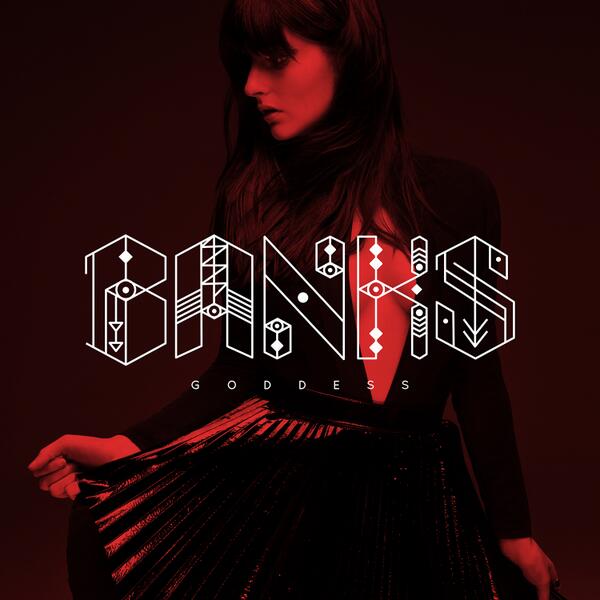 This is what it feels like to finally hear a quality album in 2014.
She's inherently darker than Lorde, a better singer than Lana, and possesses more inviting beats than Marina. She almost looks like a badass Sara Bareilles. With cheekbones as deep as her lyrics, Banks is ready to take the music scene by storm.
Banks, born Jillian Banks, is a Los Angles native. She attended USC, where she studied psychology. She's toured with the Weeknd (whom she then wrote "Waiting Game" about), but this is her first debut album after her "London" EP. If you ever feel like calling Banks, her phone number is posted on her Facebook page.
If you haven't heard Banks yet, I recommend you begin with "Waiting Game." With possessing backbeats that are nothing short of bewitching, this is a perfect track to introduce you to the newcomer. Other tracks to start out with include "Brain," "This Is What It Feels Like" and "Warm Water."
Perhaps one of the best songs is "Beggin For Thread." Simply, the metaphor that she needs "to sew this hole that you ripped in my head" is enough to congratulate the singer on such a graphic, yet accurate, representation of crazy love.
Another fantastic track on "Goddess" is "You Should Know Where I'm Coming From." The raw vocals, paired remorseful lyrics, are at first backed by a simple piano that eventually turns into a small orchestra. Simply put, the melody alone will tug at your heartstrings.
SEE ALSO: Coachella 2014: Weekend One Recap
Perhaps it is the mysterious opening or the explicit lyrics that cut like a knife, but "Goddess" is the shinning single off the album. The heavy synth and electronic backing provides the perfect platform for the singer to show off her clear anger toward this man who wronged her. It's also the perfect song to show how Banks fuses alternative and R&B sounds.
One of the reasons why I love this album is because it shows the progression of the stages of a relationship. It begins with Banks stating how tired she is of him ("Waiting Game," "Brain") and how she is over playing games ("You Should Know Where I'm Coming From"). Then, she begs for him back ("Change"). Now, he is onto another woman ("Someone New"). Then, she starts to set her eyes on someone completely new and exhilaration washes over her ("Warm Water"). For how this relationship turns out, stay tuned for her next album.
"Goddess" is inherently quite dark. You can (and should) listen to the album in its entirety, but here's a little guide to when you should listen to each track:
Listen "Alibi" after you break up with someone, but before you order that large Dominoes pizza.
Listen to "Goddess" if you feel you've been jaded, but you still want to feel like a badass.
Listen to "Waiting Game" if you feel like turning the bass up in your car stereo.
Listen to "Brain" if you're feelin' a bit sassy and believe that some people don't have brains.
Listen to "This is What It Feels Like" when you're done with playing games. For example, just because it took him an hour to text back doesn't mean you have to wait two.
Listen to "You Should Know Where I'm Coming From" after driving back from severing a relationship. It fit perfectly before you stop at Yogurtland for some emo fro-yo (with extra toppings, of course).
Listen to "Stick" if you enjoy making music with sticks as opposed to cups.
Listen to "F**k Em Only We Know" if you just feel like being super pretentious.
Listen to "Drowning" when you realize you're over someone's BS. Emerge from the water and go find something new.
Listen to "Beggin For Thread" when watching season 2 of "American Horror Story."
Listen to "Change" when you are at your last resort. This can be with a significant other, maybe a job, or maybe when they decide to close the best frozen yogurt place in the history of the universe.
Listen to "Someone New" after the first Facebook stalking session of your ex's new bae.
Listen to "Warm Water" for when you find someone attractive, but he or she has absolutely no idea who you are (see: Ryan Gosling).
Listen to "Under the Table" when you just feel like sitting on your bed. No really, it's quite therapeutic and fits with the furniture theme. Or for when you have the glorified film reel in the back of your mind of a relationship. That was probably more what Banks was going for.
Whether you follow these guidelines or you don't, Banks is the goddess. Plain and simple.
"Goddess" is available on Amazon, iTunes and Spotify.
Reach Music Editor Jillian Morabito here.