Los Angeles
Ex-Sheriff's Deputies Sentenced In Obstruction Of Justice Case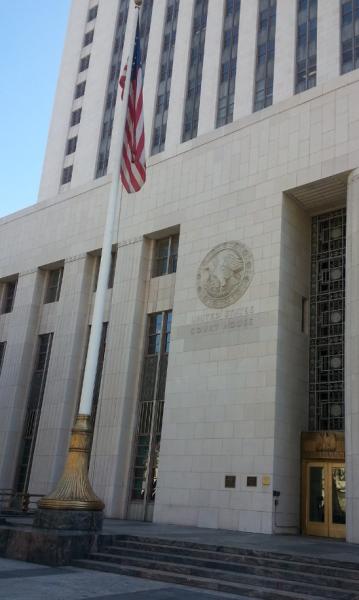 LOS ANGELES—A federal judge gave jail time to six former Los Angeles County sheriff's deputies today for obstruction of a federal civil rights investigation of abuse allegations at the at the Men's Central Jail.
U.S. District Court Judge Percy Anderson gave prison sentences of up to 41 months followed by one year of supervised release to Lt. Gregory Thompson, Lt. Stephen Leavins, Deputy Gerard Smith, Deputy Mickey Manzo, Sgt. Scott Craig and Sgt. Maricela Long. The sentence hearing was held at the United States Court House in downtown this morning.
Anderson convicted all six defendants of participating in a conspiracy to obstruct an FBI civil liberties investigation that began in the summer of 2011. In the investigation, the FBI alleged that the sheriff's deputies at Men's Central Jail hid FBI informant Anthony Brown and made him inaccessible to his FBI handlers for several weeks. Brown, a convicted armed robber, was an inmate at Men's Central jail and was working with the FBI at the time of the investigation.
On July 1, all six defendants were found guilty after evidence was presented in court that proved the deputies took steps to ensure that Brown could not contact the FBI during the investigation. Records were changed and fabricated by the defendants to make it appear that Brown had been released from Men's Central Jail when in fact he had been re-booked under a different alias.
The six defendants were also involved in witness tampering by trying to influence multiple witnesses to not cooperate with federal officials during the investigation. They also attempted to get an order issued that would compel the FBI to hand over investigation knowledge to the LASD. When the judge refused to issue the order, Sgt. Craig and Sgt. Long falsely told an FBI agent at her residence that they were obtaining a warrant for her arrest in an attempt to intimidate her into releasing information.
The judge found all defendants responsible for conspiracy and obstruction of justice. "(The defendants) were six sworn police officers who took an oath to serve the public," he said. Craig and Long were also found guilty of making false statements. Judge Anderson continued, "(The defendants) fostered a corrupt culture within the department."
Thompson, Leavins, Craig and Long had all served the department for over twenty years. Smith has served for just under twenty years and Manzo had served almost eight years. Although the counsel for each defendant argued to justify lesser punishment on grounds of good character of the individuals, Anderson ruled that as long-term Los Angeles law enforcement officers, all six defendants knew the wrongfulness of their actions. He continued, "(this) blind obedience to corrupt culture has serious consequences."
In his ruling, Anderson stated that, "(in addition to federal charges, there was) irreplaceable harm to the public. The rule of law applies equally to everyone, badge or no badge. The defendants today refused to accept responsibility or show any sign of remorse for their actions."
Leavins, Thompson, and Craig no longer work for the LASD. Smith is on approved leave. Both Long and Manzo were relieved of duty without pay in December 2013.
The six defendants and individual sentences today are as follows:
Lieutenant Gregory Thompson, 54, ordered to serve 37 months of incarceration followed by a one year supervised release, and to pay a $7,500 fine
Lieutenant Stephen Leavins, 52, ordered to serve 41 months of incarceration, followed by a one year supervised release
Deputy Gerard Smith, 42, ordered to serve 21 months incarceration
Deputy Mickey Manzo, 34, ordered to serve 24 months incarceration
Sergeant Scott Craig, 50, ordered to serve 33 months of incarceration
Sergeant Maricela Long, 46, ordered to serve 24 months of incarceration
You can reach Staff Reporter Priyanka Deo here or follow her on Twitter here.