Film and TV
Fall TV 2014 Preview: 9 New Shows To See Or Skip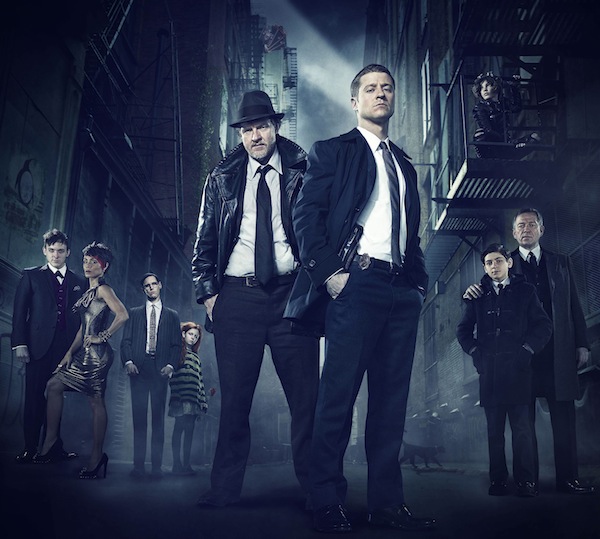 Fall television is upon us! The temperature is dropping, the popcorn is popping and plenty of new shows are starting. Here's what's worth the weekly watch, and what you should not be watching for.
"Gotham" (See)
Before Batman and the other DC Comics personalities, there was Gotham. The infamous city is overrun with criminal activity, especially the high-profile murder of Thomas and Martha Wayne (AKA Batman's parents, before he became Batman). Detective James Gordon (Ben McKenzie), the police department's newest addition, is making it his mission to clean up Gotham. He meets young Bruce (David Mazouz) and the two form a bond. The series features a bunch of super villains to be, such as Penguin and Catwoman. Gordon also has to confront Fish Mooney (Jada Pinkett Smith), a sultry gang head. "Gotham" is twisted and dark and action-packed… An absolute "Must See" this fall.
"Gotham" premieres Monday, Sep. 22, at 8/7c on FOX.
"Houdini" (Skip)
Get to know Harry Houdini - played by Adrien Brody - in this new, two-part drama series. Who is the man behind the escape tricks? It's an interesting concept for a series, but perhaps not worth working your schedule around. This show mixes romance with thrills, and it ultimately seems too melodramatic. We know the escape scenes are staged, and there's no raw fear we have for Houdini's safety. The love story seems forced. The series is just another sad example of the television world attempting to reinvent history for the small screen.
"Houdini" premiered Monday, Sep. 1, at 9/8c on History.
"How To Get Away With Murder" (See)
Shonda Rhimes is at it again! Her television domination continues with this new legal series, centered around a no-nonsense law school professor (Viola Davis) and her bright-eyed students in Criminal Law 100. The students are told four of them will receive an opportunity to work at her law firm if they make the best defense in a case. The game is on, but just how far will the students go? Will it take lies, sex and even murder to make the grade? Rhimes, famous for her work on "Grey's Anatomy" and "Scandal," is back with another captivating drama. Attendance is mandatory, so don't even think about cutting this class every week.
"How To Get Away With Murder" premieres Thursday, Sep. 25, at 10/9c on ABC.
"Marry Me" (Skip)
This show - in a nutshell - is about a couple (Ken Marino and Casey Wilson) who can't seem to get their marriage proposal right. Anytime they try, one of them messes it up and ruins the moment. The end. Literally, that's all this rom-com is about. Let's take a guess - next season is the failed wedding attempts? Don't watch this show, unless you want to become paranoid about your own happy-ever-after moment.
"Marry Me" premieres Tuesday, Oct. 14, at 9/8c on NBC.
"The Flash" (See)
Grant Gustin plays Barry Allen, who later becomes the Flash. If you're interested in "Gotham," then "The Flash" is right up your alley. Witness Barry Allen's transition from the product of a wrecked home life to a forensic scientist struck by lighting. After nine months in a coma, Barry Allen wakes up and realizes he has superhuman speed capabilities. The series follows his new life as the protector of Central City. This wild journey is definitely worth tuning into.
"The Flash" premieres Tuesday, Oct. 7, at 8/7c on The CW.
"Jane The Virgin" (Skip)
Welcome to the roller coaster that is Jane's life, starring Gina Rodriguez. Jane is a virgin… But - Surprise! - turns out she's pregnant. Apparently, she was "accidentally" artificially inseminated by her gynecologist. To make the situation more complicated, the sperm sample belonged to Rafael (Justin Baldoni), a cancer survivor who Jane used to have a crush on. Oh, and he's also her new boss. The big question on Jane's mind is, will she keep the baby? More importantly, the question on our mind is, who cares? There's nothing plain about Jane, but this is one crazy ride we don't want to hop onboard. All these plot twists and coincidences are too much to handle. And, if this series were to miraculously continue for one or two more seasons, where would the plot go? "Jane the Virgin… With a New Baby?" Spend your Monday night watching something more worthwhile.
"Jane The Virgin" premieres Monday, Oct. 13, at 9/8c on The CW.
"Red Band Society" (See)
This new series follows a group of young adult patients at Los Angeles' Ocean Park Hospital. The mischievous band undergo love, heartbreak, friendship and the many other themes of adolescence. Their red hospital bands connect the otherwise different teens, and their comedic and tragic life happenings are put on display. "Red Band Society" is narrated by 12-year-old Charlie, a coma patient. Watch this series and fall in love with each endearing character's ups and downs… You're sure to want to follow along every week.
"Red Band Society" premieres Wednesday, Sep. 17, at 9/8c on FOX.
"Gracepoint" (See)
Here's a crime drama you might recognize. "Gracepoint" is a remake of a United Kingdom series, "Broadchurch." The story follows the mysterious death of a young boy on a northern California beach. A police investigation - led by Detective Emmett Carver - ensues and the small seaside town where the murder occurs is rocked forever. Neighbors turn on neighbors, the media gets involved and the family of the boy is paranoid of everyone. Though not a direct remake, this 10-part series is guaranteed to keep you guessing with its new plot twists and additional characters.
"Gracepoint" premieres Thursday, Oct. 2, at 9/8c on FOX.
"Mulaney" (Skip)
For the 10% of the population in America who think "Saturday Night Live" is actually hilarious, this show is perfect. For everyone else, it's pretty meh. Formerly an "SNL" writer, John Mulaney is channeling Jerry Seinfeld and creating a series with essentially the same storyline. Bored yet? Don't expect these one-liners to hold your attention every week.
"Mulaney" premieres Sunday, Oct. 5, at 9/8c on FOX.
Reach Senior Entertainment Editor Kathy Zerbib here. Follow her on Twitter here.