Food
The Eighth Annual L.A. Chocolate Salon: A Sweet Success
Pasadena this Saturday was a chocoholic's dream come true: the eighth annual Los Angeles Chocolate Salon came to town.
Chocolate Salon events are held across the country. They feature premiere chocolate companies and chefs who are leaders in their field. Attendees tasted the creations of many innovative chocolatiers.
Samples and demonstrations filled the Pasadena conference center, which left guests with smiles on their faces and tummies filled to capacity with treats.
"It has been non stop action… literally from the minute the doors opened," said Nancy Hytone Leb, Chief Strategy Officer of Choctál.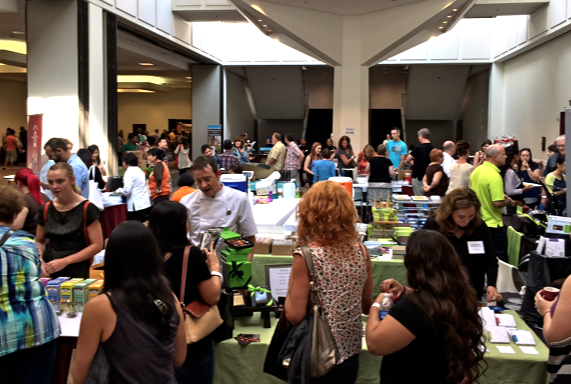 The Chocolate Salon does not discriminate when it comes to chocolate. As long as chocolate was included in a product, it qualified.
There were sweet indulgences, like truffles and candy pieces, and savory items as well, like dressings and jerky.
READ MORE: 8 Sweet Health Benefits Of Eating Chocolate
The event also featured a perfumist who specializes in hand crafting unique scents. One of them includes notes from the cocoa plant.
"Creativity, I think, is the coolest part," said Paul Kiler, owner and creator of PK Perfumes. "I see people combining materials, just like I do, that are very unusual, and the juxtaposition of things together makes very unusual and satisfying pieces of chocolate artwork."
Culinary institutes also attended the event to promote the academic side of chocolate. Guests learned about their programs, and some schools even offered cooking classes signups.
"It's nice to network with other people who are interested in the same field," said Mikey Munguia, a student at The Gourmandise School of Sweets and Savories. "I love that you can make brownies, you can make cake, you can make mold[ed chocolate], you can make sculptures... chocolate is just really versatile."
READ MORE: Curb Your Chocolate Cravings With Mindfulness
Each of the chocolate stands offered a unique element to the event. Most of the owners had a special memory that inspired them to get into the chocolate industry.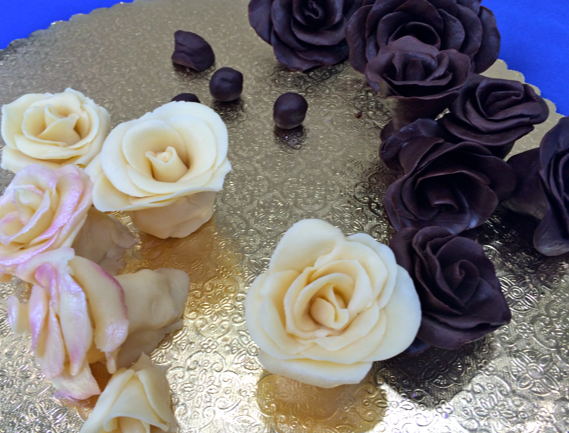 Amy Jo Pedone, owner of Valenza Chocolatier, remembers growing up with an Italian family known for making chocolate treats for the holidays. After the passing of her cousin to ovarian cancer, Jopedone said she began to reevaluate what she was doing with her life.
"It really shook my soul," said Jopedone. "I said, 'Hey, if I had to do it all over again, what is my passion, and what would I do?' So, I ended up leaving my corporate job, and going back to school and becoming a certified master chocolatier."
Jopedone was one of many chocolatiers at the event who had a career change to enter into the chocolate world, realizing that chocolate was more than just a favorite indulgence: it was a passion.
The Chocolate Salon featured some traditional tasting chocolate, but the main emphasis was on artisanal products not found at the grocery store.
Mark Lewis, owner of Marco Paolo Chocolates, started his business after several bouts of purchasing chocolates, continually dissatisfied with their quality. His truffles are a combination of unique ingredients like tamarind tea with green cardamom, or mango red chili gelee and dark lime.
David Bacco of David Bacco Chocolatier offered drinking chocolates, which were rich and intense in flavor.
READ MORE: The 11 Best Hot Chocolate Recipes Out There
The Tea Room showcased infused chocolates that could be supplemented for a daily dose of caffeine. The Tea Room's chocolate bars are made with tea - and some with coffee - and contain the equivalent to one cup of each.
For Vivian Bononi of Vivian Bomboneria, chocolate is not only a taste she enjoys, but a sensation she cannot live without.
"It takes away all your troubles... just by tasting it, it relaxes you," said Bononi.
The next Chocolate Salon in California will be on November 22, 2014, in San Francisco. This event is called The San Francisco Fall Chocolate Salon, and it will preview seasonal treats just in time for the holidays.
For more information of Chocolate Salon events across the country, please visit The Chocolate Salon website here.
Contact Staff Reporter Margaux Farrell here or follow her on Twitter here.