Music
'Dream Your Life Away' By Vance Joy: Album Review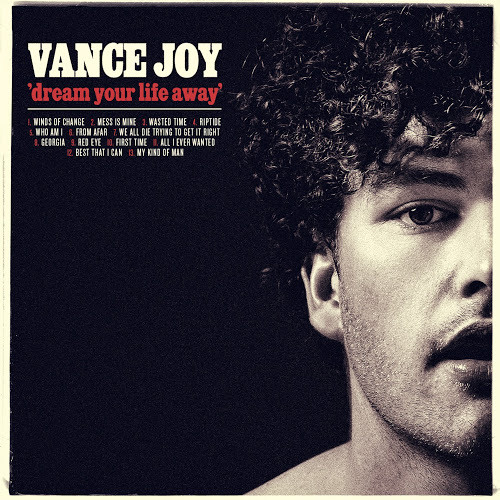 The voice, the hair, the lyrics, the scruff—Vance Joy is perfect.
If you're a sucker for the singer-songwriter type, this album will pleasantly charm you. With some songs that are rather upbeat (and others, more mellow), "Dance Your Life Away" finds the perfect balance that every album should find.
What's even better is that this is Joy's debut. Nowadays, it's generally hard to find a quality debut album that works the whole way through.
"Dream Your Life Away" begins with "Winds of Change." A rather whimsical, yet wistful look back at a relationship, this song is more than reminiscent of Mumford & Sons or even Cat Stevens. And sometimes, the title is just right (as in this case).
Next up is "Mess Is Mine." This is perhaps one of the highlights on the album. There's this unforgettable gradual build of Joy singing with only a guitar to an entire band. The increase in intensity also reflects Joy's actual realization of the mess he made. Just think about the lyrics "When you think of love, do you think of pain?" That's deep.
The hit song, "Riptide," graces the album as well. While the radio is trying to kill the track, who can deny this is a fun song to sing along to? From the quirky lyrics to the silly nature of it, "Riptide" is a hit that deserves all of the praise it's received.
On the track "Who Am I," the only complaint I have is it sounds almost identical to Joy's "Play With Fire," released off his last EP. Therefore, though it's quite similar, "Who Am I" is another fun song to sing along to perhaps while driving to the beach or with a few friends.
"From Afar" is, in my opinion, one of the best and most underrated tracks of the past year. It was also released off of Joy's EP, "God Only Loves You When You're Dancing." The lyrics to this song encompass emotion of a boy who never quite got it right with that girl. There's a sweet sincerity to it ("I've been living on the crumbs of your love and I'm starving now") and it works very well on the debut album.
READ ALSO: Outside Lands 2014: Complete Recap
"Georgia" is a sweet homage not only to a girl and falling in love, but also to Ray Charles' song "Georgia On My Mind." When you think about how adorable the Aussie singer-songwriter is, you can't help but want to help him find that girl.
"Red Eye" deserves to be applauded because it's definitely one of the more powerful songs. Yes, he does compare himself to a dog, but the song's power matched with his vocals actually work quite well. Also, there's the fact that the opening sounds exactly like "Sweet Thing" by Van Morrison.
"First Time" is a song that, at first listen, seems a bit too sudden. It's fast, it's unfiltered, and it tells a story. However, the song eventually will grow on you. It's the tale of first love; who doesn't enjoy songs like this? However, it delves into the darker side: "There will always be another time for us to fall in love but it never cuts you quite as deep as that first time." Clearly there is innocence lost, but wisdom found.
"My Kind Of Man" concludes "Dream Your Life Away." It's a sweet ballad of not only romance, but finding something you're passionate about: "Find a thing that you love, Find a thing you understand." It's an appropriate conclusion when you consider how far Joy has gone in his musical career (hint: he was going to be a lawyer, but decided to make music instead).
"Wasted Time," "We All Die Trying To Get It Right," "All I Ever Wanted" and "Best That I Can" may not be the strongest tracks on the album, but they're still decent. For example, "All I Ever Wanted," though it sounds a little bit too much like the Script, is still an average pop-folk song to listen to. The only difference between these songs and the rest are that these fail to really stand out.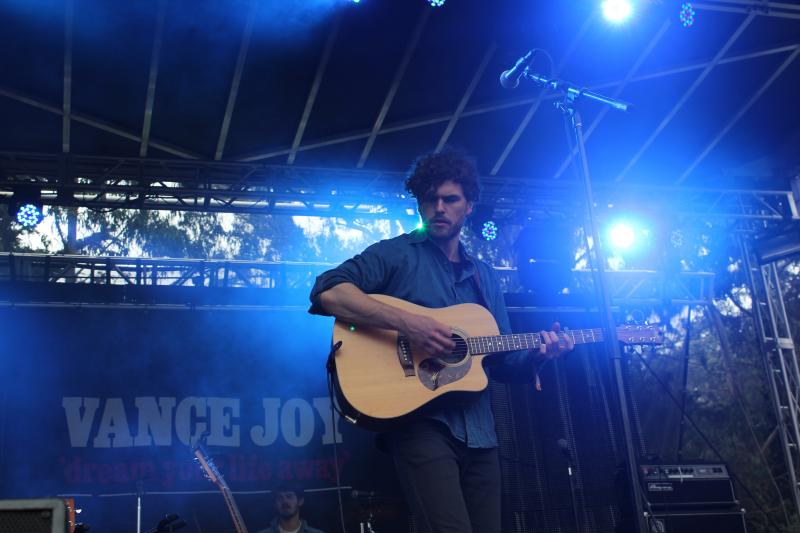 Joy's music is so lovable because there's a sense of humor in it. For example, in "Winds of Change" he talks about leaving his lover's contact lenses on the bedside table so she'll come back. How he's afraid of "dentists and the dark" in "Riptide" is just another example. There's a sweet sincerity in his voice that makes you smile and want to sing along.
I discovered Joy about 18 months ago while browsing Youtube. The song I found was, nevertheless, "Riptide." Immediately, I knew this kid has what it takes to make it on the radio. Even then I could identify that his energy would encompass a multitude of fans begging for more.
This past August, Joy performed at San Francisco's Outside Lands. Seeing him sing "Play With Fire" and seeing the (overflowing) crowd dancing and skipping in circles, holding large flowers and laughing, there was not a better moment witnessed at the festival. Pure love, pure happiness and pure Joy (in both senses of the word) is what his music invoked. It was in that moment that the crowd (including myself) knew the singer was in the big leagues.
Do I think Joy is the most original musician? No.
But do I think he's a fantastic singer that is worthy of musical praise? Absolutely.
Find "Dream Your Life Away" on Amazon, iTunes and Spotify.
Reach Music Editor Jillian Morabito here.