Los Angeles
Does Wage Increase Help Or Harm?
L.A. isn't all about the Benjamin's.
In fact, a recent study by the Tax Foundation shows that Southern California ranks in the bottom barrel of places to get the biggest bang for your buck.
Wicked inflation and a high cost of living leaves Angelenos struggling to keep above water, even when they work multiple jobs and take advantage of public assistance.
Minimum wage workers can expect a gradual increase in wages under Mayor Eric Garcetti's proposed plan, which he presented on Monday at a Labor Day rally in South L.A.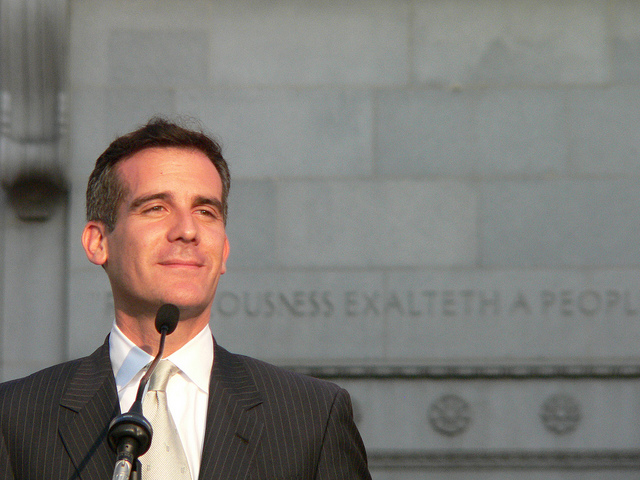 According to Mayor Garcetti's address, nearly 600,000 people working minimum wage jobs in Los Angeles County will be given a raise if the budget is passed by City Council. Most of this population is made up of Latinos ages 20-39, who have families depending on them.
READ MORE: Local Restaurant Owners Oppose Garcetti's Minimum Wage Increase
District 10 in South L.A., represented by councilmen Herb Wesson, is an aggregate of historically under-represented communities.
Many of the people working and living within the district will be heavily affected by the increase in wages. While many welcome the change, there are some who are hesitant to embrace the proposal.
"The prices of everything are going to go up," said Alberto Marroquin, an employee at a Smart & Final store in District 10.
The policy brief, prepared at the request of Mayor Garcetti by expert economists at UC Berkeley, acknowledges that prices will rise as a result of the wage boost.
"The proposed minimum wage law would have a modest impact on business operating costs and consumer prices," the brief reads. "Operating costs would increase by 0.6 percent for retailers, by 4.7 percent for restaurants, and by 0.4 percent in the manufacturing sector."
For members in the community, this means that a $10.00 meal would rise to $10.41.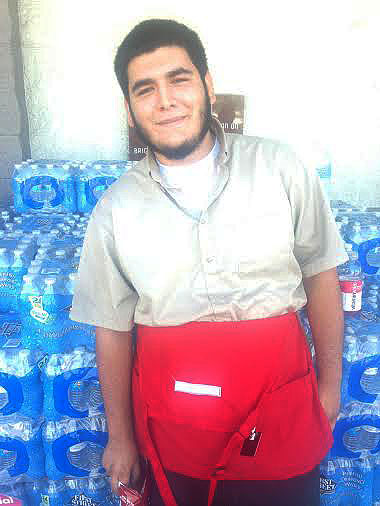 Despite the assertion that "as a whole, price increases would be negligible," the wage increase could be hard-hitting for business owners, particularly those in the restaurant business.
"When you're in a minimum wage job, when it comes time to spend, you spend on what you need, not what you want," Marroquin said.
"I live the minimum wage, I save up my money, but this isn't a future. It's a part-time job, [people] need to look for something else," Marroquin said. "If you want to escape, you need to go to school."
Higher education isn't an option available to everyone, however. On Thursday, more than 300 protestors – 10 of whom were arrested – hit the streets in Downtown L.A. to demand $15 per hour from their fast food employers, including corporate big wigs like McDonald's and Burger King.
READ MORE: Mixed Feelings At Local L.A. Coffee Shops Over Increased Minimum Wage
An even higher wage increase than Garcetti's $13.25 per hour, the protestors hope to straddle the train that Seattle first set in motion with their $15.00 minimum wage increase earlier this year.
McDonald's took notice of the protests, releasing a statement addressing the negative effects of drastic wage increases on small businesses owners:
"…We believe that any minimum wage increase should be implemented over time so the impact on small to medium size businesses, like the ones who own and operate the majority of our restaurants, is manageable."
Gabriel Jauregui, a community liaison and employee at Celerity Nascent Charter School in District 10, isn't concerned with restaurants or fast-food workers. He is worried about the effect the wage increase will have on students.
"If minimum wage rises, less kids will go to college," Jauregui said. "They'll be content and happy with just graduating high school."
Jauregui believes that under-served or under-represented children will be the ones who suffer from the wage increase.
"They'll see the increase and say, 'hey, that's good,' and have no reason to [continue their education]," Jauregui said. "It's not going to be the over achiever kids [who are affected]."
The fate of minimum wage teeters in the balance as Mayor Garcetti rallies support for the campaign, titled 'Raise The Wage LA'. Time will tell whether or not money talks – and if it does, what it has to say for the residents of District 10.
Reach Associate News Editor Diana Crandall here. Follow her on Twitter here.