USC Sports
Cody Kessler's Play And Leadership Shine In USC Win Over Oregon State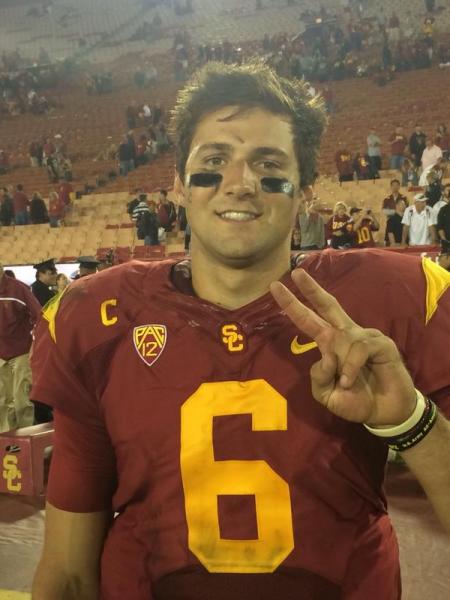 The Pac-12 is widely considered around college football to have the best quarterback group out of any conference. It's hard to argue against that claim, when guys like Marcus Mariota and Brett Hundley are routinely excelling. After tonight, USC quarterback Cody Kessler has entered his name into that elite group.
Kessler had his third multi-touchdown game this season in a 35-10 win over Oregon State. He also completed 75 percent of his passes, the second time in four games this year he's accomplished that feat. He also did not turn the ball over once.
In fact, Kessler is one of two college quarterbacks to complete at least 70 percent of his passes, have at least 10 touchdown passes and throw zero interceptions. The other player in that exclusive group is Mariota. Yet, Kessler isn't really known for putting up mind-boggling numbers like the Oregon quarterback.
There were two plays on Saturday night that defined Cody Kessler's season for me. One of them showed his improvement as a quarterback, and the other one showed his role as a leader of this football team.
With one second to go until the end of the first half and USC nursing a 14-10 lead, the team was searching for a spark before heading to the locker room. Instead of letting the clock run out, USC coach Steve Sarkisian had a different plan in mind.
"We put the offense on the field to make it look like we were going to go and the plan was to run it down to like 2 seconds, take the timeout and run the Hail Mary," said Sarkisian. "We've been practicing it all week and you never know when you're going to use it."
Even though the Beavers only rushed three defensive linemen on the play, pressure filled the pocket immediately. Kessler's improved footwork bought him enough time to get the throw off. He gave his wide receivers a chance to catch the ball despite trying to evade the pressure. Sure enough, one of them did and the Coliseum exploded.
"We do practice it two or three times a week in case we get those scenarios. Darreus [Rogers] made a great play," said Kessler. "I think that sparked us for the second half and got the crowd pumped up."
The 48-yard bomb showed how much the coaching staff trusts Kessler. Under Lane Kiffin, Kessler would be resorted to mostly throwing shorter routes, including a favorite of all USC fans, the bubble screen. Kessler's long throws to Rogers and tight Bryce Dixon earlier in the quarter stretched the field and made the Trojans more difficult to guard.
"Cody getting a good look from our defensive linemen every day in practice has helped him improve," said defensive lineman Leonard Williams. "He comes ready every day. He leads by example and voice. It's shown today and all season."
The other defining play won't show up in the stat sheet.
USC running back Justin Davis finished with a season-best 82 rushing and two total touchdowns, including his first career receiving touchdown. At the beginning of the fourth quarter however, he had his only hiccup of the game, fumbling the ball on 3rd and 1. The Trojans were up 28-10 at the time, but couldn't afford to give up any late momentum. After the ball came loose, it was Kessler who dove on it. He potentially saved an Oregon State defensive touchdown.
But what he did after the play is what makes Cody Kessler special.
"I went straight to Justin [Davis] and told him to just shake it off, you're having a great game. Don't let that get into your head," said Kessler. "He then bounced back and scored another touchdown that iced the game for us."
Kessler's supportiveness, especially after a mistake, is why his teammates absolutely love playing with him.
"He's playing his role as a captain," said Davis. "I'd do anything for him. He's our guy and he's leading this team really well."
Offensive lineman Zach Banner offered a similar sentiment.
"Cody Kessler is one of the best leaders I've ever been around. He takes care of his offensive line, he thanks us. Because of that, we take personal pride in no one touching him," said Banner. "There were a couple sacks and hits today. But he was still really positive. He says not to worry about it. Most quarterbacks would be pissed off about that kind of stuff, but he's a good dude."
Going against Kessler is challenging in practice too. USC's secondary has the grueling task of trying to defend Kessler and the Trojans' weapons throughout the week. Despite the adversity the secondary has gone through with the Josh Shaw saga, the unit has responded quite positively.
So positively, that USC's secondary could very well be considered the best one in the country. The Trojans are the only team in college football that has not allowed a passing touchdown this season.
Even though Su'a Cravens was switched to linebacker from his usual position at safety, he was the defensive star on Saturday night. He led USC with six tackles, had a sack and scored his first career touchdown on an interception return that opened up the scoring.
"We knew [Oregon State] wanted to get the ball out in the flats, and I just happened to make the play on the ball," explained Cravens. "I think the coaches are doing a great job of calling the right plays at the right time, and everyone is executing."
Despite the defense's dominant performance tonight, this isn't the same USC team from last year that was led by that side of the ball. Make no mistake, USC will go wherever Cody Kessler takes them. The Trojans are the only team with a 2-0 record in Pac-12 play, and face a daunting task against Arizona State next week.
Kessler struggled against the Sun Devils last year in what turned out to be Lane Kiffin's final game as head coach. This time around, he will aim to show the rest of college football how much he has improved as a quarterback and leader. After all, it's time that Kessler gets the recognition he deserves for being in the upper-tier of Pac-12 quarterbacks.
Reach Senior Sports Editor Max Meyer by email.