Los Angeles
CITYstage Summer Camp Brings Art to Life For Inner-City Youth
For most students, summer mornings are spent sleeping in and enjoying free time away from school, but for approximately 50 inner-city youth at the
CITYstage Summer Camp
, their summer mornings were already off to an energetic start by 9 am. At CITYstage's summer camp, students spend two weeks exploring the world of performing arts with classes in theater, dance and improv taught by trained professionals—all for free.
The program's mission, and dedication to remaining free and accessible to students of all socioeconomic backgrounds, is a personal one for CITYstage founder Emili Danz.
"From the beginning, when I thought of CITYstage, I knew I wanted it to be a free program," Danz said, noting that even the $10 deposit required to secure each student's spot in the summer camp can be cost-prohibitive for some families. "It shows you that sometimes even $10 for a program is too much to ask for. So that is a really big part of it for me, is making sure that it will always stay free for the students."
Danz, a professional choreographer and performer, founded CITYstage in 2010 with the mission of empowering young people through performing arts. A 2006 USC graduate with a degree in theatre and minor in dance, Danz's experience living in South Los Angeles and witnessing the disparity between immense opportunity and poverty was a driving force behind creating CITYstage.
SEE ALSO: From Proms To Bullpen Arms, Inner-City Arts Find Wide Support
"The initial idea was to create a really safe community space in the South LA area near USC for that population, and it would be a space where youth could come to take equally professional classes that you would find in all of the paid, for-profit studios in Los Angeles," Danz said. "But unlike a traditional studio space the goal of CITYstage is to use the arts as a tool to help middle school and high school kids shape the paths for their future."
Each CITYstage summer camp session runs for two weeks, twice each summer, culminating with a presentation for parents on the last day of camp.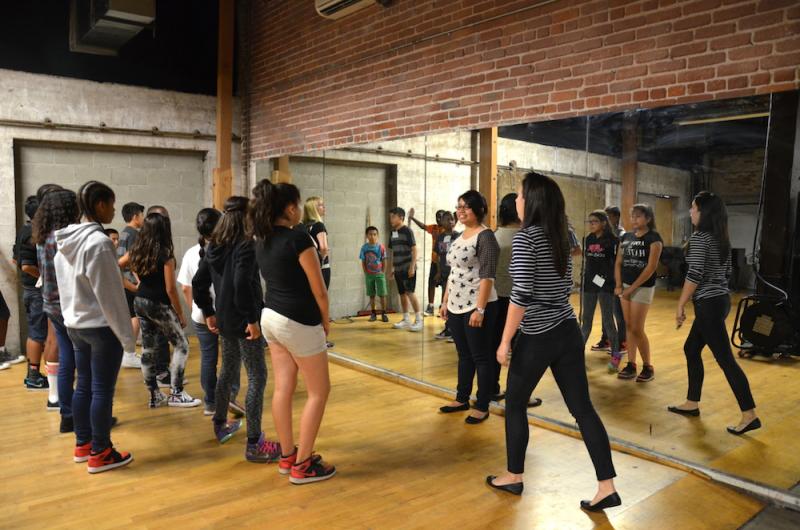 The students range from kindergarteners to high school seniors, and come to the summer camp with a tremendous range of prior experience in performing arts. Although some students may have a particular speciality or area of interest, the variety of performing arts they encounter during the two weeks of camp allows them to explore other skill sets and find new strengths.
"The way I sometimes describe summer camp is that it's a performing arts buffet," Danz said. "You get to take a lot of bites of a lot of different things and then decide what you want to go back for seconds."
CITYstage summer camp students are able to try everything from stand-up comedy and musical theater to Afro-Brazilian and acapella, all while providing a safe space for students to diversify their interests and boost their confidence.
Danz said that some students who have returned for a second year of summer camp have shown dramatically increased levels of self-esteem, academic focus and leadership ability, and she sees the same results in CITystage's 15 to 20 week-long classes that run throughout the year.
SEE ALSO: Nonprofit Teaches South L.A. Boys Technology and Business Skills
One of CITYstage's student success stories is Hakim Baxter, a second-year summer camp student and high school senior. Baxter has been a violinist for five years and performs with the Inner City Youth Orchestra of Los Angeles, but was encouraged by his experience at CITYstage to pursue singing, stand-up comedy and other performing arts.
"I kind of like it because there's the family aspect of it," Baxter said of CITYstage. "Just being able to express myself through the art forms is really cool, I really like it. I've always had a knack for creating things.
Though he's a musician by training, Baxter said that taking classes for other performing arts, particularly stand up comedy, has really helped him come out of his shell and stop worrying about being judged by his peers.
In addition to helping enrichen middle and high-school aged students, the CITYstage summer camp is also a valuable resource for working parents who may not be otherwise able to arrange childcare during the summer, and provides free lunches to students each day. Instruments, costumes and any other supplies students need during the summer camp are also provided for free.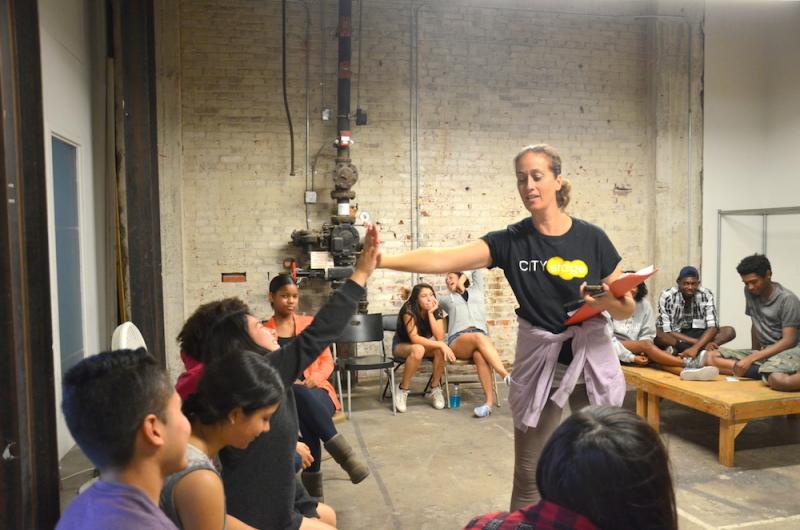 Though CITYstage does work with younger students, Danz said that she aims specifically to get older students involved, as there tend to be fewer programs and opportunities, and less parental involvement, for middle and high school students. CITYstage also works with other underserved youth demographics, including students experiencing homelessness, through a partnership with the
School on Wheels
tutoring program.
"They are, by far, my favorite group of kids to work with," Danz said of the students, the majority of whom reside on LA's Skid Row, she teaches through the School on Wheels partnership. "They are so kind, and so appreciative of everything they have in life. So when they come here, this is their safe place, and their happy place."
Danz and her team of professional musicians, singers, dancers, actors and stand up comedians from around Los Angeles aim to provide an enriching experience for students of all backgrounds, and though, as a non-profit, most of CITYstage's positions are unpaid, this doesn't stop performing artists from around the area lining up to work with CITYstage.
"I have 20 teachers on the wait-list who want to teach for CITYstage. That's been the easiest part of this job, is finding really qualified teachers," Danz said. "Just because it's a free program, doesn't mean that we sacrifice the quality of teaching. Every teacher we have is working in the field they're teaching."
The high standard Danz holds CITYstage instructors to is readily apparent veen to students, like Madison Rowe, a middle-schooler who attends both the summer camp and year-round CITYstage classes.
"They're very professional, and they want you to succeed," Rowe said of her CITYstage teachers. "And they're very kind, which makes you want to learn. They show you that you can do anything you want to."
SEE ALSO: #ArtShare LA Showcases The Best Of L.A. Street Art
CITYstage's pilot program launched at Manual Arts High School in 2011, and Danz expanded the program to its current headquarters at ArtShareLA in the Arts District in 2012. Up until recently, CITYstage had been funded through individual donations, but this year, Danz and her team began applying for grants, and raised over $20,000 the summer camp through a Flipcause matching campaign.
"This year's kind of a transition year," Danz said.
Danz and her team anticipate that a permanent CITYstage community studio, which will include a computer lab and study hall, will be completed within the next five to ten years.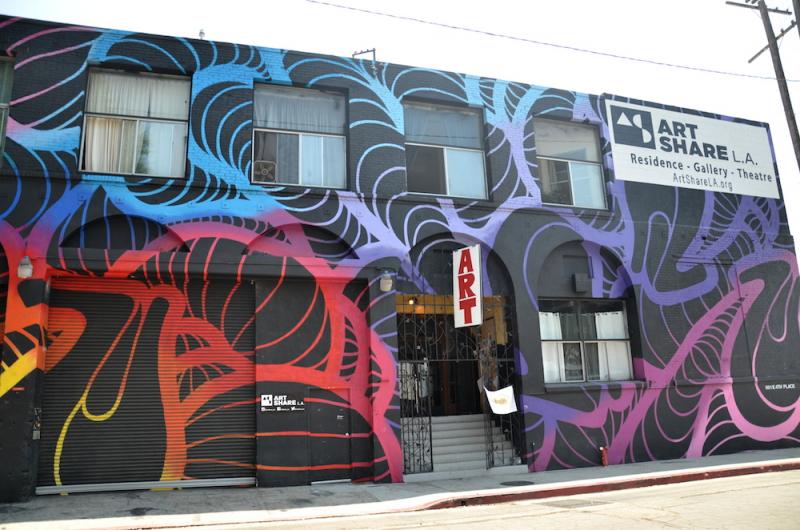 Until then, empowering students through performing arts remains the mission, Danz's committment to encouraging leadership skills and confidence doesn't consist of only teaching students; she often allows more experienced students to lead classes themselves, and some CITYstage students have gone on to become volunteers, interns and even paid staff members.
For CITYstage staff members like Alli Corbin, a recent college graduate who travelled from Pennsylvania to Los Angeles for the opportunity to work with CITYstage.
"CITYstage is exactly what I was looking for and the only internship I sought out," said Corbin, who has been performing in theater productions since she was young. "I've been doing a lot of studying lately and thinking lately about theater, and [how doing] that as a kid made me who I am today. I really was looking to share that...with kids to not only educate them and make them stronger in their education, but to make them stronger people."this approach is just a part of what makes the program unique.
Reach Staff Reporter Olivia Niland here and follow here on Twitter here.