California
The Board of Tourism: 7 Tips To Thrive On Your Next Weekender
Tourism is what I do best, to be perfectly honest. Having adopted this strange land of USC as my own for two years, I have fully embraced my role as the tourist from Memphis. This past weekend was what is known by the locals as the "The Weekender," or simply "The Der," an annual road trip to the foggy bottom of San Francisco to beat up on nerds. I followed the herd upstate and took notes so you can better yourself for your next "Der." (BTW: Der is an abbreviation for Weekender, but you already knew that.)
The one unexpected twist involved my nose getting damn near broke off by an elbow while hooping the night before I left. I was drugged out on Tylenol the entire time, which is not the typical Der; I mean, I didn't exceed the maximum dose or nothing, because that is straight liver damage, but I pushed up to the boundaries, nahmean. Still while erlenmeyer flasks boiled on our Bunson burners, we took the average of 1,000+ Der trials to bring the most complete and thorough advanced analytics to you, in a vein similar to Spike Network's late great "Deadliest Warrior." In retrospect, that show was very far ahead of it's time honestly. Advanced statistics and computer simulations are all the rage these days. What #influencers. Let's begin.
1. Leave Early AF
I hit the wheel of a 1999 Toyota Solara at 6:24 a.m. and never looked back, mates. Seven hours behind the wheel of a car is outrageous fun. Why so early? First, you want to beat the traffic. Second, you want to do everything as Xtreme as possible during your WeekenDer. This here USC tradition is a fast-paced and hard-hitting adventure, and you'd be remiss to spend the first half of your Friday in Los Angeles, or worse in your car. Grind it out, and arrive in San Francisco before 2 p.m. so you can experience the clean, crisp air of an actual, for real autumn day before the sun fades. Personally, I killed two cups of coffee and one very large, very luxurious bottle of Fiji Water. Overall, a bit of an amateur move consuming so many fluid ounces, but I did manage 140 miles per bathroom break.
Fun Fact: Did you know that Fiji water never touches a single human hand during the entire bottle process? That's right: not until you put your crusty lips to slake your thirst does that water touch a human membrane. Fiji, y'all crazy for that one.
2. Rally That Night
Your body will beg and plead and whine and bitch about it, but instead of listening to its pathetic sobs, take a power nap, drink more coffee, and turn up the night you get to San Francisco. The pro move is to turn up so loud in your tiny, overpriced "luxury" hotel that you get kicked out before 6 p.m. that Friday night. If you can do that, you're obviously doing everything right in your life, and it's San Francisco that can't handle you, which is dope.
For the nighttime activities, this JusCollege/28th Street event might be the only one of the entire year worth going to. The venue they hurled us to actually had a very sick venue, and for once, instead of Greek vs. Greek vs. Not Greek, we can all rage as one, knowing that it is Stanford we truly dislike the most. I highly recommend not paying for the event though, and instead opt for hopping the fence while security watches and stroll in like it's nothing because it's nothing. That's a pretty advanced maneuver, but the Der doesn't accept amateur shit.
3. SIDE NOTE
Here comes a pro tip: Don't sleep until 3 p.m. on a USC Game Day. That's just a bad look, bro. Sure, we've all been there (read: I was there Saturday), but that's no excuse. This isn't a time for theatrics, no one is giving you a Golden Globe for having the most convincing hangover. Be a true American hero, and put your head down to work. Grind away because Game Day only comes once a week. Personally, my nose was in throbbing pain and had swollen to the size of a toucan beak while my body had gone into a lesser form of shock, and I still think that's a terrible excuse for my actions. While I did catch the entire fourth quarter of what was an amazing game (All praise to), I ended up watching it alone in my hotel room with an ice bag to the face. Again, not a good look.
Things happen though, so if you do wake up at 3 p.m. on Game Day, spend time getting lost in San Francisco looking for the Niketown. You might run into a cute girl or a dope streetwear artist. I ran into a cute girl AND a dope streatwear artist, which by no means makes up for my sleeping shenanigans but was a nice plus overall. While wandering the streets in my pain-and-pain-reliever fueled daze, who appeared before me but this lovely lass, a German gal whose well-worn yet still cokewhite Air Force 1s caught my attention. Fighting the language barrier, we strolled the vibing streets of San Francisco and conversed about her four-week transition into America and about the plethora of AF1s on the feet of German women. Making a mental note to check out this Germany place sometime, we took a quick picture before she ducked into her building. Of course, I completely bricked on getting a phone number or even an Instagram account, but Hova taught me you have to live life with regrets. All the best, boo.
4. Buy Tight Shit
The avid reader of my stuff will notice that I've mentioned this piece of advice two times in two articles. One Hunned Percent, if you will. But it's a great life motto. San Francisco is a much easier city to walk than L.A., and they have roughly the same number of freaking dope stores, so a casual stroll through will surely take you past a store that sells something you never even considered owning, but now absolutely need and are willing to forgo lunch money to buy.
On that note, by the piers I bought the craziest painted-on Hendrix crewneck from my guy—the Boma Cho, legendary streetwear artist. Neither words nor pictures do this garment's handpainted texture and look justice, but such ineffability comes with perfection. And I swear I'll watch that documentary soon, Boma!
In between my jaunt through Coppington Gardens, I stopped at the Bonobos Guide Shop, where you have to order everything online after they fit you for their clothes because of taxes or something else I don't understand. To be completely honest, ever since "Easy Rider" by Action Bronson, I've stayed rocking very loose chinos, but I can see the appeal in the Bonobos Straight Slim for thigh guys like myself. Without cutting off circulation, they provide a tailored look that will definitely impress your friends who make fun of you for dressing like a grandpa. Also, they make well-fitting navy blazers, an item that's been on my to-cop list for a cool minute now. Bonobos, if you want to throw me one, I'm a 42L Slim. Thanks in advance.
After that little fitting adventure, I also copped Tech Fleece Joggers, the crazy technical and insanely tight yoga/sweatpants from Nike. My legs were popping off, literally, and I was very grateful that I had the foresight to hoop every day leading up to the Der. In fact, they're so tight they had me doing leg day and playing basketball on the same Monday I got back. That's absurd. Still balled out tho, ask my friend Tommy at the Lorenzo.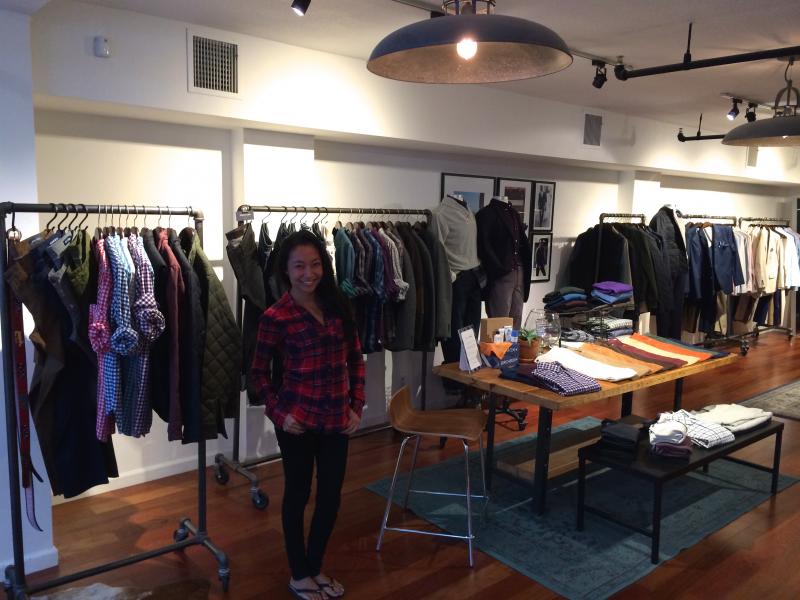 5. The Bar Scene
The Triangle Bar area in San Francisco is exactly what we need by SC. A melting pot of different vibes coallescing into something fragrantly specatuclar, there's a bar for everyone, not everyone in a bar. I'm looking at you, 90.
Being the pro/kook that I am, I wore those new-new pieces and my go-to buttondown out to the bars and had mad flirtatious moments with the ladies of San Francisco. Twenty-eight year-old women love a man who does leg day apparently; a nice woman at Balboa even taught me where to properly tie my crewneck for this particular outfit. It's over the shoulders, not at the hip, just in case you needed to know for you next look. She was right too; looks fine.
Oddball characters abound in San Francisco, and the local watering holes are a great way to see these majestic folk up close and personal, like Steve Irwin, God rest his soul. Aside from the (totally not) usual encounter with older ladies, I was also mistaken for a University of Miami fraternity brother's little bro, Sculley. Disappointingly not finding Sculley after approaching me, the duo turned out to be some chill alumni. We stood around smoking a cigarrette while discussing football, the benefits of sweatpants, and their raging desire to haze some of us USC kids. Overall, no complaints.
6. Stuff your face
Low key moving into high key, I'm training for an food challenge, so this may be advice for me only. Just stuff your face as fast as possible with as much food as possible. I killed three-fourths of a meal from Brandy Hos in five minutes before our Uber driver arrived, on sheer principle alone. The food there is bomb, a very genuine Hunan experience with a strong but not overwhelming kick even in their mild sauce, but I hardly tasted the last of it in my barbaric gulps. Still, I'll go on record highly recommending the General Chicken. As a rule of travel, you are paying severely for vitals, so don't leave any on your plate. As a future food challenge contestant, also eat that food obscenely fast.
7. The Drive Home
TBH, I got nothing for you here. This is the most miserable slog on God's green earth. On the way up, the smog was so dense, I swear I couldn't see 10 miles in front of me. If you're a gambler, take the PCH and hope those two extra hours in a cramped compact car are worth it. Honestly, if I weren't a 6-foot-5 man in the back of a freaking Toyota Solara, then I might have advised that move. Instead, I just annoyed the hell out of my car mates and managed to get them to stop three times so I could keep eating food. That included my double-double from In-N-Out, three-fourths of my friend's double-double, fries, a milkshake, and a huge water bottle. It's a grind out here, and only the well-fed and well-hydrated survive.
Reach Staff Reporter Danny Galvin here. Follow him on Twitter here.