USC Sports
Behind Enemy Lines: Can Sean Mannion Lead Oregon State To Big Win Over USC?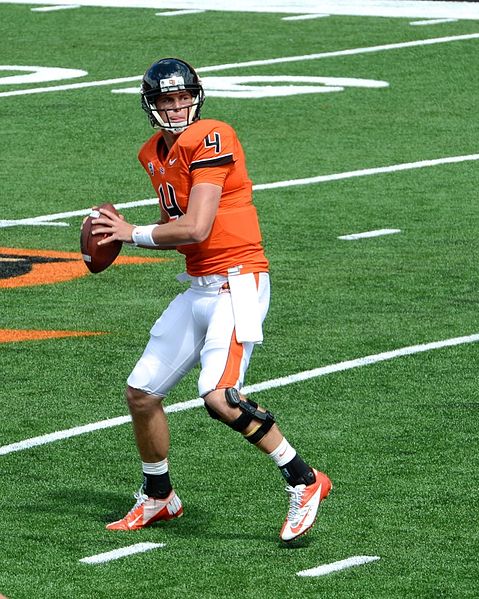 In USC's second Pac-12 contest of the year, the Trojans play a Saturday night game in the Coliseum against undefeated Oregon State. The Beavers have not beaten USC in Los Angeles since 1960, losing 22 straight contests. USC
also won 31-14
in last year's game between these two teams in Corvallis.
Gina Mizell covers Oregon State football for The Oregonian, and offers excellent insight from her articles and Twitter account about the Beavers. She joins the Neon Tommy crew today to help preview this big game.
1. Oregon State quarterback Sean Mannion had 45 passing attempts last year against USC, but only averaged 6.2 yards per attempt. USC's defense would often rush only three defensive linemen and drop the rest of the players back in coverage. How has Mannion played this year against blitzing defenses versus ones that put a majority of their players in coverage?
Oregon State certainly got experience with a variety of blitzes last week in going up against San Diego State's unique 3-3-5 scheme, which will bring pressure from all positions and all places. So that could be good preparation moving forward. For Mannion in particular, his biggest offseason improvement was his footwork in the pocket to both dodge the pass rush and then set his base correctly to deliver an accurate pass. That was particularly on display against San Diego State, where he stepped into the pocket on a couple throws that may have been sacks, incomplete passes or interceptions a season ago. Of course, the caliber of defenses he and this offensive line faces will only go up in Pac-12 play.
2. Mannion has thrown a whopping 113 passes through three games, but it seems that the bigger story is how improved Oregon State's rushing attack is. This is particularly important considering how USC's run defense has struggled. How would you describe the running styles of Terron Ward and Storm Woods? Why do you think both of their yards per carry averages are much higher this year?
Yes, Oregon State has been much more balanced this season, with Woods going over 100 yards against Portland State, Ward hitting that mark against Hawaii and the pair combining for all of OSU's four touchdowns against San Diego State. Woods is the more explosive of the pair and the better receiver, while Ward provides a bit tougher approach between the tackles. However, one of the biggest differences for Woods this season is finishing runs and not simply bracing for hits, something new coordinator John Garrett brought up to Woods shortly after he was hired. Woods admits today he was subconsciously timid at times last year after suffering a pretty significant concussion against Utah early in the season.
3. The rapport between Mannion and Brandin Cooks seemed to be on a different level in 2013, but Cooks is now in the NFL. How has Oregon State been able to replace Cooks' production? Does Oregon State still rely on the deep ball in its passing game, or has the overall passing scheme changed significantly this season?
Well, Victor Bolden was starting to fill Cooks' versatile role until dislocating his pinkie finger in the first half against San Diego State. He won't play Saturday. So the receiving corps is one of the most intriguing storylines for OSU entering this game. Richard Mullaney moved from split end to flanker once Bolden and his backup, Rahmel Dockery, both left the San Diego State game with injury. He's sure-handed and can run the routes, but he doesn't have the lateral speed to get the ball on the fly sweep. Dockery, a Washington State transfer, is expected to play Saturday, so he could get involved in that and as a deep threat.
OSU will also rely on a large group of young players. Redshirt freshman Hunter Jarmon had a breakout game against San Diego State, while fellow redshirt freshman Jordan Villamin boasts great size. True freshman Xavier Hawkins, who also fits the Cooks/Bolden skill set, is expected to burn his redshirt and make his collegiate debut Saturday. Also, tight ends Connor Hamlett and Caleb Smith—arguably the best duo in the Pac-12—should get plenty involved in the passing game.
4. Another important player that Oregon State lost to the NFL was defensive lineman Scott Crichton. The Beavers did sack Cody Kessler twice in the last meeting, but USC's offensive line still won the battle in the trenches overall. Can Oregon State's defensive line cause enough of a disruption on its own against USC's young offensive line?
Right now, the Beavers don't have a star like Crichton along the line—but the line might be stronger overall. The Beavers have depth at all positions, with Dylan Wynn, Lavonte Barnett, Jaswha James and Obum Gwacham expected to rotate at end and Jalen Grimble, Bud Delva, Siale Hautau and Brandon Bennett-Jackson at tackle. Gwacham, who just converted from receiver to defensive end in the spring, in particular is a neat story. He's got impressive size and athleticism to become a pass-rush specialist on third down. He's got three sacks through three games.
5. Oregon State linebacker Michael Doctor was nominated for the Lott IMPACT Player of the Week after his performance against San Diego State. What sets him apart from other collegiate linebackers? Is the Beavers' linebacking group the strength of their defense?
Doctor is another good story, as he sustained a season-ending ankle injury in the Beavers' second game last season and looks to be back to his old self. He's just solid in every aspect of playing linebacker—filling gaps to stop the run, pressuring the quarterback, dropping into coverage. Yes, linebacker is the Beavers' deepest and most talented position group, with three senior starters in Doctor, Jabral Johnson and D.J. Alexander, and two others who have logged significant playing time early in their careers in Rommel Mageo and Caleb Saulo.
I'd also point out the Beavers have an All-Pac-12 contender in cornerback Steven Nelson. I'm looking forward to watching him go up against Nelson Agholor.
6. The Beavers average 29.9 seconds per play, which makes the team the slowest in the Pac-12. Do you think Oregon State's slower play compared to the rest of the lightning-quick Pac-12 is an advantage? Since the Beavers have to deal with USC coach Steve Sarkisian's fast-paced offense this weekend, how important is it for Oregon State to win the tempo battle?
The Beavers' pro-style offense certainly makes them the exception in a Pac-12 filled with up-tempo spread attacks. But they want to churn the clock, mix the run and the pass, and then score. OSU did that exceptionally well against San Diego State, with all scoring drives lasting more than four minutes. I don't think this OSU defense will be alarmed in facing USC's up-tempo attack, but certainly, the Beavers want to sustain drives and wear the Trojans' defense down.
7. What is your prediction for the game?
I picked USC to win 28-21 earlier in the week and I'll stick with something similar to that. Obviously, it's been a long time since OSU won at the Coliseum. But that doesn't have any impact on Saturday's game. I think USC will come out fired up after having to sit on that Boston College performance for two weeks. We're going to learn a lot about OSU in this game, and I would not be surprised at all if the Beavers pulled off the upset. But I'll take the Trojans in a close one at home.
Reach Senior Sports Editor Max Meyer by email.