USC Sports
Behind Enemy Lines: Boston College Aiming For Monster Upset Over USC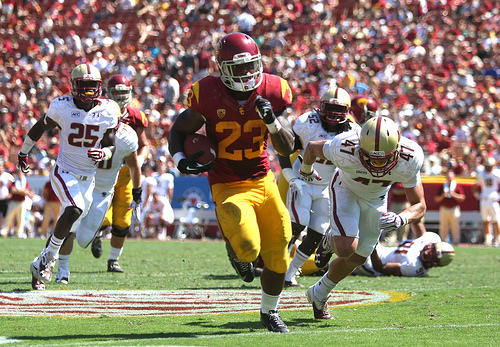 USC is playing their second-straight road game, and is traveling across the country to take on Boston College in a primetime affair. Bill Maloney is one of the top bloggers regarding Boston College football, and is here to help explain the differences between this year's Eagles versus the team that lost to USC 35-7 last season. You can find his work at atleagle.com.
1. Boston College running back Andre Williams rushed for more than 2,000 yards last season and was the focal point in the Eagles' offense. How has Boston College replaced that production in their running game and has the team employed a similar style of offense compared to 2013?
BC has yet to find a replacement for Williams. Partly because they don't have anyone who is a true power back like Williams, and partly because the offense is fairly different. BC is still a run-first team, but they now have a running quarterback in Tyler Murphy, plus they are not using as many jumbo packages. Last year BC had a surplus of linemen and good tight ends, so they would sometimes use what looked like a goal line offense in midfield. Those guys would overpower the defense and Williams would run towards the daylight. I also think BC is still trying to find what works. Things that worked against UMass didn't against Pitt. We will see what works against USC.
2. USC quarterback Cody Kessler completed 15 of 17 passes in last year's game against Boston College. How would you expect the Eagles to change their defensive gameplan so that Kessler isn't as comfortable in the pocket this time around?
I don't expect the Eagles to use the same scheme they used last year. The hurry-up aspect of Sark's offense may create problems for this young team. I don't know if BC can get too creative or substitute much if USC is pushing the tempo.
3. Florida transfer Tyler Murphy is now the Boston College starting quarterback. What makes him so unique from other BC quarterbacks in the past? Given USC's troubles with defending mobile quarterbacks, are his legs just as important in this game as his arm?
Murphy is a huge change for BC. They haven't had a true mobile QB in 30 years. Even guys like Flutie who could scramble were still pass-first. His legs are more important than his arm because he has yet to prove that he can consistently hit open wide receivers.
4. USC's offensive line is arguably the biggest question mark on the team. What are the biggest strengths and weaknesses of Boston College's front seven? Will they be able to adjust to the speed of USC's uptempo offense?
I do think the tempo will be a factor, but that is not the only issue with the front seven. As a group they were inconsistent against Pitt and missed plenty of tackles. They are also not healthy. Two of their best among the front seven, linebacker Sean Duggan and defensive tackle Mehdi Abdesmad, are injured and not 100% respectively.
5. What is your prediction for the game? Is there any chance that Boston College can capitalize on the fact that USC is coming off of an emotional and physical win, along with the Trojans traveling across the country?
I think BC will play better, but for the Eagles to win, they need for USC to not take this game as seriously as other ones. Hopefully the travel and coming off the big win at Stanford will lead them to take BC for granted. With Lane Kiffin that always seemed to be a potential issue. Can it happen with Sark? USC fans would know better than BC, but I still have hope and think BC can pull off a huge upset 24-21.
Reach Senior Sports Editor Max Meyer by email.