Nation and World
Oklahoma Beheading Concerns Experts Amidst Similar ISIL Executions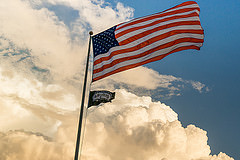 Just two days following the beheading of a
French nationalist
by Islamist militants in Algeria, a 30-year-old man beheaded his coworker, Colleen Hufford at Vaughan Foods in Moore, Okla. Friday.
Recently converted to Islam, Alton Nolen's violent outburst shocked many as it mirrored the decapitations of American journalists James Foley and Steven Sotloff by terrorists aligned with the Islamic State of Iraq and the Levant.
READ MORE: Oklahoma Man Beheads Female Coworker
It is this type of violent repetition that Professor Ron Astor, an expert in terrorism and violence, believes can lead to a type of "contagious effect."
"Often people that are vulnerable or suffer with psychological issues can be more influenced by [what they see in] the media," Astor said. "Beheadings in general is quite rare… this type of violence is not done by chance."
With conflict between the U.S. and ISIL heightening, the extremist group has asked sympathizers to act out in similar attacks around the world, according to CNN.
People might act on these violent actions for sociological or psychological reasons, especially if they hear it announced by the media multiple times, Astor explained.
Although Moore police say there was no evidence to suggest Hufford's killing was a terrorist attack, Professor Erroll Southers, an expert in counterterrorism, says that the absence of command and control from outside terrorist organizations should not minimize the concerns of similar violent ideology.
In relation to national security, Southers said that copycats are always a concern whenever acts of violence or other threats are carried out. However, he did note that ISIL should not be overlooked.
"ISIL is a different threat than Al-Qaeda was, they have far more capacity," Southers said. "Great care and caution should be taken not to alleviate them or underestimate their potential."
The FBI is currently investigating Nolen's violent actions to find any link or tie with a terrorist organization.
Reach Staff Reporter Celeste Alvarez here or follow her on twitter here.