Theater and Dance
Aristotle Would Be Proud Of L.A. LGBT Center's 'The Goat, Or Who Is Sylvia?'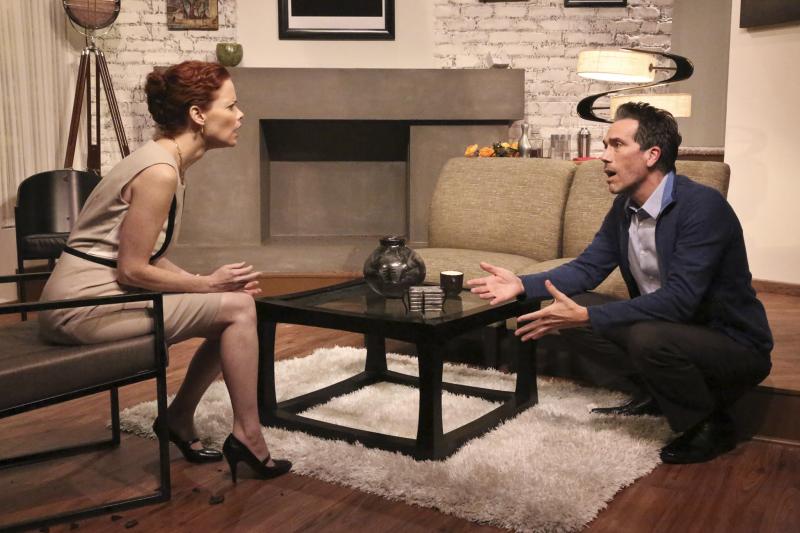 A drawing hangs placidly above the mantle on the set of the Los Angeles LGBT Center's production of Edward Albee's "The Goat, or Who is Sylvia?" at the Davidson/Valentini Theater. This same drawing is shown in a photograph on the wall slightly to the right, poised proudly in the hands of Martin Gray (Paul Witten), revealed to be the design for which he has just become the youngest person ever to win the Pritzker Prize for Architecture. By displaying this design in such a prominent position in the living room of the Gray family's ritzy Upper West Side complex, it's conveyed that the family trusts in Martin to support them and build them a stable foundation of love and security. All seems well.
Just hold onto your seats and get ready for the shock of your life.
In ninety electrifying, intermissionless minutes, Albee quite literally tears this family apart, and director Ken Sawyer sees that vision through to the maximum level. The play has all the elements of a classic Greek tragedy: The beginning stasis has Martin confused and apprehensive about his newfound physical attraction and deep admiration for a goat that he has named Sylvia. Breaking the stasis, he confides this secret in his best friend Ross (a terrific, razor-sharp Matt Kirkwood), who will not let the matter subside, despite Martin's pleas to let him handle the situation for himself. The action cuts to the next day, when Martin's steadfast wife Stevie (Ann Noble) confronts him in hysterics over the letter that Ross has written to her and their angsty, sexually frustrated son Billy (Spencer Morrissey) over the matter, resulting in a hellacious argument in which lots of porcelain is chucked across the room and furniture is knocked over. Finally, later that night, when everything seems to have been placated and Billy and Martin have made up in the absence of the furious Stevie, she comes back, having ended the matter once and for all in a gut-wrenching, horrific display of offstage violence that nobody in their right mind sees coming. Lights down.
Witten and Noble, in this play, masterfully assume the roles of opposing forces in the narrative while maintaining the emotional pull of a married couple in agony. In their tour-de-force scene of conflict — which consumes about half of the play's total running time — Witten defends himself in tail-between-legs fashion against the brute force of the bull-in-china-shop Noble, resulting in a juxtaposition that most effectively raises the questions of morality that Albee poses in the text: What happens when you defy tradition? How does taboo practice affect family life? What even is love? And, most poignantly, how can we judge what we see and observe in other people? This script is one that truly holds a mirror up to society and — as an Albee trademark — hilariously, but painfully, reflects the truth of the human experience in times of crisis. Often, we as an audience are not sure who to root for: Martin, who is to blame for the chaos but is open and honest about his simultaneous repentance and lack of regret; or Stevie, who upholds the traditional ideals of family life and forebodingly vows to "bring [Martin] down" with her.
SEE ALSO: Deaf West's 'Spring Awakening' Is A Conceptual Masterpiece
The action beautifully plays out on Robert Selander's peacefully white, almost Kubrick-esque set, which becomes a canvas for destruction, battle, and — at the play's woeful end — bloodshed. One minute, we find ourselves cackling at the gross awkwardness of the situation and Noble's expert blend of acerbic sarcasm and total freak-out, and the next minute flinching at the devastating blows that she inflicts upon her "goat fucker" of a husband. Noble may dominate most of the play due to her massive amount of dialogue, but Witten provides a strong, sympathetic counterpart, and Kirkwood and Morrissey have several shining scenes that contribute to the ramifications of Martin's deed. All four finally come together for the final late-night scene, from which not one of them will emerge the same.
As the lights finally begin to fade and the audience bates its breath for explosive applause, we see Stevie catatonically staring at the design over the mantle — the one item that has remained untouched in the room, not subject to her rage. She realizes that it is out of her reach. No structure can be attained from the depths to which the family has sunk. And as Martin, on his knees in overwhelming sorrow, looks up into the lights, tears flowing from his face, we know that he is feeling the same thing. He knows that nobody can help them, and he has — albeit innocently — destroyed the very foundation of the family that he created. Through the positioning of these two characters at this moment, the final stage picture gives us an incredibly powerful idea that the two characters have arrived at the same emotional state, but their true paths will never cross again. Their perspectives are far too different to be compatible, and that's where their real problem lies. If only they could learn to just accept what has happened and move on, things would have a prayer of getting better.
But in true tragic style, nothing is for certain. Cue Albee's genius. This one is a revelation. It will cause a mountain of internal debate, but it's worth it.
"The Goat, or Who is Sylvia?" is playing through November 23 at the Davidson/Valentini Theater in the Los Angeles LGBT Center's Village at Ed Gould Plaza (1125 N. McCadden Pl., Los Angeles). Tickets are $30. Not suitable for children. For more information, visit www.LaLGBTCenter.org/theatre, or call (323) 860-7300.
Reach Contributor Ryan Brophy here.
For more Theater & Dance coverage click here.