Film and TV
8 Shows With The Best Soundtracks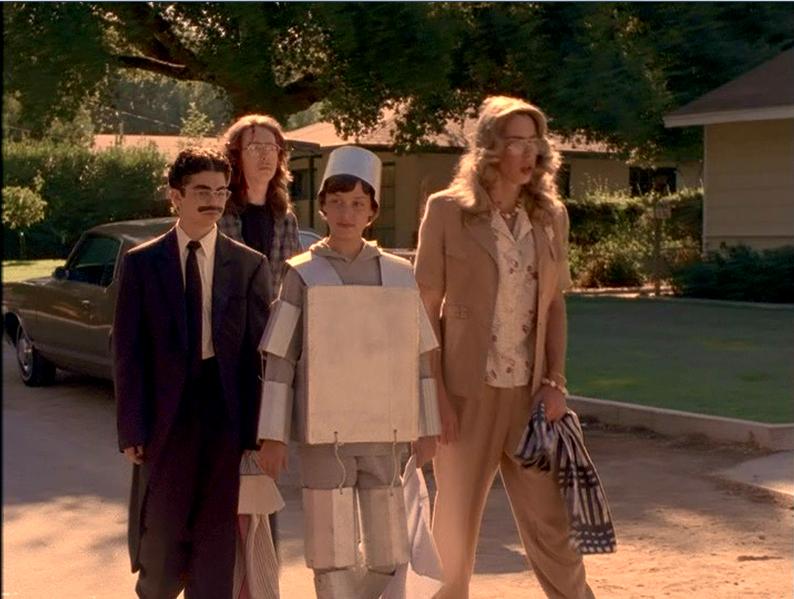 Not that the lively saxophone riffs of Full House don't put a smile on everyone's face, but sometimes a dedicated television fan needs a fantastic contemporary soundtrack to enhance his or her viewing experience. These songs, chosen at the discretion of a show's music supervisor, can intensify a touching or dramatic scene, provide charming transitional background noise, or even hold symbolic or ironic significance within the context of the show (think "Baby Blue" in the Breaking Bad finale). More significantly, though, they act as a link between the film and music industries, allowing TV viewers to culture themselves on several different artistic levels at once. No longer are MTV and VH1 viable options for the discovery of hip new music or the celebration of old classics, but the stellar soundtracks for these series prove that television can still give viewers a musical education.
1. Weeds (Showtime, 2005-2012)
This comedy-drama about a pot-dealing suburban mom offered viewers a lot more than just Jenji Kohan's sharp writing and Showtime's signature dark humor: from "Your Rocky Spine" by Great Lake Swimmers to "Keepsake" by State Radio, Weeds was a musical gold mine for undiscovered indie hits. Even the song's theme song, "Little Boxes" by Malvina Reynolds, is covered by a well-known artist each episode during seasons two, three, and eight, featuring big names including Death Cab for Cutie, Dierks Bentley, Regina Spektor, and the Shins.
Download: "All the Trees of the Field Will Clap Their Hands" – Sufjan Stevens
"Ootishenia" – The Be Good Tanyas
2. The Vampire Diaries (CW, 2009-)
The Vampire Diaries could arguably impress even the harshest critics of the supernatural teen fantasy genre with its soundtrack alone. Filled with eerie alternative by the likes of Bat for Lashes, Silversun Pickups, and Smashing Pumpkins, as well as heartstring-tugging ballads like the popular "A Drop in the Ocean" by Ron Pope, TVD's soundtrack captures both the show's spooky paranormal themes and the passion and drama of the relationships between its characters.
Download: "Never Let Me Go" – Florence and the Machine
"Down" – Jason Walker
3. Prison Break (FOX, 2005-2009)
This daring conspiracy drama may have become tangled in its own plot complexities as the series progressed, but its emotionally stirring song choices were always consistently captivating. With a penchant for Alexi Murdoch and an ear for the subtly heartbreaking, Prison Break offset its pulse-pounding action and suspense with tender moments accompanied by beautiful, melancholy songs.
Download: "Orange Sky" – Alexi Murdoch
"Lay it Down Slow" – Spiritualized
4. Freaks and Geeks (NBC, 1999-2000)
This period piece about high schoolers in the 1980s didn't last long on the air, but its star-studded cast and understated hilarity have made it a cult favorite. Though the creators essentially ran the show into the ground splurging on the rights to period-specific songs by the likes of The Who, the Grateful Dead, and Billy Joel to give the show an authentic 80's feel, they did treat viewers to some of music's most iconic songs.
Download: Nothing, your dad probably already owns it all on vinyl.
5. Breaking Bad (AMC, 2008-2013)
One of the defining serial dramas of the 21st century, the recently concluded Breaking Bad mastered the use of music for purposes of contrast, irony, and metaphor. By juxtaposing grim, unsettling scenes with upbeat, sunshiny songs like "Windy" by the Association, Breaking Bad's soundtrack evokes its greater themes of conflict and the nature of good and evil, an effect achieved by few other series.
Download: "Truth" – Alexander
"Crystal Blue Persuasion" – Tommy James & the Shondells
6. Grey's Anatomy (ABC, 2005-)
Think what you may about Grey's Anatomy as a whole, it has one of the best and most diverse soundtracks of any series on the air. Because of its surplus of melodrama and its emphasis on the tumultuous romantic lives of its characters, it acts as the perfect showcase for up-and-coming singer-songwriter music.
Download: "The City" – Joe Purdy
"Get Some" – Lykke Li
7. Parenthood (NBC, 2010-)
Much like Grey's Anatomy, Parenthood's attention to character development and relationships provides the perfect backdrop for a panoply of soft acoustic songs. Additionally, guest appearances from musicians like Glen Hansard and original songs by cast members make Parenthood musically unique without detracting from the character-centric foundations that its fans love.
Download: "Kick Drum Heart" – Avett Brothers
"If I Had a Boat" – Lyle Lovett
8. Skins [UK] (E4, 2007-2013)
E4's gritty British drama about teenagers growing up in Bristol offers viewers a diverse array of songs ranging from virtually unknown British indie rock to charged electronic and dance music, highlighting through its soundtrack both the wild and reckless nights and the more intimate daily moments of today's youth.
Download: "No More Flowers" – Cherbourg
"Let's Go Surfing" – The Drums
Reach Staff Reporter Jules Zucker here