Music
7 Underrated Concert Venues In L.A.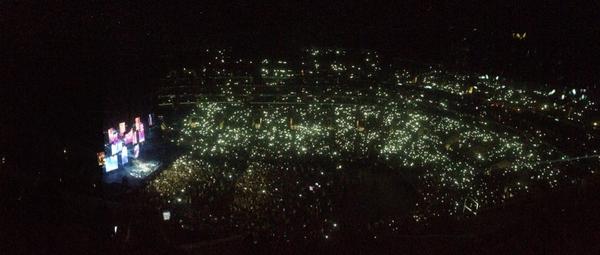 Whether you're from Los Angeles or not, everyone and their grandmother's heard of the Staples Center, Nokia Theatre, and the Hollywood Bowl.
But this is L.A. we're talking about - the center of the entertainment industry! Staples, Nokia, and the Bowl are all great venues, but there are definitely way more options available in the city for music fans of any genre.
Here are just a few of the many underrated concert venues in L.A. that everyone should consider checking out.
The El Rey Theatre
Located in the Miracle Mile area of L.A., the El Rey was opened and re-opened a few times - originally as a single-screen theater in 1936 and then as a dance club in the 80s and 90s - before finally being turned into a concert venue in 1994.
Notable for its art-deco style of architecture, the historic venue was designated as a Los Angeles Historic-Cultural Monument in 1991.
Now owned by AEG Live and booked exclusively through Goldenvoice, the El Rey hosts artists from a wide variety of genres, whether they're mainstream pop stars like Jessie J or up-and-coming YouTube sensations like Pomplamoose.
The Echo and Echoplex
Opened in 2001, the Echo and Echoplex are located in Echo Park (as if that wasn't already obvious given their names) right by Dodger Stadium.
Part of the reason this pair of venues is so underrated is because they primarily cater to the indie music scene. In fact, the Echo and Echoplex's website credits the venues with having "helped launch the careers of The Airborne Toxic Event, Hanni El Khatib, War Paint, Active Child, and Foster the People."
Despite being a hot spot for indie music, the nightclub-sized venues have also hosted a number of big name artists, including Green Day, Skrillex, and the Rolling Stones.
The Satellite
Originally known as Spaceland, the Satellite has always been a huge part of the alternative and indie rock scene in the Silver Lake area of L.A., helping to establish the careers of hometown acts like Beck and the Silversun Pickups.
To this day, the Satellite continues to attract indie artists like Fitz and the Tantrums, Streets of Laredo, and the Whigs, but has also opened itself up to other kinds of events.
The venue hosts a weekly dance party called Dance Yourself Clean that's free until 10:30 PM, as well as a free monthly comedy show - the (Kinda) Open Mic Comedy Show - that features booked comedians of film, TV, and Internet fame, alongside any brave souls who sign up on the spot.
The Mint
Despite the Mint's small capacity of only 200, the historic venue has booked legends like Stevie Wonder, Ray Charles, and Nat King Cole on its stage.
A live music venue and bar since its beginning in 1937, the Mint attracts artists of all genres. Whether it's folk, R&B, or EDM, this venue is sure to have something to your liking for an incredibly low price - ticket prices range from as low as $6 to $20 at the most.
The Troubadour
Originally opened as a coffee house in 1957 by Doug Weston, the Troubadour has had a long and illustrious history in the music world.
During the 60s, the venue was well-known in the folk music scene and played a major role in launching the careers of now legendary artists like Joni Mitchell, Buffalo Springfield, and James Taylor. The Troubadour later became a major tour stop for heavy and glam metal bands like Mötley Crue and Guns N' Roses in the 70s and 80s.
Despite all of the history written within its walls, this iconic L.A. venue doesn't usually get many superstar acts due to its standing capacity of only 400 people - although a few might pop in every now and then for a series of intimate shows. Instead, the Troubadour has remained a popular spot for singer-songerwriters, while also earning a name for itself among fans of hardcore punk bands as well as up-and-coming U.K. acts.
First Unitarian Church of Los Angeles
An unlikely venue for concerts (especially those of the non-religious kind), the First Unitarian Church in Koreatown is actually a really great place to catch your favorite indie artists.
Thanks to the church's traditional set-up, audience members seated in the pews can get up close and personal with bands like Iron & Wine, Mumford & Sons, or even Arcade Fire while they're performing up on the altar, which also acts as a stage during live events.
Talk about a spiritual experience!
The Fonda Theatre
Originally known as Carter De Haven's Music Box, the Fonda is a historic 1920s venue and was one of the first legitimate theaters in Hollywood.
Opened and re-opened many times over, the venue has seen everything from musicals and plays to films, radio broadcasts, and even award shows.
When Goldenvoice took over two years ago, the Fonda was re-opened as a live music venue and now hosts mainstream acts, such as Radiohead, Katy Perry, and the Black Eyed Peas, while also acting as a popular tour destination for lesser known, emerging arts like Kodaline, Lights, and Stromae.
Reach Entertainment Producer Michelle Tiu here and follow her on Twitter.