Entertainment News
7 Male Celebrities Who Are Not Afraid To Be Feminists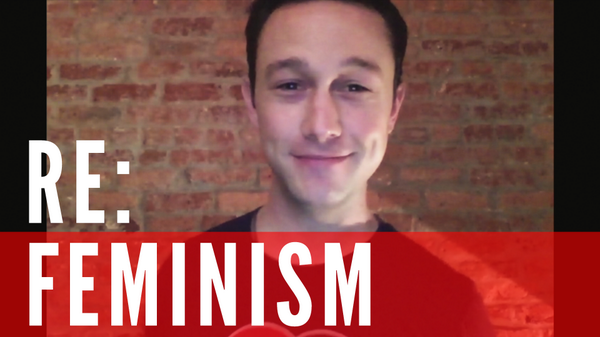 On Saturday, September 20th, Emma Watson delivered a powerful speech on gender inequality that has taken the internet by storm. If you haven't seen it yet, watch it as soon as possible – it's not something you want to miss. Watson stands as an ambassador to the UN Women Global Goodwill, where she is a representative of the HeForShe campaign. Bringing to light the involvement of men in the fight for gender equality, the HeForShe campaign is described as "a solidarity movement for gender equality that brings together one half of humanity in support of the other of humanity, for the entirety of humanity." We often only link women to feminism, but several male celebrities have proved otherwise that the problem of gender inequality concerns both men and women. Male feminists such as Joseph Gordon Levitt have spoken out about feminism in the past, but since Watson's speech, we've seen an increasing amount of supporters on the issue. The following are 7 male feminists who are joining forces with women in the fight for gender equality.
1. Joseph Gordon Levitt
In the past, Joseph Gordon Levitt has spoken about gender equality and being called a feminist. Relating to Watson's recent statement concerning gender roles, Levitt made an appearance on The Ellen Show this January, where he explained why he is a feminist.
"I do call myself a feminist. Absolutely! It's worth paying attention to the roles that are sort of dictated to us and that we don't have to fit into those roles. We can be anybody we wanna be."
Levitt also tweeted in support of Watson, encouraging fans to check out HeForShe.org.
2. Ryan Gosling
Taking a slightly different route, Ryan Gosling issued a statement to E! Online tackling the sexualized image of women in film.
"You have to question a cinematic culture which preaches artistic expression, and yet would support a decision that is clearly a product of a patriarch-dominant society, which tries to control how women are depicted on screen...It's misogynistic in nature to try and control a woman's sexual presentation of self."
3. Prince Harry
In a speech for Chime for Change in 2013, Prince Harry also expressed concern for the lack of involvement on behalf of men.
"When women are empowered, they immeasurably improve the lives of everyone around them- their families, their communities, and their countries. This is not just about women, we men need to recognize the part we play too. Real men treat women with dignity and give them the respect they deserve."
4. Forest Whitaker
Along with Watson, Forest Whitaker is an advocate for gender equality in the HeForShe campaign. In an official statement showing his support can be found on HeForShe.org.
"The true wealth of a community is measured by how carefully it listens to its women and how sincerely it values their wisdom. Empowering women empowers us all."
5. John Legend
Musician John Legend agrees that men play an important role in the advancement of the lives of women. He expressed his viewpoint at The Sound of Change Live concert in 2013, in which he supported the Chime for Change charity.
"All men should be feminists. If men care about women's rights the world will be a better place... We are better off when women are empowered -- it leads to a better society."
6. Daniel Craig
Just as Watson touched on statistics regarding unfair employment between men and women, Daniel Craig used such information (and voiceover) to justify his argument in a short video for International Women's Day in March 2011.
"Women are responsible for two thirds of the work done worldwide, yet earn only 10 percent of the total income and own 1 percent of the property... So, are we equals? Until the answer is yes, we must never stop asking."
7. Will Smith
Will Smith's daughter made the decision to cut all of her hair off on her own, but she received some backlash after people criticized her choice. In an interview with Parade magazine in May 2012, Smith explained why his daughter should be free to style her hair however she wants.
"We let Willow cut her hair. When you have a little girl, it's like how can you teach her that you're in control of her body? If I teach her that I'm in charge of whether or not she can touch her hair, she's going to replace me with some other man when she goes out in the world. She can't cut my hair but that's her hair. She has got to have command of her body. So when she goes out into the world, she's going out with a command that is hers. She is used to making those decisions herself. We try to keep giving them those decisions until they can hold the full weight of their lives."
Just as Watson pointed out, feminism is a word people often associate with 'man-hating.' The men above prove that this is not exactly the case. Watson and these men are looking to provide men and women with an equal chance to be who they want to be and do as they please. More information regarding the campaign can be found at HeForShe.org
Reach Staff Reporter Brittany Lazar here.